The U.S. continues to power on with crude oil production, importing less from abroad and sending more refined products to other shores. U.S. oil production climbed to 10,000 barrels a day, or 0.1 percent, in the week ended Aug. 1 to 8.45 million, says the Energy Information Administration (EIA). The U.S. imported 7.17 million barrels a day of crude in May, a 26 percent drop from 2008, with next year declining to 22%, according to data compiled by the Energy Information Administration.
U.S. exports of petroleum products have risen to around 4 million barrels a day. Diesel is directed to Northwest Europe, noted senior Platts editor Dave Ernsberger. Gasoline is heading to Latin America and the Caribbean. Propane, naphtha and other liquids are of interest in Japan and Korea. The first shipment of condensates from the Eagle Ford went to Asia in late July.
The Energy Information Administration forecasts output of 9.28 million barrels a day next year, and shaved its 2014 West Texas Intermediate (WTI) price to $100.45 a barrel from an earlier July projection of $100.98. Generally this is good news for businesses developing plans and consumers. It also isn't the harbinger of doom to the oil industry as shale oil production continues to ramp up. For some bigger players like Pioneer (NYSE:PXD), Apache (NYSE:APA) and Occidental Petroleum (NYSE:OXY), accelerating production while prices are in this good-IRR zone appears to be a strategy. For smaller producers, like Parsley Energy (NYSE:PE) and Laredo Petroleum (NYSE:LPI), these newer entrants were given an opportunity to go public - that would have been otherwise closed or questionable.
Last summer there were record supply outages around the globe, with U.S. supply smoothing out price fluctuations. This July the EIA cites global outages affecting 3.2 million barrels a day. The Iraqi crisis isn't crippling production, with 3.1 million barrels per day being produced in July, but infrastructure constraints in the South could dampen growth in the future.
Global demand is expected to rise 1.71 million barrels a day to 93.45 million in the third quarter and 94.04 million in the fourth, the Paris-based International Energy Agency (IEA) said in a report yesterday. Consumption will increase by 1 million barrels a day, or 1.1 percent, this year to average 92.7 million a day. Demand growth is expected to rebound next year, but slower than previously expected because of lower estimates for China and Russia. The IEA suggests that the U.S. is experiencing an oil glut. This characterization is slightly exaggerated. At present, the U.S. is importing less, not awash in oil to the point of turning away imports.
Global matters
U.S. oil production also is a function of a global oil market. The EIA projects WTI around $100, dropping to $96 in 2015. Brent crude, the global benchmark, declines from $108 in 2014 to $105 in 2015. This forecast indicates a decently supplied global market but not oversupplied. The Organization for Petroleum Exporting Countries or OPEC will not allow that to happen for reasons detailed in a previous article related to production costs and their budget balances. Saudi Arabia, the OPEC swing producer, has held its production steady at about 10 million b/d. Overall OPEC has held production remarkably and not unsurprisingly steady, pumping 30.44 million b/d in July, a five-month high. Additionally, if the U.S. economy grows as expected next year, U.S. oil production expected may be sopped up to the point of tightening WTI prices rather than loosening as expected.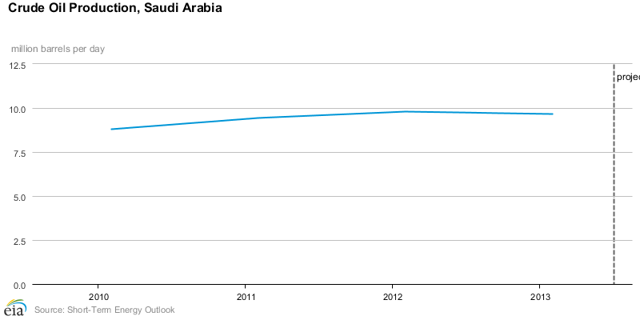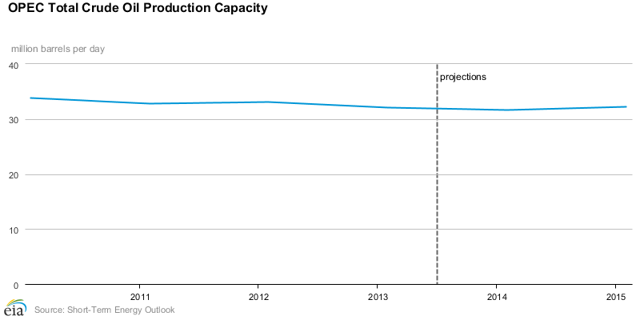 OPEC spare capacity is to rise slightly next year. As noted above however, Saudi Arabia, the swing producer and country looked to turn on the pumps when things go bad, has held production steady in the last several years, unlike 2009-2010. Spare capacity in OPEC has reduced in general, holding prices in a tighter band than in years past.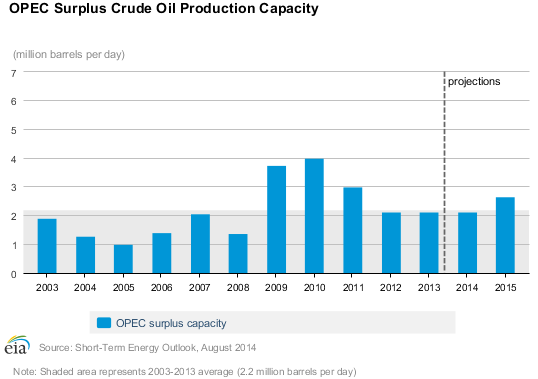 Complacency in thinking that U.S. production shields us completely from global oil markets' volatility needs to be kept in check. There are political forces in the U.S. with upcoming elections that could interrupt the best policy choices to keep the energy renewal running smoothly. There are decisions to be made regarding crude oil exports and transportation choices to move crude, liquids and natural gas in the U.S. and for export that could impact future prices. Even while Democrats realize the energy boom is a jobs and tax revenue necessity after a bruising and painful "recovery," tough choices will eventually need to be made.
Past volatility in energy markets and their geopolitical impressions have been fraught with bad endings and declining relations. The U.S., alongside its oil and gas producers, has the opportunity to be a responsible global energy leader that can be counted on to make forward-looking energy choices and at the same time offer a glimmer of hope as to what more stable energy markets could bring.
Disclosure: The author is long APA. The author wrote this article themselves, and it expresses their own opinions. The author is not receiving compensation for it (other than from Seeking Alpha). The author has no business relationship with any company whose stock is mentioned in this article.