A little over one year ago, and just before the 2009 annual ASH meeting, I first argued that Spectrum Pharmaceuticals' (NASDAQ:
SPPI
) radio-immunotherapeutic (RIT),
Zevalin has blockbuster potential
.
Zevalin is indicated for the treatment of non-Hodgkin's lymphoma ((NHL_) in both first-line consolidation and salvage settings
After the recent developments at this year's ASH meeting, my belief about Zevalin's long-term market potential has been further strengthened.
Click to enlarge all images.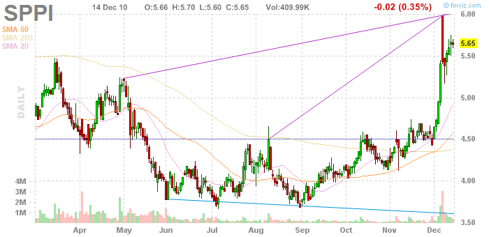 During their Q3 2010 conference call, SPPI's management indicated that the biggest hurdle facing Zevalin in the market place is ignorance.
Ignorance isn't resistance or reluctance. This drug works well for most - a claim backed by (1) survivors like Betsy de Parry and (2) more, favorable clinical data than Rituxan. This means, an effective marketing strategy will ensure Zevalin's success in the market place. As evidenced by quarter over quarter sales growth, I argue that SPPI is executing their strategy well.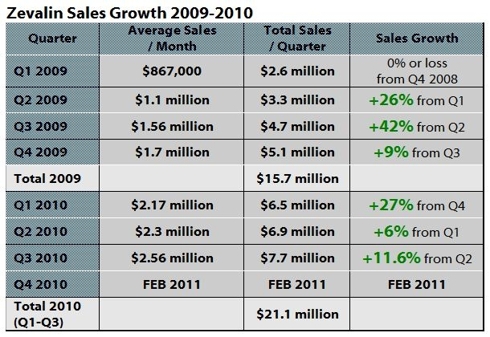 That's exactly what SPPI is planning to do - get Zevalin approved as a stand alone, first-line treatment for NHL.
And that's huge, a tipping point.
On December 6, SPPI announced positive data from a Phase 2 trial evaluating Zevalin as a monotherapy for NHL. So in this trial, patients only received Zevalin - NO months of Chemo and Rituxan. After just one 10 minute infusion of Zevalin - again, that's 10 minutes - 53% of the patients obtained a complete response. Let me say it another way, more than half of these cancer patients were cancer free after one year after sitting in a chair for 10 minutes and receiving Zevalin via IV. In addition, 31% of the patients achieved a partial response.
These data are impressive and a big deal. As result, SPPI indicated in their December 6 announcement that these trial results give the company a
green light to purse a clinical program . . . to expand the [Zevalin] label of FDA approved uses . . .
So, what does all this mean?
Follow me here:
In the near future, SPPI will likely initiate a Phase 3 trial (under SPA) to evaluate Zevalin as a monotherapy for the treatment of NHL.
With favorable results, SPPI will submit a supplemental application (sBLA) to the FDA and seek to get Zevalin approved for first-line use as a monotherapy.
Since the drug has been evaluated in many clinical trials and has consistently produced favorable results, I am confident that Zevalin will not disappoint. While nothing can ever be guaranteed, Zevalin has an excellent track record. So, it's as close to a guarantee that an investor can count. Needless to say, I think betting on Zevalin will continue to prove to be a smart move.
Read Between the Lines: In effect, SPPI is looking to position Zevalin to compete directly with conventional induction therapy, which consists of chemo and Rituxan.
Boil It Down: Zevalin, if approved, will compete directly with Rituxan. Rituxan is a blockbuster, a multi-billion dollar per year drug approved for a number of indications. Currently, it's a component of the standard of care treatment for NHL. Rituxan is made and sold by partners Biogen Idec (NASDAQ:BIIB) and Roche - Genentech (OTCQX:RHHBY).
The Big Plus: Since Zevalin is a one-time treatment that costs somewhere just north of $30K, US regulators will likely be eager to approve the treatment as it would enable the US federal government to dramatically cut the costs of treating NHL patients and namely those on Medicare.

Bottom Line: If or when Zevalin is approved as a monotherapy for NHL, I think it's fair to say that Rituxan will likely lose market share. Under this line of reasoning, I contend [again] that Zevalin has blockbuster or $1 billion annual sales potential.
More Importantly: For NHL patients, the skies are clearing and the future is looking bright.

On November 29, SPPI announced that the FDA has agreed to take up their supplemental new drug application (sNDA) for Fusilev. Here, Fusilev is indicated for metastatic colorectal cancer (mCRC). US regulators said that they will re-review the application in late-April 2011.
Evolution of Fusilev 2008-2010
The FDA approved the Fusilev new drug application (NDA) for use in patients with osteosarcoma after high-dose methotrexate therapy to diminish toxicity.

8/15/08

SPPI launched Fusilev (osteosarcoma indication).

11/1/08

The first generic leucovorin shortage began some time during Q4 2008. Generic leucovorin is approved in combo with 5-FU for the treatment of mCRC.

12/1/08

Fusilev listed as reimbursable alternative to generic leucovorin for patients with mCRC.

In December 2008, FUSILEV was listed in the National Comprehensive Cancer Network® (NCCN) Clinical Practice Guidelines in Oncology™ in Colon Cancer and Rectal Cancer were updated to reflect that FUSILEV is available in the US.

3/26/09

FDA accepts Fusilev supplemental new drug application (sNDA) for patients with mCRC and assigned PDUFA date of October 8, 2009.

SPPI announced receipt of complete response letter (CRL) from the FDA for Fusilev sNDA.

6/1/10

A second [ongoing] generic leucovorin shortage began in June 2010. While Fusilev is still NOT FDA approved for mCRC, it's listed as a reimbursable alternative for generic leucovorin, which is approved for mCRC.

SPPI reported that Fusilev sales surged in Q3 2010 due to an ongoing shortage of generic leucovorin (mCRC indication). During the quarter, SPPI reported $6 million in sales of the drug, up 150% from Q2 2010.

11/10/10

SPPI filed suit against Cangene Biopharma in the US District Court in Baltimore, Maryland for breach of contract to manufacture Fusilev.

SPPI announced that the FDA has agreed to re-review the company's supplemental new drug application (sNDA) for Fusilev on or before April 29, 2011. Under the sNDA class 2 resubmission, Fusilev is indicated for mCRC.

11/29/10

US District Court in Baltimore, Judge Garbis dismissed SPPI's action against Cangene.

12/3/10

Cangene plant officially shutdown and will reopen in March 2011 just before the April review date.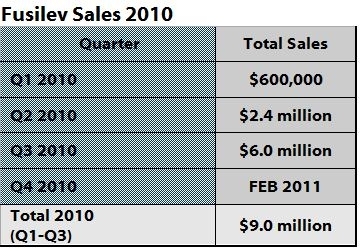 Based on existing supply estimates, Fusilev sales will likely come in somewhere near $9 million over the next two quarters. That's an average of $4.5 million each quarter.
April 29, 2011:
Following two generic leucovorin shortages, 2008 and 2010, I believe the FDA will finally take the leap and approve Fusilev for patients with mCRC. In the interim, I expect that SPPI will work to secure a more reliable supplier for the drug.

In the table below, I have identified ten potential upcoming catalysts for SPPI.
Prior to year-end, the company will be submitting data to the FDA to support removal of the bio-scan which is currently required prior to and after Zevalin administration. Getting this cumbersome scan removed will make it easier for patients and doctors to use Zevalin. So, the change should enable SPPI to better market the treatment.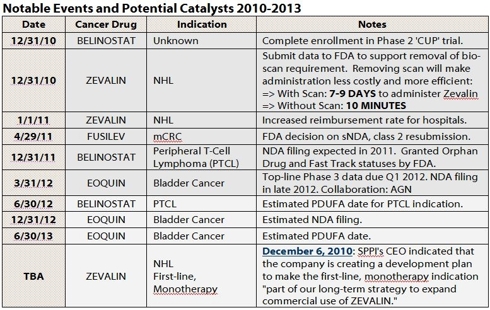 CONCLUSION
As evidenced by the stock's recent, sharp advance, it is clear that the new developments surrounding Zevalin are a big deal.
After a second look, I expect that the FDA will finally approve Fusilev for mCRC on or before April 29, 2011.
Prior to the FDA decision, shares of SPPI will likely retest and could even surpass the 2009 high of $10.
With the promise of Zevalin, a strong pipeline of promising cancer drugs, collaborations, plenty of cash, and a CEO nearing retirement, I firmly believe SPPI will be acquired in 18 or fewer months.