With the recent housing bubble and its subsequent collapse at the forefront of investors' minds, the technology bubble that preceded it appears to be more far removed from investors' memory than it should be. And that loss of memory could be leading us to a renewed technology bubble.
The technology bubble, or "dot-com bubble," saw the NASDAQ climb 584 percent from 1995 to its peak in early 2000. Spurred on by the growing use of the internet and the speculation that this new technology was the wave of the future, stock prices soared as investors piled into internet-based companies, sometimes simply for the fact that they included an "e-" prefix or ".com" ending to their names. And though investors were correct in assuming that the internet and technology were the future of business, the exorbitant prices they were willing to pay for companies that hadn't even turned in a profit should have stood as a stark warning.
But what could investors have done? The internet was rapidly gaining popularity, stock prices were soaring, and the argument that this was a "new age," where old valuation measures no longer applied, was becoming the norm. Things were "different this time," and you'd be crazy not to join the party.
Yet while investors were correct in asserting that the internet and technology were to be the wave of the future, their expectations got a little ahead of themselves, and their blind-faith in almost any company in the technology space was unwarranted. If you joined the party too late, you would have lost almost everything.
click to enlarge images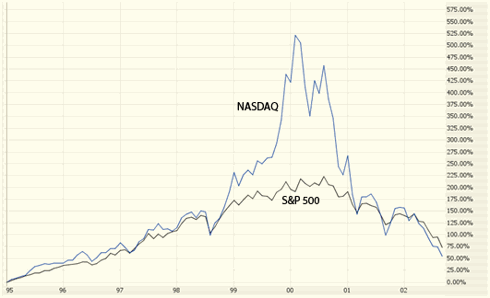 And it seems like we may be making the same mistake again. As housing collapsed and financial stocks were almost completely wiped out, focus has increasingly shifted towards technology companies with huge potential to serve the growing needs of the next generation of computer-savvy, social-media-loving consumers. And rightfully so, it seems; Facebook, YouTube (NASDAQ:GOOG), Twitter, and others will find a way to make huge profits sometime in the future, right?
Venture capital firms seem to believe so. They've been piling money into startups recently in hopes of striking it big. And there has been a shift among startups, away from IPOs and towards private growth and investment. Some of these companies sell out to bigger powerhouses, others – like Facebook – await bigger and better opportunities through an eventual IPO somewhere down the road. But with companies such as Groupon, which was recently offered a $6 billion buyout offer by Google (GOOG) and rejected it, gaining such huge momentum, is there much more upside left? What happens if Facebook loses its steam as MySpace (NASDAQ:NWS) did a few years ago? Will Mark Zuckerberg regret not selling the company at its peak while he had the chance?
You can even forget about the private companies for now. What about the public technology companies that have recently gained huge popularity and attention as their future potential seems to be almost limitless? Netflix (NASDAQ:NFLX), Salesforce.com (NYSE:CRM), Apple (NASDAQ:AAPL), and Akamai (NASDAQ:AKAM) are just a few of the stocks that have doubled, tripled, or soared almost nine-fold in less than two years.
Check out the following chart: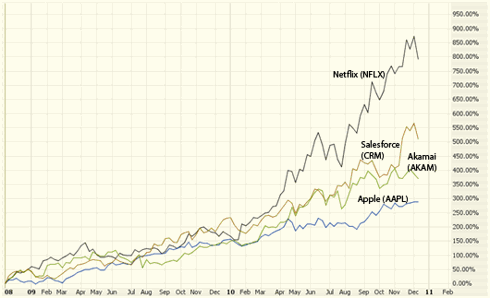 As you can see, some of these technology stocks are flying high. They're doing so for good reason – because of good track records and expectations for future growth. But how can we tell if expectations for the future are getting a little too exuberant?
5 Reasons Why Cloud Computing Could Be Signaling Over-Enthusiasm
1) Price Run-Up. The most basic of reasons to be wary of stocks, a tremendous price increase should at least send out some warning signs.
See the following chart: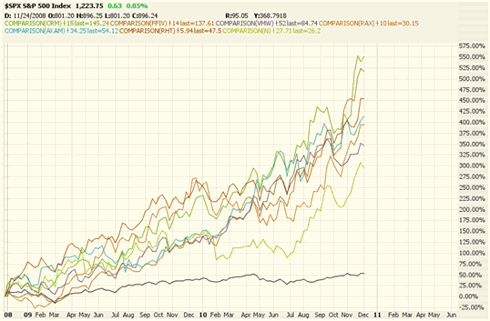 As you can see over the past two years, while the S&P 500 is up approximately 50 percent, cloud computing companies such as Salesforce (CRM), F5 Networks (NASDAQ:FFIV), and VMWare (NYSE:VMW) are up anywhere from 300 to
550 percent! While such a run-up may be justified, the probability of price increases like this continuing are not favorable; when stock prices inflate this much over such a short span of time, they usually must correct if not outright plummet. And with cloud computing no longer a secret, with fund managers and the average investor fully aware of the "cloud story," I see more risk than reward in this trade. Have prices reached the "clouds"?
2) Price-to-Earnings (P/E) Ratios. Price to Earnings ratios are a measure of how much investors are willing to pay today for the earnings a company will produce in the future. If investors believe a company will continue to grow at a rapid pace, they will generally be more willing to pay higher prices for a company's stock. In other words, if a company is expected to gather momentum or continue its tremendous growth, it will generally have a high P/E ratio as investors clamor to buy the stock.
The question becomes, however – when is the price paid for future growth too high? When are investors expecting too much from a company, regardless of its tremendous potential? Historically, P/E ratios around 30 or slightly above are somewhat acceptable for growth companies. But when the ratios start breaking above 50, it's time to be a little careful.
At the height of the "dot com" bubble, investors were ignoring the massive P/E ratios. That mistake ended up costing them, as companies generally can't meet extreme expectations. What do we see now, as the cloud companies have soared? Investors are once again ignoring P/E ratios, assuming these companies have entered a revolutionary market niche and will be able to justify their stock prices as they continue to grow rapidly. Salesforce (CRM) has a trailing P/E of 247 and a forward P/E of 88! Riverbed (NASDAQ:RVBD) – 231 trailing, 45 forward; VMware (VMW) – 124 trailing, 49 forward; Rackspace Hosting (NYSE:RAX) – 100 trailing, 59 forward. These aren't just slightly inflated ratios; they're tremendous! Compare that to Apple (AAPL), with a trailing P/E of 21 and forward P/E of 14, and you can easily see the huge difference. Are these growth estimates sustainable? Or are investors just overly exuberant and setting up for disaster?
3) "It's Different This Time." As in most bubbles and overly-euphoric investor behavior, the argument that this time things are different has surfaced once again. In the "dot com" bubble the argument was that the "new age of technology and the internet" was here. In the housing bubble, land values were going to continue to soar because land was only to continue to be scarce as population grew and people needed homes; the extravagant prices were seen as a result of "new valuations" for homes.
And now, cloud computing is "the new paradigm." Technology is shifting from hardware storage and on-site databases, to off-site cloud-based storage – where people can access their programs and information from anywhere. Yes, it is a revolutionary technology; but is it really a "new paradigm" that should cause us to completely disregard valuation methods and rational investing?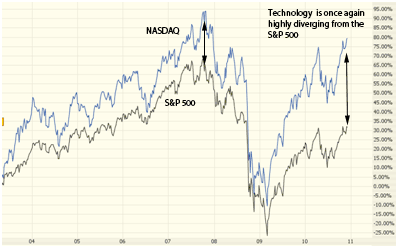 4) Insider Selling. When high-ranking officers and employees in a company believe in the future growth, they generally hold on to their shares or even buy more. If the people actually working for the company buy the stock, it's a good sign that the ones with the important information expect the stock to continue to perform well.
When the insiders start selling their shares, however, it could be a reason for concern. And if they do it in extreme fashion, it may be a reason to panic. Why should an investor in the company continue to hold his shares if the high-ranking employees are dumping theirs? Where is their confidence in their own company?
And what has happened over the past 6 months with these cloud companies? They're rapidly dumping their shares onto the unsuspecting public: Salesforce (CRM) CEO, Mark Benioff, and other insiders have sold over 2 million shares; F5 Networks (FFIV) insiders have sold 45 percent of their holdings; Rackspace (RAX) insiders have sold over 2 million shares; and RedHat (NYSE:RHT) insiders have sold over 83 percent of their shares! These aren't just numbers to gloss over; they should be sending extreme warning signals.
5) "Cloud" Bandwagon. As the cloud sector gains hype among investors, companies are doing all they can to join the "cloud" group and see their stock prices appreciate as investors jump in. Companies that have some exposure to cloud computing are highly misrepresenting their cloud participation. In other words, many of the "cloud" companies that have seen their stock prices soar are simply the benefactors of the cloud craze, when they actually have negligible potential in the cloud space. They've simply jumped onto the "cloud bandwagon"; and when investors realize that, these companies' stock could plunge.
Silicon Valley has seen a revival since the tech bubble collapsed in 2000. But with venture capital flowing into start-up companies in an almost exuberant fashion, offering massive sums of money for companies with barely any track record, the threat of a renewed technology bubble is looming. Groupon rejected a $6 billion offer only four years after the much bigger YouTube accepted a $1.65 billion offer. Facebook remains a private company, but is allowing investors to trade derivatives on its shares.
Cloud computing may have a more "tangible" business model than many of the dot-com era companies did; but after multi-hundred-percent price moves, massive insider selling, extreme P/E ratios, and the arguments that "it's different this time" – can we really trust the cloud computing story? Or is it starting to look a bit more like "Foggy" computing?
Disclosure: I have no positions in any stocks mentioned, but may initiate a short position in CRM, FFIV, RAX, RHT over the next 72 hours. I am awaiting confirmation to short.