A megadeal is in the works for Kinder Morgan Inc. (NYSE:KMI).
Richard Kinder, billionaire and founder of the company has decided to acquire and consolidate Kinder Morgan Management (NYSE:KMR), Kinder Morgan Energy Partners (NYSE:KMP) and El Paso Pipeline Partners (NYSE:EPB) into a single company.
This will alleviate the complications of producing growth for shareholders and put the business in a position where capital expenditures can be completed quicker. $27 billion in assumed debt, $40 billion in stock and $4 billion in cash will create the third-largest energy company, behind ExxonMobil (NYSE:XOM) and Chevron (NYSE:CVX), by the end of 2014 if shareholder and regulatory approval is met.
Dismantling the MLP Structure
The reorganization will dismantle the master limited partnership that became a popular financial structure in the late 90s. The change will allow Mr. Kinder to oversee a C corporation that has only one dividend policy and a single base of shareholders.
Master limited partnerships have the advantage of generating tax breaks for companies involved in producing their revenue from businesses relating to natural resources. Also these partnerships have the advantage of not having to pay corporate taxes. However, even with these favorable circumstances, shareholders have been concerned.
Without revenue growth, it's difficult to increase distributions to shareholders, which is the main way that investors benefit from investing in companies with an MLP financial structure--cash flow from the company is paid to the general partners and shareholders via dividend-like distributions.
With a $37 billion market value, KMP cannot sustain a level of revenue growth that is substantial. Expectations for distribution growth generally run in the five to six percent range. With those projections, it would require KMP to invest over $3 billion annually, which would be an intimidating task for any company.
Founder's Successful Path
Richard Kinder is akin to making smart moves in his business career. In 1996, he was passed over for the job of Chief Executive Officer at Enron. Mr. Kinder left the company, teamed up with fellow attorney William Morgan in 1997 and formed Kinder Morgan. In 2006, the company was taken private by Mr. Kinder but reemerged as a public company again in 2011. Later that same year, the acquisition of El Paso Corp. for $21.1 billion turned Kinder Morgan into the number one pipeline operator of natural gas in the United States.
Positive Energy Trends
Energy production in the United States has skyrocketed in the past six years due to the widespread use of technologies such as hydraulic fracturing.
Statistics indicate that production of natural gas has increased by 23 percent and oil input has swelled by 55 percent.
While Kinder Morgan has benefited from these increases, regulations have delayed or halted a few large projects. With the consolidation, Mr. Kinder believes that KMI will be in a better position to take advantage of a growing energy infrastructure.
Outlook for Kinder Morgan, Investors: Very Positive
KMI shares have been increasingly strong in 2014.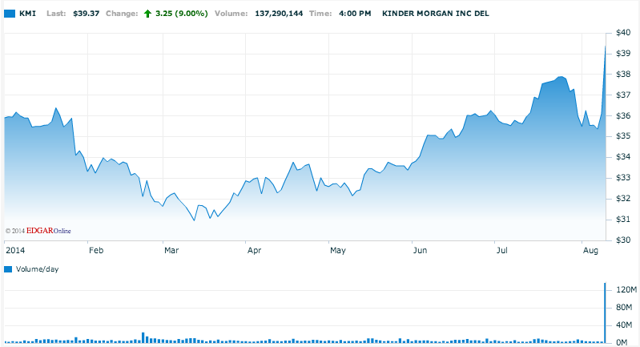 Click to enlarge
(Nasdaq.com)
Shares of KMI, KMP, and EPB were initially up approximately 9%, 17%, and 20% on the news on Monday.
Given the positive macro trends in US energy, as well as the market response thus far, we are optimistic on the future of the newly structured company in 2014 and beyond.
We invite readers wishing to join the discussion on Kinder Morgan and the greater US energy sector to click the +FOLLOW button above the title of this article-- and those looking for the latest developments to click +Get real-time alerts.
Disclosure: The author has no positions in any stocks mentioned, and no plans to initiate any positions within the next 72 hours. The author wrote this article themselves, and it expresses their own opinions. The author is not receiving compensation for it (other than from Seeking Alpha). The author has no business relationship with any company whose stock is mentioned in this article.