For more than five years there has been much reward with seemingly little risk for yield chasers. Skipping out on the low yield of quality bonds, such as those stuffed in the iShares U.S. Core Aggregate Bond ETF (NYSEARCA:AGG) for bigger income payouts in dividend paying stock has been pretty close to a free lunch. Since the March 2009 low through the first half of 2014, high dividend ETFs such as iShares Dow Jones Select Dividend ETF (NYSEARCA:DVY) and SPDR S&P Dividend (NYSEARCA:SDY) have delivered bond-beating total returns with minimal downside interruption.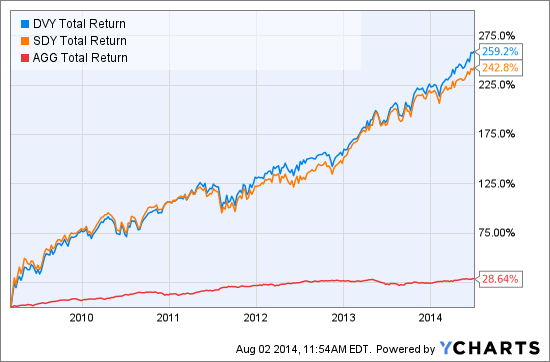 DVY Total Return Price data by YCharts
Then came July. Especially the end of the month. Between good news (2nd quarter GDP clocking in at 4%, job growth continuing at a 200K per month pace, the wind down of QE3) and worrisome global tensions, the U.S. market seemed to rediscover a smidge of volatility. And perhaps surprisingly to the yield chasers, high dividend stocks took a bigger tumble than the broad S&P 500 index: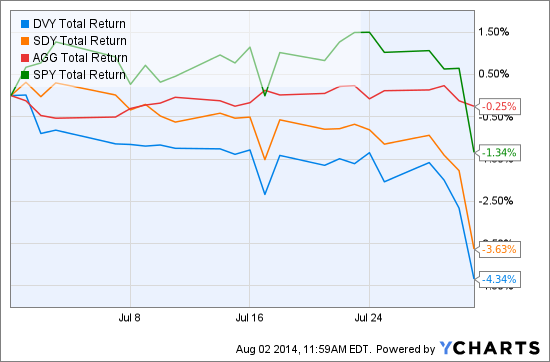 DVY Total Return Price data by YCharts
Granted, those are mighty small haircuts when compared to the mega run since '09. But they should at the very least serve as a wakeup call to yield chasers. As the tealeaves begin to form that the economy is shifting to a higher gear, high yielding stocks will be vulnerable.
Sure, interest rates pulled off a stunning head fake through the first half of the year, managing to fall rather than rise. But now that first-quarter weather jitters have been discounted, the expectation is that at the very least rates are headed back up to where they began the year, and then are expected to trend higher in 2015. That reduces the relative allure of high-dividend stocks that many have blithely tagged as bond alternatives. It's been awhile since we've had a bona fide correction for stocks; as this chart shows, high-dividend stocks are in no way a bond alternative when volatility perks up, as it did in the summer of 2011: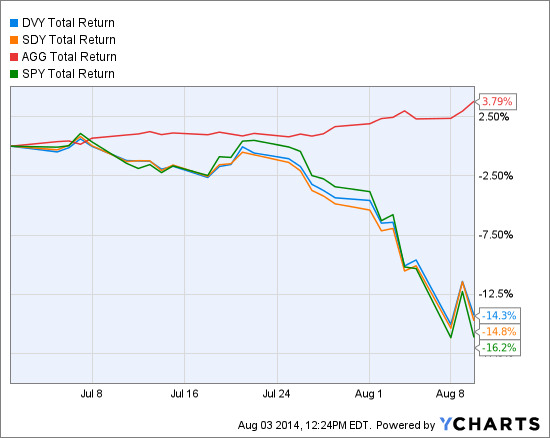 DVY Total Return Price data by YCharts
Junk bonds also showed their vulnerable side in late July, a reminder that when stocks sell off, junk tends to tag along. While an improving economy reduces the specter of a recession-kryptonite for junk issuers, there is still risk: as rates rise, these highly leveraged issuers face higher debt servicing costs. The SPDR Barclays High Yield ETF (NYSEARCA:JNK) gave back more than half of its 12-month yield in July, while the core high-grade bond portfolio did what it's supposed to: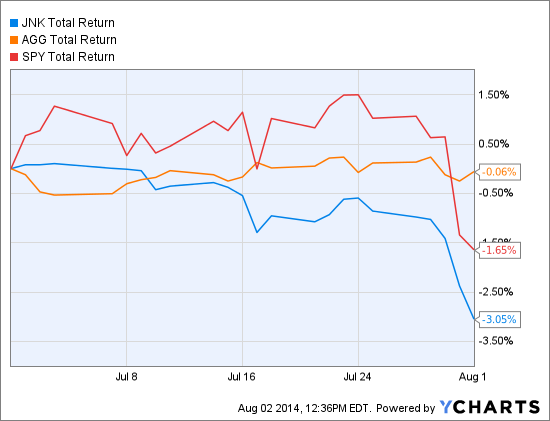 JNK Total Return Price data by YCharts
Junk paying less than 6% may look like a relative value weighed against high-grade bond payouts. But the 4% spread for an index of high yield bonds these days is hugging a 10-year low.
And at this juncture in the bull market the charms of generating income from solid balance sheet firms should be self-evident. Coca-Cola (NYSE:KO) delivering a 3% dividend payout that is at a 50% yield premium to the S&P 500 yield is not common. Other 3% yielders that will never be mistaken for junk include Chevron (NYSE:CVX) and General Mills (NYSE:GIS). These dividend stocks have over a five-year span underperformed the market, as seen in a stock chart, but they offer strength.
CVX Dividend Yield (TTM) data by YCharts
Carla Fried, a senior contributing editor at ycharts.com, has covered investing for more than 25 years. Her work appears in The New York Times, Bloomberg.com and Money Magazine.

Disclosure: None