Alere (NYSE:ALR) reported its financial results for the second quarter ended June 30, 2014 few days ago. The company's net revenue came in at $737.9 million in the second quarter of 2014 compared to $764.0 million in the second quarter of 2013. Alere registered a net loss per diluted common share of $0.67 in the quarter, compared to $0.81 in the year-ago period. Gross margin was 46.1% of net revenue in the quarter, compared to 50.3% in the year-ago period. Overall, Alere's second quarter earnings remained unimpressive and the stock corrected almost 15% post earnings.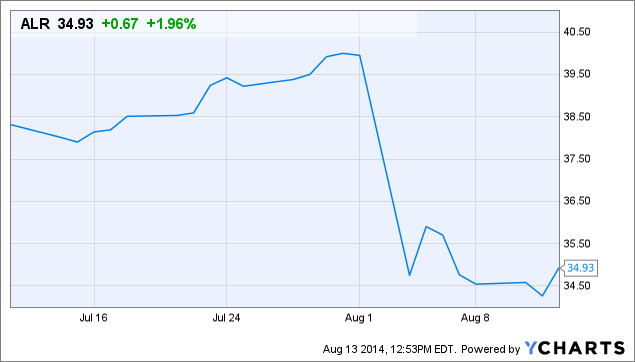 ALR data by YCharts
I believe that the company is transforming itself to a company of the future, which is aiming at redefining the way healthcare is practiced today. Namal Nawana, interim chief executive officer and chief operating officer of Alere said, "The second quarter was a period of significant transition for Alere. With the recently announced change in leadership, we are now narrowing our focus on our global leading rapid diagnostic business and pursuing opportunities with the highest potential for value creation."
In my original article I opined that Alere's solutions are designed to close the gaps in today's fragmented healthcare landscape, allowing for earlier interventions, personalized treatment, fewer hospitalizations, and robust decision making, analysis, and reporting. Despite unimpressive earnings in the second quarter, I continue to believe that Alere has tremendous potential to grow, albeit it would take time. Growth oriented investors should utilize the current dip to buy the stock for the long-term.
Disclosure: The author has no positions in any stocks mentioned, and no plans to initiate any positions within the next 72 hours. The author wrote this article themselves, and it expresses their own opinions. The author is not receiving compensation for it (other than from Seeking Alpha). The author has no business relationship with any company whose stock is mentioned in this article.