A new report from Fitch provides compelling evidence that over the next year Apple (NASDAQ:AAPL) and Samsung (OTC:SSNLF) will lose global market share, particularly in emerging markets. China is a self-proclaimed critical growth arena for Cupertino, accounting for roughly 16% of revenues last quarter, or $6 billion. While I maintain my bullish position on the stock over the next few quarters, investors should be carefully monitoring how the company performs in its second largest market after the U.S., and arguably the biggest growth market in the world.
The focus on China has been, and is likely to remain, a central theme for Apple investors. Last week, I published a story on a ban of Apple products by the Chinese government, based on a report from Bloomberg. Since that story was published, the position of the Chinese government has been clarified: "The list that created the confusion this week involves energy-saving products, and is just one of a multitude of government procurement lists in China. Apple has never been on that list, the company said in emailed comments on Friday, declining to give more details." Still, the significance of all things China in relationship to the tech sector should be evident.
The Fitch Report
According to Fitch, both Apple and Samsung are expected to see slowing growth in China, leading to a significant decrease in market share. Where Samsung enjoyed a 31% market share in 2013, with Apple at 15%, those numbers are projected to fall to 25% and 14% respectively by 2015: "We expect the big two's combined smartphone shipment volume to stagnate at around 450 million-460 million units in 2014 (2013: 467 million), even as the global smartphone market rises by around 20% to 1.2 billion." The report also notes that, according to data from IDC, Samsung is no longer the market share leader (based on fourth quarter figures), with that honor now going to Xiaomi.
The critical driver of the shift has been the price differentiation offered by Chinese manufacturers:
lower-priced handset models from local competitors should continue to gain market share at the expense of the big two. In these markets, where cost is relatively more important than global brand strength or cutting-edge technology, competitors' devices retailing at USD100-300 can offer most of the key features of more expensive phones from Samsung and Apple.
In emerging markets, where affordability outpaces most other considerations when consumers are selecting a smartphone, the premium prices demanded by Apple and Samsung may cost them market share. This, of course, leads back to the question, particularly for Apple, of whether the company should maintain its premium brand status or consider offering a much cheaper option. The release of the Apple iPhone 5C seemed to be an indication that CEO Tim Cook was willing to explore the lower end of the market, but no concrete indication has been given that Apple intends to go after the low end of the market.
The risk factor, if this decision remains in place, is that the combined growth of China and India is expected to account for 60% of the growth in the smartphone arena. In terms of growth strategy, a plan without a way to address these two markets would appear flawed. Of course, Apple and Samsung will get some growth at the upper echelons within each of these markets, but how their respective management teams decide to integrate low-end demand is important.
Short-term Bullish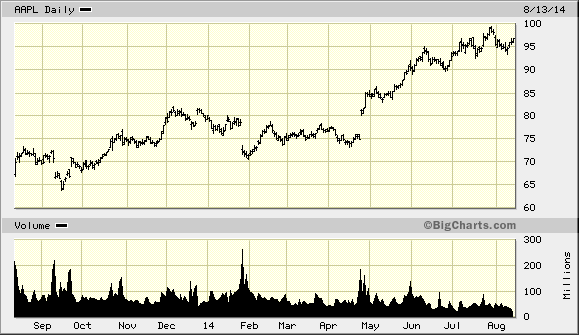 While the China question proposes a long-term issue for Apple, in the immediate term, the stock continues to look strong. Activist investor and hedge fund manager, Carl Icahn added heavily to his Apple position earlier this year, and the stock remains his largest holding. Others institutional money is moving into the stock, and the historical pattern for Apple is to perform well into a new iPhone release. This means that the stock should have room to run beyond $100. As the stock continues to carry a dividend yield of 2.1% and trade at a price-to-earnings ratio below 17, I am a buyer. Short of a major announcement on China before the iPhone 6 release date, shares should be strong. After the initial surge, however, re-evaluating China should be the top priority for shareholders.
Disclosure: The author has no positions in any stocks mentioned, and no plans to initiate any positions within the next 72 hours. The author wrote this article themselves, and it expresses their own opinions. The author is not receiving compensation for it (other than from Seeking Alpha). The author has no business relationship with any company whose stock is mentioned in this article.
Editor's Note: This article discusses one or more securities that do not trade on a major U.S. exchange. Please be aware of the risks associated with these stocks.