Shares of ChannelAdvisor (NYSE:ECOM) have taken quite the roller coaster ride since their IPO. After debuting around $18 in May 2013, shares slid to $15, shot up to nearly $50, and are now essentially right back where they started. After peaking in March of this year, ECOM fell victim to a broad market sell-off among tech and other "momentum" stocks which knocked it back into the $20s. Shares then took a nosedive following Q2 earnings on August 4th, dropping an additional 30%.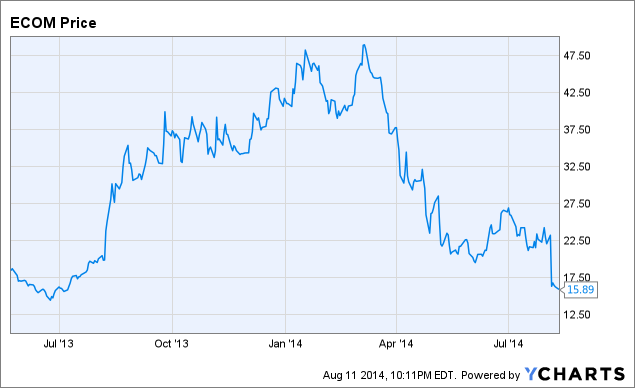 If you've been following along at home, you know this isn't the first time I've written about ChannelAdvisor. To avoid repeating myself at length regarding the Company's business model, growth prospects, and historical earnings & valuations, please see my prior coverage linked below:
Additionally, ECOM's Q2 Earnings Release can be found here and the transcript from their earnings call can be found here.
ChannelAdvisor certainly has its share of risks, and there are definitely legitimate reasons for concern. However, the Company remains in the early innings of a potentially massive growth story to the extent that current upside presents an attractive risk/reward tradeoff. While the initial March-July tumble presented a good buying opportunity, the additional post-earnings crash now presents a great buying opportunity.
So... what happened?
Through July, ECOM slid 45% as part of a broader market sell-off. During this time, many stocks trading at sky-high P/S multiples were punished severely. ECOM, which at one point traded as high as ~19x sales, was no exception.
Then the Q2 earnings were released, sending the stock plummeting.
Overall, ECOM actually had a pretty solid quarter. Revenue grew 30% y/y and management increased guidance for FY2014 as they continue to expand globally, recently launching support for major e-commerce platforms in Brazil and China.
Despite all that, there was one number that sent investors sprinting towards the exit: net customer additions. In short, ECOM added 108 net new customers in Q2. Not bad for a growing company with over 2,600 active customers, but a significant decline from the 138 they added in Q2 2013 and far short of the 198 predicted by analysts.
This appears like a red flag for a company aggressively investing in growth, and at first glance the ensuing crash certainly seems justified. However, this single metric does not necessarily paint a complete picture of ECOM's growth trajectory.
On the earnings call, management pointed out that not all customers are equal. In fact, ECOM generates roughly 100 times as much revenue off their largest customers than from their smallest. David Spitz, ECOM President and COO, went on to further explain:
ECOM added customers who were incrementally larger than in previous quarters. One of the new customers in Q2 is expected to generate $350k in revenue in the first year of their contract. This is 30 to 35 times larger than their lowest-tier customers, yet still counts as just one single customer add.
During Q2, ECOM generated incrementally more business from existing customers. Many current customers completed more sales on ECOM's SaaS platform, and many others upgraded their subscription "tier" within the SaaS platform. This represents an increase in revenue, despite no actual customer adds.
ECOM saw increased churn among lower-tier customers. Although churn as a percentage of revenue remained consistent with historical levels, it was concentrated among smaller customers (many of whom generate less than $15k in annual revenue for ECOM), thus having a disproportionately negative effect net customer adds.
Obviously it's disappointing that a growing company would show a downtick in new customers, and it's certainly something that investors should keep an eye on going forward, but the 30% sell-off triggered by this metric is a massive overreaction and presents a great buying opportunity.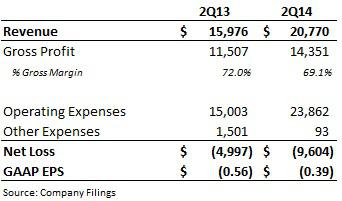 Looking past the net customer adds and focusing on the bigger picture, ECOM still appears strong from a growth perspective. While the Company is still losing a significant amount of money and burning significant cash, that remains almost entirely due to their aggressive Sales & Marketing efforts.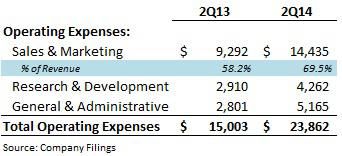 These expenses are necessary in order to drive continued top-line growth, yet still largely discretionary in nature. On the call, ECOM CFO John Baule provided some color on this:
"One of the nice things about this business, and we've said this all along, is that our investment in Sales & Marketing is very much an incremental decision. We can turn that down at any point in time when we don't think we are getting a return and go to cash flow positive... if you look back historically we've been cash flow positive for most of the history of the Company."
This led Mr. Baule to address another major concern for investors: Cash Flow. ECOM has burned over $20 million in free cash flow over the past two quarters alone, a pace that would run them completely dry by Q2 of 2015. Mr. Baule provided reassuring guidance in this regard, and calmed any fears of a future capital raise:
"From a long-term perspective, we continue to be optimistic about the scalability of our operating model and see significant potential to leverage on each line of our P&L... While we have not provided guidance beyond 2014 yet, we can share that we expect to get to positive cash flow without requiring any additional capital beyond our current balance sheet, and that includes the ability to maintain a healthy cash balance to adequately fund our day to day operations."
Valuing the Growth Story
A quick preface on my approach to valuation: I understand that forecasting long-term growth and valuation is complex and consists of countless moving parts, especially for a small tech company aggressively pursuing a growth plan. Because of that I generally avoid trying to calculate a precise "price target", but rather a range of prices at which the stock would be "reasonably" valued from a long-term buy-and-hold approach. Investors, especially those with a different time horizon and risk profile than mine, should always conduct their own research and analysis prior to making an investment decision.
In the interest of full disclosure, provided below is a table showing my historical 'reasonable valuation ranges' for ECOM, along with the key assumptions driving those valuations. For further discussion of why I believed these were reasonable assumptions at the time, please reference my above-linked prior articles.

Note that the above valuation ranges were determined by applying the given P/S multiples to ECOM's projected 2016 revenue based on the given growth rates. Going forward, projected 2017 revenue will be used instead, as over a year has passed since my initial coverage of ECOM.
Revenue Growth Assumptions: For the current year, management's guidance implies an annual revenue growth rate of approximately 27%, essentially matching the growth rate for 2013. Given the booming growth of the e-commerce industry as a whole, especially internationally, I believe this growth rate is reasonably sustainable for at least the next few years. Because of that, the updated valuation below leaves revenue growth rate assumptions unchanged at 25-30%.
P/S Multiple Assumptions: Back at ECOM's IPO, the above P/S multiple range of 4.0x - 6.0x was determined by looking at where similar companies were trading at the time. I left this range unchanged, even when many companies were trading at much higher multiples in late 2013/early 2014. As I pointed out in my January ECOM coverage, I find it difficult to justify a P/S multiple much higher than mid-single digits, and provided a quote from former Sun Microsystems CEO Scott McNealy explaining how absurd it is for a company to trade at 10 times sales.
Given the broader tech sell-off this year, it's necessary to re-examine how the market is valuing companies similar to ECOM. Since there aren't many public companies that are a direct apples-to-apples comparison to ECOM, the below list consists of companies that are: a) cloud-based/SaaS; b) small cap; c) currently unprofitable.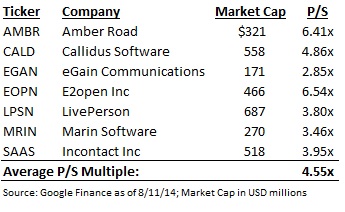 It appears the market is currently valuing these types of companies at between 3- and 5-times sales, with a few outliers skewing the average somewhat higher.
Given the above, it seems reasonable to believe that ECOM is worth at least $20, possibly as much as $40. This is obviously a simplified approach to valuation, and the resulting price range is large, but it illustrates how terribly the market has mispriced the stock.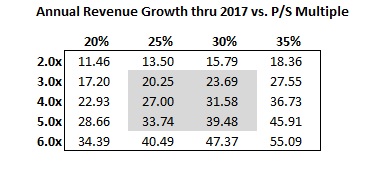 A note on profitability: I understand that Revenue Growth vs. P/S Multiples won't be an accurate way to value ECOM forever. Eventually, profitability has to matter (although looking at major companies like Amazon and Salesforce.com, perhaps that's a flawed assumption). This is why it's important to keep in mind that the vast majority of ECOM's expenses are in Sales & Marketing, as was discussed above.
Hypothetically speaking, if ECOM cut S&M spending to just 25% of its projected 2014 revenue (as opposed to its current ~70%), it would be on pace to earn around $6.5 million in net income this year. This would represent a 60x P/E multiple based on a share price of $16. This is wildly hypothetical, and not meant to be a concrete justification, but it helps to illustrate why I'm not worried - at least not yet - about ECOM's lack of profitability.
Conclusion
Back in January I wrote that I believed ECOM was overvalued in the high $40s. However, the subsequent sell-off was a major overreaction, driven largely by investors narrowly focused on one single metric as opposed to the bigger picture. While there are certainly risks worth keeping an eye on (it's by no means a "set-and-forget" stock), ChannelAdvisor remains well positioned to capitalize on the continued boom in the global e-commerce market and the current price provides significant upside.
Disclosure: The author is long ECOM. The author wrote this article themselves, and it expresses their own opinions. The author is not receiving compensation for it (other than from Seeking Alpha). The author has no business relationship with any company whose stock is mentioned in this article.