Yahoo (NASDAQ:YHOO) has received mounting pressure to return growth back to its core business, and while the company has been a beneficiary from investing into Alibaba pre-IPO, I don't think the company has developed a killer-app quite yet, and that's why investors haven't been heavy buyers going into the Alibaba IPO. In fact, some are wondering whether Yahoo will blow through the proceeds from the Alibaba IPO.
Programmatic advertising a key theme to Yahoo's future
Going forward, Yahoo is emphasizing the practicality of a marketplace for banner advertisements. In this marketplace, advertisers will be able to buy an ad based on demographic data and the number of impressions they want to buy. Similar to the modern brokerage platforms of today, ad-exchanges are set to allow for more fluid transaction between publishers who want to sell ad space, and advertisers who want to buy ad space. The fluidity of the marketplace does carry some distinct advantages that the native advertisement model doesn't carry.
However, before I continue, for those who are unfamiliar to native advertising. These are ads that are designed to look extremely similar to the format of the website, so that if a user does click on the ad, it's as if the ad is a part of the website. To put this in context, Market Realist is now on the Yahoo Finance Feed, and upon clicking the headline, the user will read the Market Realist article on the Yahoo Finance website. Now, I don't know how much Market Realist, or any other financial publisher, is paying Yahoo Finance to display content via the newsfeed, or whether or not it's very effective for the publisher and Yahoo Finance.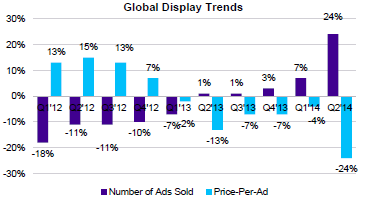 Source: Yahoo!
But basing it purely on the financial results that Yahoo has reported, the company is struggling to drive top-line growth in its core business. Most of it is driven by falling ad-pricing paired with higher ad-sales. So perhaps programmatic advertising results in more demand, but lower pricing. This is drastically different from Facebook's (NASDAQ:FB) ad-exchange, which has been able to drive much greater efficiency in terms of monetization, and while Facebook is somewhat programmatic, the same advertisement can be optimized to be more native and Facebook is doing a much better job of generating revenue from its user base. Not to mention, there are more active users on Facebook than there are on Yahoo's portfolio of properties.
According to Yahoo, programmatic advertising will grow into a much larger sub-segment of the advertising industry:
Programmatic can act as a bridge from slower, direct selling of guaranteed inventory, to lightning-fast trades on a more efficient super-highway of real-time bidded marketplaces and strategic cross-channel insights. Traffic across the programmatic bridge is expected to triple globally to $33 billion by 2017 and account for more than half of display-related ad transactions. The programmatic momentum is building in parallel. Projections suggest that by 2015, fully two-thirds of digital and mobile advertising will be bought programmatically. The U.S. is blazing the programmatic trail, accounting for 63 percent of 2013 programmatic spending, but that lead will shrink to 52 percent by 2017 as the rest of the world gets on board.
I think that an open marketplace will favor advertisers in the initial stages. In this process, I think many of the smaller scale publishers will go out of business. But for the few that figure out how to survive, they will become hot commodities, as the supply for ad space will become increasingly finite. As ad space becomes scarcer, buyers of ads will eventually pay more on a CPM basis. When adhering to the theory of supply and demand, firms will continue to exit until they can earn profit, and in this case, publishers will either cut back on content development costs, or operate at even more impressive scale. My guess is that publishers will combat this situation by operating at greater scale, and in that case, higher pricing for ad space will become an eventuality as pricing will only be supported at a reasonable break-even point.
Conclusion
Going forward, Yahoo investors will be a little jittery. Not only are they uncertain over management's ability to thrive in an increasingly crowded ad-marketplace. Investors are now wondering if Marissa Mayer will waste the proceeds that come from the Alibaba IPO.
Assuming Yahoo is right about programmatic advertising and that it's indeed the future of advertising online, pricing trends for ads may improve, and assuming Yahoo is able to incrementally increase pricing, the bottom in its display segment will eventually be found.
However, I'm cautiously optimistic because this new marketplace model could turn into a double edge sword. If programmatic advertising diminishes the pricing of ads without stimulating demand, Yahoo may take a couple of years before turning the corner on its display ad business.
Disclosure: The author has no positions in any stocks mentioned, and no plans to initiate any positions within the next 72 hours. The author wrote this article themselves, and it expresses their own opinions. The author is not receiving compensation for it (other than from Seeking Alpha). The author has no business relationship with any company whose stock is mentioned in this article.