Since the inception of trading bourses, traders and investors alike have devised numerous strategies to improve their risk-reward ratio - some strategies work, while most don't. Tracking short interest data is one of these time and battle-tested strategies which has been taught and followed repeatedly in the past. It highlights the general sentiment of Mr. Market, often giving entry and exit signs for passionately discussed stocks like BlackBerry (NASDAQ:BBRY).
Numbers talking
Short interest is basically the aggregate count of open short positions that are yet to be covered. A sudden rise in a company's short interest suggests that traders are expecting its stock price to tumble rapidly over the short-term period. In contrast, declining short interest indicates that traders are initiating long positions to cover their short positions.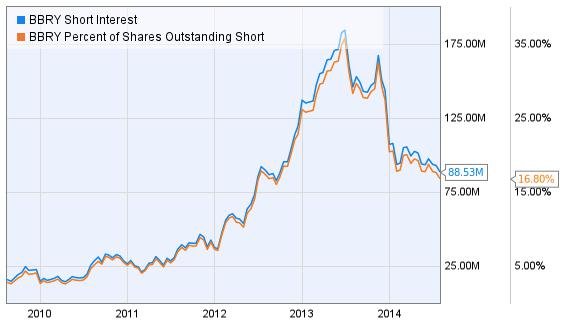 (Source: YCharts)
As illustrated in the chart above, BlackBerry's short interest is nearing its two-year low. Plus, BlackBerry's percentage of shares outstanding short stood at 16.8% on July 31, 2014 - another metric that declined to its multi-year low. On the other hand, its shares plunged almost 17% over the last month. This ongoing rapid short covering suggests:
Traders don't expect BlackBerry's stock price to plunge any further;
Selling in BlackBerry has probably been overdone;
Further pullback in its share price probably won't occur anytime soon;
Short covering and fresh buying can lift BlackBerry's stock price higher going forward.
Altogether, these bullets summarize that the recent sharp decline in BlackBerry's short interest provides a good technical-based entry point for long-side investors.
Positive fundamental events
The growing bullishness towards BlackBerry can be attributed to its latest string of announcements and upcoming launches. As I explained in my previous article, BlackBerry's upcoming Passport may be an impending hit. Considering its dimensions and security-encryption, power-users in several industries - including finance, healthcare and journalism - will find it particularly useful. BlackBerry Classic will be launched in November.
BlackBerry's recent acquisition of anti-eavesdropping firm Secusmart further strengthens its position in the enterprise segment. Even the basic Secusmart-encrypted BlackBerry Z10 sells for about 2,500 euros. This opens a whole new growth avenue for BlackBerry - prospective enterprise clients include government/corporate spies, decision-making government personnel, top-tier professionals from the finance, medical and defense industries.
Also, the upcoming BlackBerry Enterprise Server 12 is slated for a November release. This upgrade will essentially allow BlackBerry's BB7 and BB10-powered devices to operate on the same enterprise server. The elimination of cross-compatibility issues between BES5 and BES10 platforms, in turn, should boost the demand for its enterprise and hardware offerings.
Final thoughts
All the aforementioned technical and fundamental triggers suggest that BlackBerry's stock price will head north going forward. Investors and traders, therefore, might want to use the sharp decline in BlackBerry's short interest as a positive sign and time their long positions accordingly.
Disclosure: The author has no positions in any stocks mentioned, and no plans to initiate any positions within the next 72 hours. The author wrote this article themselves, and it expresses their own opinions. The author is not receiving compensation for it (other than from Seeking Alpha). The author has no business relationship with any company whose stock is mentioned in this article.