There's no sector that people have remained more terrified of over the past few years than homebuilders. In fact, even if you bought in at the March '09 market lows, you would still have a negative return on Pulte (-11%) (NYSE:PHM) and a mere 4% return on MDC Holdings (NYSE:MDC). While some other homebuilders have fared a bit better, much of those gains can be attributed to the market realization that certain builders were solvent and could survive, rather than bullish prospects on the general housing market. Yet, I believe that the sector is now attractive for long-term investors.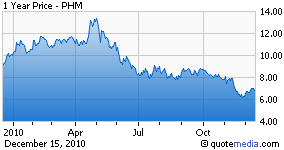 In early '09, I was bullish on palladium/platinum miners North American Palladium (NYSEMKT:PAL) and Stillwater Mining (NYSE:SWC). My rationale for buying was that the prices were so absurdly low, that even if it took the industry an entire decade to rebound, it would still be worthwhile to buy in. Over the past 2 years, the stocks have returned about 300% - 500%, depending on when you bought in and which of the two you chose to buy. That's a very spectacular return for 2 years, but even if it had taken 10 years, a 400% return over 10 years would have yielded a very respectable annualized return of 17.5%!
Make no mistake about it - homebuilders in late '10 are not as attractive as palladium miners in early '09. In fact, the opportunities that came along in '09 will likely be rare in the future. All the same, the risk/reward balance for the homebuilder stocks is very favorable. My own estimations suggest that in a normalized environment, many of the homebuilders should be selling at prices 100% - 400% higher than they currently sell.
Things have looked dismal for homebuilders over past few years and the housing market is not going to dramatically rebound in a year or two the way the palladium miners did. But given the current state of the market, I feel that even if I have to wait 5 years for a homebuilder stock to pay off, that this may very well be worthwhile. My favorite homebuilder over the past month has been Pulte.
The Case for Public Homebuilders
The biggest problem for the public homebuilders right now is fixed costs. There are economies of scale involved with the large homebuilding operations and all the large builders need a certain amount of volume in order to break-even. As housing starts improve, we will see homebuilders start to profit again. Of course, the big question is "when will housing starts improve?" 2 years? 5 years? 10 years? No one really knows.
The figure below examines housing starts, population growth, and "housing starts per person" over the past 31 years:
The first thing that should immediately stand out is that aside from the past three years, we have never even come close to being at the low levels we are right now. The low-points before the current crisis were 1981 (1.8 M starts), 1982 (1.06 M starts), and 1991 (1.01 M starts). In spite of the US population base being approximately 25% higher than it was in 1991, we now have about half as many housing starts as we did in those depressed environments. That should tell you just how extremely depressed the housing market is right now.
The next interesting thing on this table is the average housing starts. Average housing starts were about 1.450 million. That's about a 170% increase over the current levels. This figure should theoretically be weighted down by the lower population levels in the earlier years, as well.
Finally, the last column is the most interesting one to me. That column represents "starts per person." The 31-year average is 0.0056 starts per person. Over the past two years, we have been around 0.0017 starts per person. We would need to see the number increase about 230% to reach the average. If you apply the average ratio to the current population, we come up with an expected "normalized" starts of about 1.725 million, well above the current level of 540,000 starts.
While we undoubtedly have a lot of excess supply in the market and there are still numerous foreclosures working their way through the system, the basic takeaways from this data is that we are far, far away from normalized production and once we reach more "normalized" levels, the number of houses needed is going to be dramatically higher.
It's based on this premise that I believe the public homebuilders may be a very good long-term investment. Even if housing starts were merely to double over the next three years (still leaving us at semi-depressed levels), the public homebuilders could reap major benefits.
The pain of the private homebuilders could also mean major gains for the public homebuilders. The public homebuilders have certainly suffered significantly over the past few years, but by and large, the group has remained solvent. Contrast that to private builders, where we've seen huge numbers of bankruptcies. For this reason, the publics could see major market share gains over the decade, meaning that prior levels of profitability in the boom are not necessarily out of reach even in an average market.
It's for all these reasons that I am so intrigued by the public homebuilders. While I believe numerous builders will see significant gains over the next half decade, I have particularly liked Pulte over the past month.
Pulte
Pulte is the US's largest homebuilder. In 2009, Pulte completed the acquisition of competing public homebuilder, Centex. Pulte also has a small financial services arm that engages in mortgage lending.
Pulte participates in a diverse mix of building activities. Like most homebuilders, it does build single-family homes with a primarily suburban emphasis. It also constructs condominium and townhouse communities. Recently, Pulte has started a few interesting projects with more mixed use and New Urban designs; we can see examples of this with new communities like Potomac Yard in Alexandria, VA, and Metro West in Fairfax, VA.
The primary reasons why I have favored Pulte recently are that I like its focus (less oriented toward deep suburban areas than competitors), recent New Urban projects, and valuation. The last part is very key, though, because Pulte, in particular, has been punished over the past two months. After PHM's earnings release in mid-October, the stock dropped from $8.20 to about $6.15 (a 25% decline), before pushing back up to $7.00. The drop came on no major news, aside from a major goodwill write-down in the earnings release. This should have been a non-event for investors.
With that basic thesis out of the way, let's take a look at the financials for Pulte.
Balance Sheet
First off, I should note that all my data relating to Pulte is from after the 2nd Quarter results. While 3rd Quarter results have been released, I originally conducted my analysis in late September and have become more bullish as I saw the prices drop further. The 3rd Quarter data would not appear to significantly change any of my information.
With that said, Pulte's simplified balance sheet is posted below: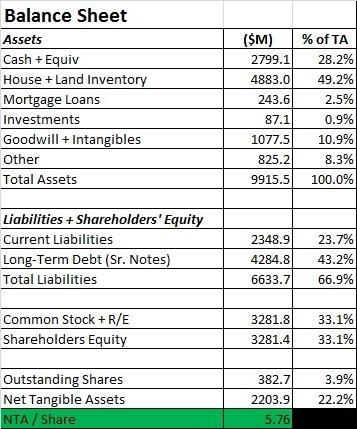 About 28% of Pulte's total assets are in cash, which tells you that this company has a major amount of dough to pump into the market if its business picks up. Net tangible assets (NTA) for Pulte were about $5.75 per share after the 2nd Quarter. I view NTA as a "floor" for PHM, because its competitive position within the homebuilding industry should always give it a premium. If the price for PHM's stock were to fall below the NTAs, I would be extremely bullish. Note that it came fairly close, as it dipped all the way down to $6.15 very recently.
Geographical Distribution
With the acquisition of Centex, there's no doubt that Pulte is a national brand. The following table gives Pulte's geographic breakdown of revenues for the past three years.

Income Statements
It's very rare for me to give more than a cursory glance over 10-year-old income statements. However, due to the extraordinarily depressed levels of the current housing market, combined with the housing bubble that preceded this period, I wanted to look back as far as I could in order to try to get a greater sense of normalized production and margins. Here are income statements and ratios for the past 16 ½ years.

Note that PHM changed the structure of its income statement during this period, which is why my gross margin calculations might seem a bit confusing. The margins are calculated two different ways for all years after 1999. Pulte originally calculated SG&A with "cost of revenues," but moved it down the income statement into operating costs after 2007. Therefore, I calculate gross margins both with and without SG&A post 1999.
Revenues, Margins, Units Sold, and Average Price
Finally, the chart below attempts to piece together revenues, margins, average prices, and units sold.

Keep in mind, once again, that margin figures might not be analogous.
Piecing Together the Earnings Picture
With all the data above, I have tried to piece together the earnings picture for Pulte in a less depressed environment. I have used gross margins (w/o SG&A) as my starting point and looked at how the potential earnings picture would change with a specified margin level given a changing number of units sold for Pulte. For instance, in the first chart, I use a 10% gross margin. If you look at the first row, you can see that if Pulte sells 25,000 units, it loses 33 cents per share. If it sells 35,000 units, it will earn 7 cents per share.
All the figures for these projections are annual. I examine gross margins all the way from 10% - 20%. While I have included a 10%, 12%, and 14%, I view these as somewhat unlikely projections outside of a depressed environment, and view gross margins from 16% - 20% as more realistic.
Here are all the scenarios:
Analysis
Currently, Pulte is selling about 15,000 – 17,000 units annually. Based on the historic housing starts figure, it seems likely that starts will at least increase to 1.0 million again at some point in the next five years. So even if we assume a 16% gross margin and 27,500 units sold for PHM that gives us potential earnings of 85 cents per share. Even with a low earnings multiple of 12, that could suggest that PHM would be worth $10.20, or a bit more than 40% above where it's trading at now. This seems like a fairly conservative scenario.
Moving up to an 18% gross margin and 30,000 units sold, we come up with earnings of about $1.44 per share. With a P/E multiple of 14, that gives us a valuation of about $20, which is about a 190% increase over the current share price.
While my tables only go up to 40,000 units sold for PHM, if we get even more aggressive and assume that my normalized production figure from earlier is correct, that would imply that housing starts need to triple. If PHM also saw its units sold triple to about 45,000 units and was able to make an 18% margin, that could imply earnings upwards of $2.75 per share! With a P/E multiple of 15, it would be possible for PHM to be selling as high as $40.
Even going back to the more conservative 16% gross margins and 30,000 units, PHM could potentially earn around $1.00 per share. That's still fairly conservative and could imply that the company could trade at around $15 at some point.
While I do believe that PHM has significant odds of earning over $2 per share again sometime in the next decade, for now, I will go with the semi-conservative outlook of 18% margins and 30,000 units sold, yielding an expected valuation of $20. If we see the housing market rebound faster than expected, this would be an added bonus. Even if the housing market stalls for another 5-10 years, I still believe that this investment could see some decent (but more subdued) gains of around 50% - 75%.
Conclusion
I like investing with a margin of safety. Pulte does not meet my traditional definition of "margin of safety," which is a company selling below NTAs minus write-downs to susceptible asset accounts. However, with PHM, you really have to consider its competitive position in the market and cash flow potential based on that. Based on that, I believe that at $7, PHM has a reasonable margin of safety for long-term investors.
Pulte (and many other builders) might be very undervalued right now if you believe that housing will even semi-rebound over the next half decade. Even if housing starts were to double, we would still be at relatively depressed levels, and PHM could be earning $0.50 - $1.00+ per share in that environment. If we were to see normalized levels again, PHM could be earning $1.50 - $3.00 per share.
Given this, I believe it's worthwhile strategy to buy into the builders and sit and wait. For long-term investors with patience, the builders could turn out to be quite a good buy.
I initiated a position in Pulte under $8.50 and accelerated my buying as it dipped below $6.75. It is now one of my larger positions.

Disclosure: Author long PHM, TOL and DHI