Conclusion: The prospect of higher interest rates is likely to continue to place downward pressure on the CEF stock market segment as a whole for the following reasons:
Approximately 60% of the $243 billion in CEF assets are invested in what are considered fixed-income investments. In a majority of cases, those investments are leveraged to enhance distributions.

Investors' benchmark for equity-yields from investment companies, like CEFs, trade off the treasury yield curve, which is considered a riskless investment.
With the exception of severe markets' dislocation, higher interest rates have historically placed downward pressure on fixed-income CEFs. It's believed this trend will likely continue into 2011 (see chart below).
Buckle Up: The chart below depicts the relationship between an inverted three-month moving average of 10-year treasuries and the average share price of two of Eqcome's fixed income categories: Taxable and tax-exempt fixed income.
[Click to enlarge.]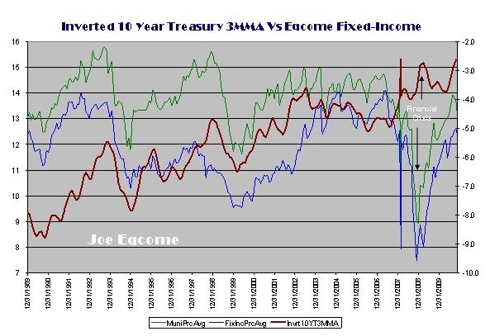 Click to enlarge
With the exception of the financial crisis of 2008-09, where investors jettisoned investments other than treasuries, the trend towards higher 10-year treasuries and lower-average fixed-income CEFs is evident. (The inverted yield depicts lower rates as being graphically higher proportionally. In this fashion, lower interest rates can be more easily associated with the rising average stock prices, i.e. if the stock price is rising, then rates are declining.)
Baby with the Bathwater: However, 40% of the CEFs' stock market segment is represented by funds that invest in domestic and global equities. Those share prices and distributions may be a beneficiary of higher interest rates if such elevated rates are associated with an expanding economy.
Corporations Flush with Cash: As previously noted, U.S. corporations are flush with cash. Such cash could be deployed in M&A — to expand business portfolios — or to enhance shareholders' value by buying back stock or increasing dividends. Many of the equity-oriented CEFs that hold such stocks in their portfolios are likely to pass higher dividend income through to their shareholders.
Screening for Dollars: I screened my database looking for closed-end investment companies that would benefit from either the M&A trends or, alternatively, increased distributions or stock buybacks. The ones that popped up in each category are as follows:
M&A: MVC Capital, Inc. (NYSE:MVC), a BDC that invests in venture capital companies specializing in information technology.

Dividend Increases:

The Adams Express Company (NYSE:ADX)

, an old-line CEF with investments in large cap stocks.
Both companies sell at mid-teen to high-teen discounts and pay a modest distribution. Adams Express's share price performance has lagged its peers and may be in a position to gain some lost ground if big caps and oil come back into favor.
An Extra Push for ADX: As it relates to Adams Express, under active consideration is the submission of a shareholders' proposal for ADX's 2011 shareholders' proxy. The proposal would be a resolution for ADX to engage a major investment banking firm to undertake a study with recommendation to maximize the firm's long-suffering shareholder value through consideration of alternatives, such as a conversion to an opened-end fund, a periodic tender offer for shares if the discount falls below certain criteria, or the institution of a managed distribution program. The conclusions of such a study would be in the form of recommendations to the board for their consideration.
Same Issue, Different Path: This shareholder proposal is consistent with the recommendations made last year and can be found in a series of articles which are linked to the article here.
Caveats: While there may be better prospects for the equity-oriented CEFs, the fixed-income CEFs will continue to experience downward pressure as this group's previous year's winnings are taken "off the table" and reasons to buy them next year are scant.
Additionally, equity-oriented CEF stocks may not perform as well as their fundamentals might imply, as investors may be looking elsewhere to capture equity yields and capital gains.

Disclosure: I am long ADX.

Additional disclosure: Owns a diversified portfolio of CEFs and ETFs and has been a long-term holder of ADX and is getting wary of waiting for the discount to close without a "push."