A couple of weeks ago I put a piece out identifying the 10 most extreme ETF/ETN winners relative to their respective 200-day moving averages to get a sense of where prices movement had most accelerated. Given the fantastic run-up equities have had over the past three months, I re-ran the screen to find those ETFs/ETNs among the over 800 that I track which are furthest away from their 50-day moving averages.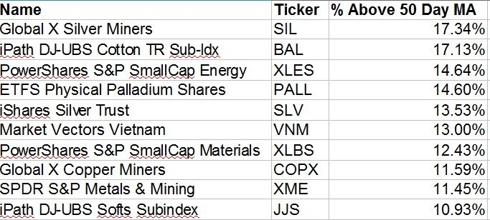 With all the hoopla over stocks in the media, the reality is that what has done best is anything commodity sensitive (whether we're talking about the commodities themselves, or the stocks of miners). The implication here is actually quite important. The expectation for cost-push/commodity based inflation appears to have taken on a life of its own. Should investors be right, that means that any gains we're all experiencing in stocks could just as quickly be taken away in the real economy as we are forced to pay higher commodity prices globally.
Thanks Ben!

Disclosure: I have no positions in any stocks mentioned, and no plans to initiate any positions within the next 72 hours.