Fastenal Co (NASDAQ:FAST) operates wholesale distribution of industrial and construction supplies to manufacturing and non-residential construction markets. The company is well situated to benefit from the $9 trillion in global infrastructure spending forecasted by PricewaterhouseCoopers. The company's shares have performed well with regard to various related industries (Exhibit 1). However, it has been lagging the S&P for the past year due to funding constraints for public projects and uncertainty concerning current valuation (Exhibit 2).
Exhibit 1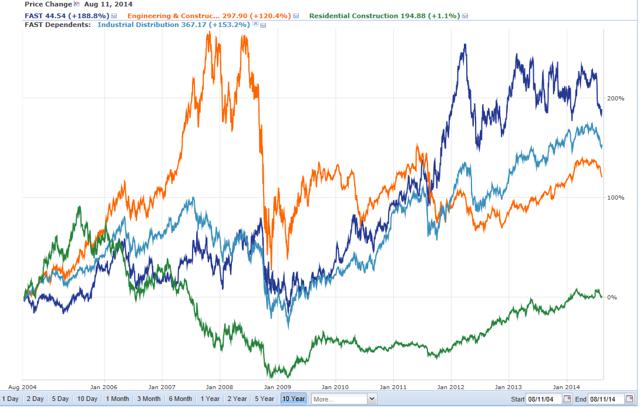 Source: Stock Rover
Exhibit 2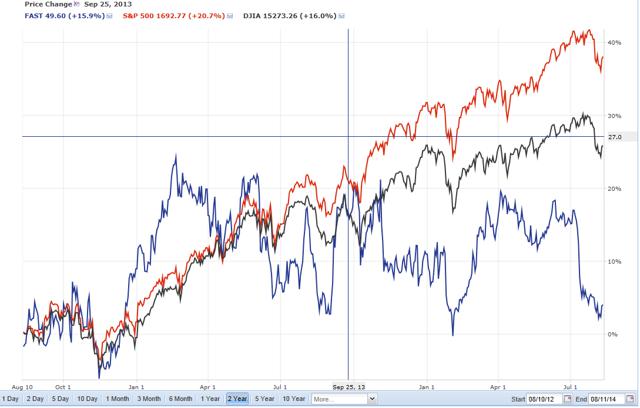 Source: Stock Rover
Fundamentals
Company fundamentals are strong on a historical basis. Operating margins are near 10-year highs (Exhibit 3). Free cash flows, which are not a significant factor in pricing FAST shares, have declined over the past few years but remain within an acceptable range (Exhibit 4). Additionally, the company continues to add value through operational efficiency leading to 12% annualized growth in sales which has contributed to annualized equity growth of 12% (Exhibit 5). Moreover, the dividend yield is higher than its peers as well as growing at an annual rate of 9% over the past 4 years and 25% over the past 10 years.
Exhibit 3

Source: Stock Rover
Exhibit 4

Source: Stock Rover
Exhibit 5

Source: Stock Rover
Valuation
Industry analysts have an average target price of $52.25 (Exhibits 5). Price to earnings is high at 30 times which is 16% higher than its peers (Exhibit 6). Additionally, FAST is overvalued according to EV/EBITDA and Price to Sales.
Exhibit 5

Exhibit 6

Source: Stock Rover
Fastenal also is overvalued using the dividend discount, discounted free cash flow and comparable analysis methods. As the most relevant, the DDM gave me an estimate of $43.26 per share.
Technical Analysis
FAST has traded in a tight range since setting highs in 2012. This is possibly due to high valuation as previously mentioned. Additionally, investors appears to be interested in returning equity valuations to acceptable levels by either sending prices lower with a break of the lower resistance level displayed in Exhibit 7 or by keeping share prices in a range until company fundamentals catch up. Either way an investment in FAST at this point is not advised.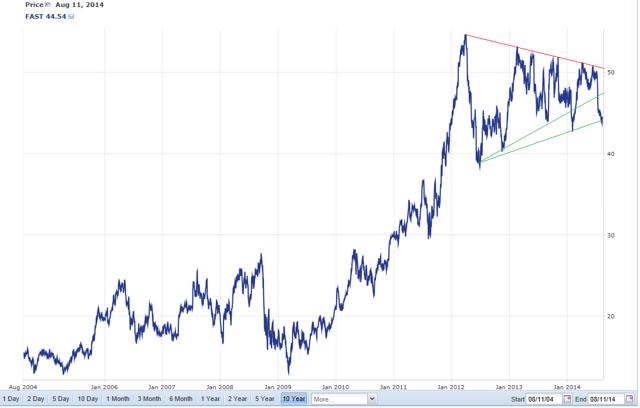 Investment Opinion
While sales volumes and operating margins are positive in addition to improving business conditions, current valuations metrics just don't present an acceptable reason to own shares at these prices. However, as FAST trades lower or fundamentals improve, it will be an excellent addition considering its exposure to the substantial infrastructure spending projected over the next 10 years.
Disclaimer: Michael Lee is an investment strategist at Long Street Capital Management, LLC ("LSCM"). This article is prepared by Mr. Lee as an outside business activity. As such, LSCM does not review or approve materials presented herein. The opinions and any recommendations expressed in this article are those of the author and do not reflect the opinions or recommendations of LSCM.
None of the information or opinions expressed in this article constitutes a solicitation for the purchase or sale of any security or other instrument. Nothing in this article constitutes investment advice and any recommendations that may be contained herein have not been based upon a consideration of the investment objectives, financial situation or particular needs of any specific recipient. Any purchase or sale activity in any securities or other instrument should be based upon your own analysis and conclusions. Past performance is not indicative of future results. Either LSCM or Mr. Lee may hold or control long or short positions in the securities or instruments mentioned.
Disclosure: The author has no positions in any stocks mentioned, but may initiate a long position in FAST over the next 72 hours. The author wrote this article themselves, and it expresses their own opinions. The author is not receiving compensation for it (other than from Seeking Alpha). The author has no business relationship with any company whose stock is mentioned in this article.