By David Ristau
Overnight Trade: Discover Financial Services Inc. (NYSE:DFS)
Analysis: Discover Financial has had a great run in 2010, and the stock is looking strong moving into earnings. That situation tends to not be where we like to invest and trade. We are more of value trades rather than momentum traders. Yet, DFS presents some momentum that is pretty abounding and could send this stock much higher tomorrow morning if the earnings report is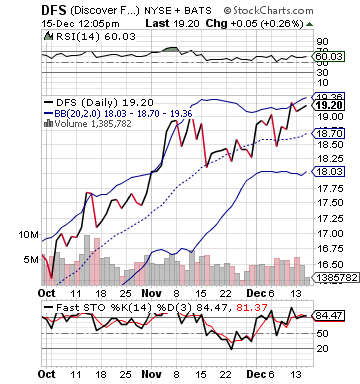 good from DFS (and it should be).

The stock has risen over 35% in the last six months with an amazing chart that is literally a straight line from 14 to 19.20. Credit card companies have grown much stronger throughout the year with spending increases and credit card delinquencies falling significantly. This trend was reflected in the latest slew of earnings from the three other major credit card companies in American Express (NYSE:AXP), Visa (NYSE:V), and Mastercard (NYSE:MA). Each company beat expectations, reported better consumer spending, and had positive earnings.

Now, it is Discover Financial's turn. While the stock is overvalued moving into earnings, which does present some downside risk, the company is expected to hit an EPS of 0.43 vs. 0.12 one year ago. The company, though, is expected to move down quarter-to-quarter from 0.47 to 0.43. All other credit card companies improved on this trend, even the ones that were supposed to decline further. Capital One exceeded its quarter by over 0.20 EPS points.

Discover is a little bit different in that the company also loans money to individuals directly as well as credit cards. The company saw declining delinquencies in each month of its September to November quarter with delinquency rates hitting just over 4%. That number compares to a 5.3% delinquency rate last year at the same time. Another positive sign is that charge-offs are declining. Despite a positive earnings report one year ago, charge-offs were on the rise and hitting over 8%. The company has seen these decline to the low 6% area, and it should continue to decline.

The company, further, holds a lower P/E ratio than Mastercard and Visa. The company is actually not extremely overvalued at current prices at only 16x earnings. The company will suffer if earnings are not good, but the company has plenty of upside to increase that ratio. Barclays recently upgraded the company on this notion to $23 as they believe current trends in spending make the company's earnings more justified and should help increase the P in P/E.

There is a lot of call activity going on at 20+ on the stock while it still trades well below that price. There are a lot of bulls in this stock that are excited about earnings and looking to sell. Yet, the stock has not moved a wink in a week. Tomorrow could be a huge day for this stock.

The bear case is that the stock is overvalued, and it has priced earnings into itself already. Positive earnings at this point would not shock anyone, but they would help the company attract even more buyers not less. The stock could quickly selloff, which is fine since we want to get out at the open. Some bears are saying that consumer spending cannot prop the stock up, but retail sales were strong and showed spending is rising even if its still a low amount using credit cards. Further, expenditures rose in September and October over previous months. More spending … more EPS.

Estimates are too low. Get in now!

Entry: We are looking to get involved at 19.00 – 19.20.

Exit: We are looking to exit tomorrow morning at open.

Stop Loss: None set.

Disclosure: I have no positions in any stocks mentioned, and no plans to initiate any positions within the next 72 hours.