El Halcón
During the month of June, Halcón Resources' (NYSE:HK) average daily gross oil production in El Halcón (Eagle Ford) in East Texas declined by approximately 16% month-on-month. The decline is explained by the trough in the company's completions schedule that I wrote about in my previous note. The latest state data indeed confirms my estimate that no new wells were connected by the company in El Halcón in June. Please note that El Halcón production volumes for the month of June are already reflected in the company's reported Q2 production volumes that came in slightly below my estimate.
The company's Eagle Ford production is likely to be flattish in July as the contribution from three new wells that the company connected during the July 1-July 25, 2014 period with a high average IP rate of 1,091 boe/d (93% oil) should offset most of the natural decline from existing wells. July production volumes will depend on the specific timing of these new wells coming online.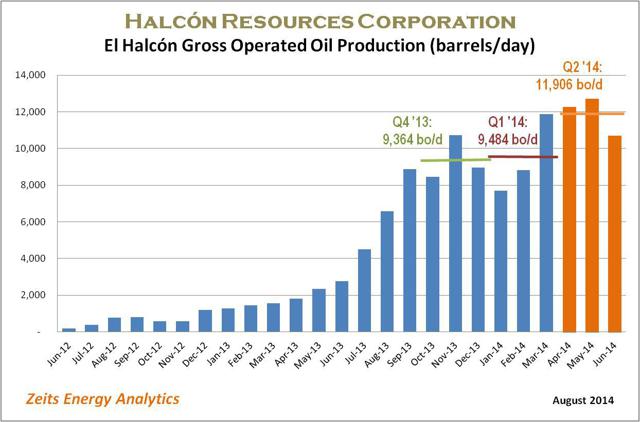 Click to enlarge
(Source: Zeits Energy Analytics, August 2014)
Overall, at the end of July, Halcón had 67 horizontal Eagle Ford wells on production in El Halcón. As a reminder, the company drilled its first operated well in the play just eighteen months ago.
The following table presents Halcón's latest (through June, 2014) month-by-month well performance results in the East Texas Eagle Ford play. The data points that have been added since my last update a month ago are shown in blue.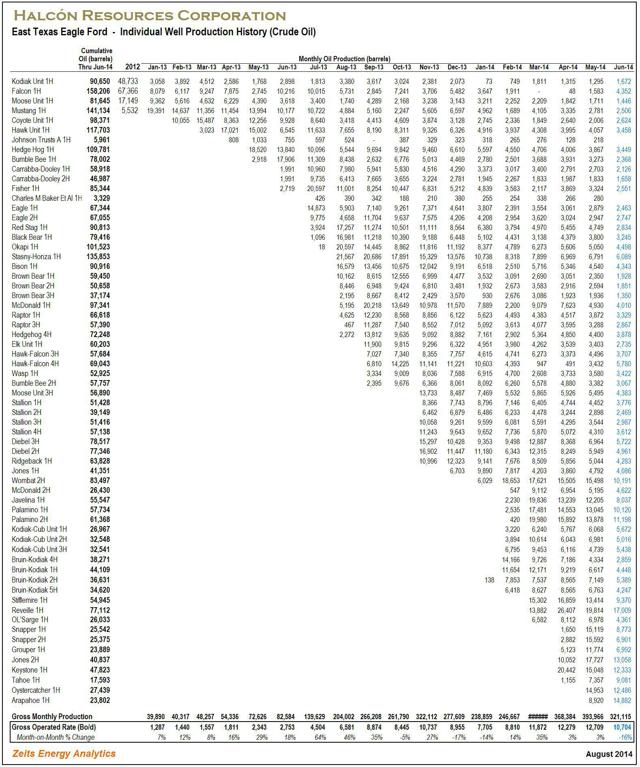 Click to enlarge
(Source: Zeits Energy Analytics, August 2014)
Halcón's most recent wells show improvement in the average performance relative to the company's early well results. Several wells are worth noting:
The Reveille #1H well that was turned to sales on March 20, 2014 continues to perform very strongly and has cumulative production of ~77,300 barrels of oil in the first 103 days (or ~750 bo/d on average). The Reveille is outperforming Halcón Stasny-Honza #1H well that has previously been the company's most prolific Eagle Ford producer, with ~136,000 barrels of oil produced in the first ~11 months.
Recent "downdip" wells continue to perform very strongly. Particular standouts are the Wombat, Palamino 1H & 2H, Jones 2H, Stifflemire, and Keystone.
The most recent reported wells, the Oystercatcher #1H (IP rate of 1,041 boe/d) and Arapahoe #1H, are showing strong early performance.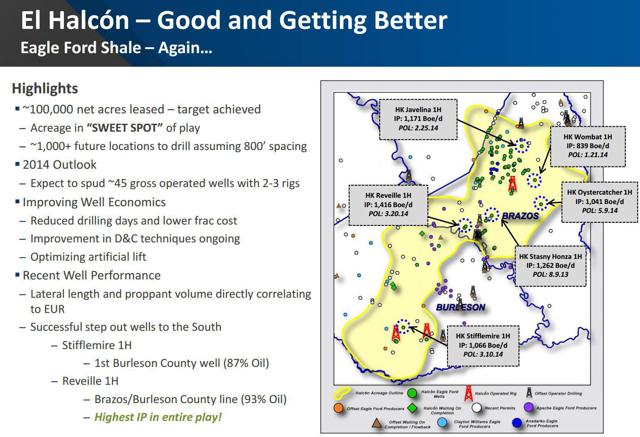 Click to enlarge
(Source: Halcón Resources, June 2014 Investor Presentation)
Despite Recent Mechanical Setback, Halcón's TMS Thesis Remains Intact
The most recent TMS well data points - which include two new prolific wells delivered by Encana (NYSE:ECA) and one strong new well reported by Goodrich Petroleum (GDP), as well as the assessment by Goodrich of the rock productivity in the play during their recent conference call - provide a strongly positive read-across to Halcón.
Encana drilled two very strong new wells:
The Lewis 7-18H-1 in Amite County, Mississippi, had a peak 24-hour rate of ~1,500 Boe/d (93% oil) from an ~8,100 foot lateral with 29 frac stages on a 18/64 inch choke.
The Mathis 29-32H-1 well, also in Amite County, had a peak 24-hour rate of ~1,300 Boe/d (92% oil) from a ~6,400 foot lateral with 17 frac stages on a 18/64 inch choke.
Both the Lewis 7-18H-1 and the Mathis 29-32H-1 are located within the core fairway area in south-central Amite County that had been already delineated by existing wells.
Goodrich-operated SLC, Inc. 81H-1 well in West Feliciana Parish, Louisiana had peak 24-hour production rate of ~900 boe/d (96% oil) from a ~7,000 foot lateral with 27 frac stages on a very tight 12/64 inch choke. The well is important as it represents a downdip delineation test and is the company's deepest well drilled to date in the TMS with an approximate true vertical depth of 14,000 feet.
I discussed implications of these and other recent well results in detail in my recent note Tuscaloosa Marine Shale - It Works!
As a reminder, Halcón's second operated TMS well, the Black Stone 4H-2 (5,400' drilled lateral), was delayed as the well encountered mechanical problems during clean out operations. The company currently has two additional TMS wells in-progress, the Fassman 9H-1 and SD Smith 1H, both in Wilkinson County, that have been successfully drilled, with near-record drilling times, and are now awaiting completion.
While it may be still too early to declare the TMS a proven commercial success, the most recent data points suggest that recent investor concerns with regard to the play's progress may be exaggerated.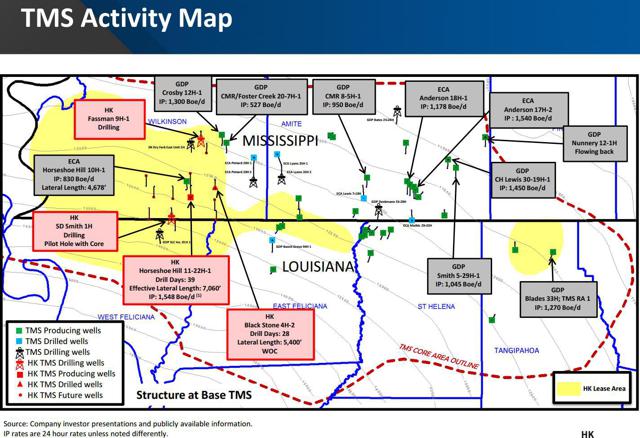 Click to enlarge
(Source: Halcón Resources, June 2014 Investor Presentation)
In Conclusion...
Halcón production growth in the Eagle Ford is a function of the number of wells connected during each specific month. A more important metric is cumulative production per well. As long as the company continues to make progress in improving its oil recoveries per well (12-month cumulative oil production may be a particularly relevant metric, in my opinion) while controlling or reducing costs, the play will remain on track for ultimate success.
The TMS remains highly challenging from the execution perspective, but offers Halcón an opportunity for a tremendous payback in the event of success. The TMS is making visible, albeit slow, progress and has probable chances, in my opinion, of emerging as a proven commercial play in six months to a year from now.
Disclaimer: Opinions expressed herein by the author are not an investment recommendation and are not meant to be relied upon in investment decisions. The author is not acting in an investment advisor capacity. This is not an investment research report. The author's opinions expressed herein address only select aspects of potential investment in securities of the companies mentioned and cannot be a substitute for comprehensive investment analysis. Any analysis presented herein is illustrative in nature, limited in scope, based on an incomplete set of information, and has limitations to its accuracy. The author recommends that potential and existing investors conduct thorough investment research of their own, including detailed review of the companies' SEC filings, and consult a qualified investment advisor. The information upon which this material is based was obtained from sources believed to be reliable, but has not been independently verified. Therefore, the author cannot guarantee its accuracy. Any opinions or estimates constitute the author's best judgment as of the date of publication, and are subject to change without notice.
Disclosure: The author has no positions in any stocks mentioned, and no plans to initiate any positions within the next 72 hours. The author wrote this article themselves, and it expresses their own opinions. The author is not receiving compensation for it (other than from Seeking Alpha). The author has no business relationship with any company whose stock is mentioned in this article.