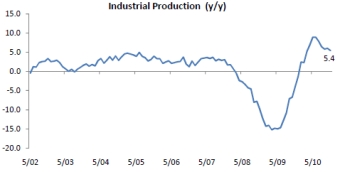 Today's industrial production figures for the month of November showed a stronger than expected increase of 0.4% (0.3% estimate) month over month. On a year over year (y/y) basis, overall production rose by 5.4%, which is down from its peak earlier this year. That being said, we would note that the current y/y level is still well above levels we have typically seen over the last several years.
While the headline number provides a good overall view of economic activity, looking at the y/y totals for the various subgroups provides a more detailed view of which sectors are seeing strength and weakness. To that end, the link at the bottom of this post takes you to a PDF with y/y charts of each individual sub sector in the Industrial Production report. As you can see in the PDF as well as the table below, the printing sector is the only component of the report that showed a y/y decline in production this month. This decline is probably more a reflection of more content moving online than it is economic weakness. Along with printing, there are ten other components of the report that showed slower growth than the headline number.
In terms of sectors showing strength, Machinery led the way this month with a whopping 19.5% increase on a y/y basis, and it is currently at multi-year highs. Computers are a distant second, but at a level of 11.9%, that kind of growth is nothing to sneeze at.
Industrial Production in Pictures