Elevator Pitch & Thesis
Rowan Companies (NYSE:RDC) presents an asymmetric risk/reward pay-off for investors based on its: (1) high growth profile for revenue and EPS, (2) cheap valuation, and (3) strong balance sheet. Rowan has underperformed the S&P 500 over the last twelve months, which adds to our conviction about this incredible long opportunity.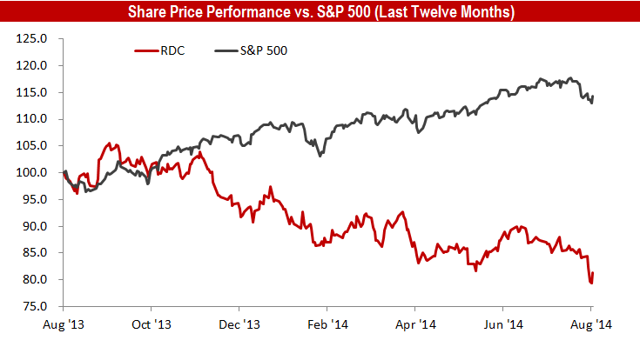 Company Description
Rowan is a global provider of U.S. and international contract drilling services and operates a fleet of 34 offshore drilling units. These units include four ultra-deepwater drillships and 30 jack-up rigs, 19 of which are rated high-specification. The company's fleet is located worldwide, including West Africa, the Middle East, the North Sea, Trinidad, Egypt, Southeast Asia and the Gulf of Mexico.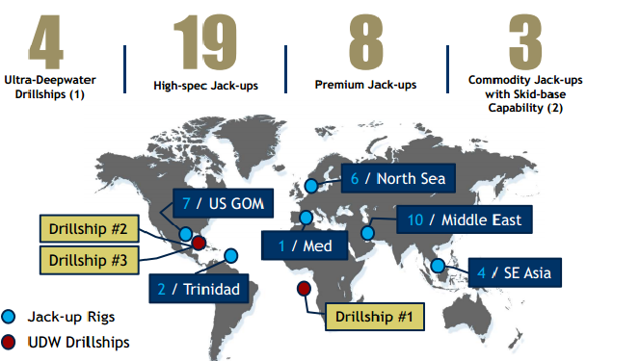 Source: Company investor presentation
Market Update - Mispricing and Growth Catalysts
RDC has experienced a significant sell-off due to concerns over the magnitude and scope of softness in the jack-up market. What the market has failed to realize, however, is that not all jack-ups are created equally, and higher quality assets will do a better job of weathering the storm.
There are currently 123 new jack-ups being constructed globally, and RDC believes that only 23 of them will be competitive with its premium assets.
While the headline number of 123 new jack-ups may look like oversupply, the market has failed to realize that 27 of these rigs are being built for specific markets (Iran, China) and 73 are being built by speculative players, which may never be completed and don't have proven operators yet.
#1 - High Revenue & EPS Growth Profile
Rowan's valuation will eventually normalize when investors fully recognize its rapid growth profile and no longer attribute a discount to the jack-up market. Below is a summary of analyst consensus estimates for Rowan over the next 3 years. As you will see, analysts are forecasting total revenue growth of 63%, EBITDA growth of 88%, and EPS growth of 238%.

#2 - Cheap Valuation
Rowan trades at a very cheap valuation relative to its high growth profile. Based on analyst consensus estimates for 2015E, RDC trades at a mere 1.5x Revenue, 5.0x EBITDA and 7.4x EPS. Its price to book value is an incredibly cheap 0.7x.

#3 - Strong Balance Sheet
RDC has a strong balance sheet with $1.2 billion of cash and $1.6 billion of net debt. Once we factor in the growth forecast, Rowan's leverage multiples come down significantly: 2015E debt to EBITDA is 2.7x and net debt to EBITDA is a mere 1.5x.

Conclusion & Target Price
In summary, we believe the market has not fully valued Rowan's growth profile due to perceived softness in the jack-up market. Once the market recognizes that, RDC will fare better than its peers in the event of oversupply (due to higher quality assets). Additionally, RDC will trade at higher 2015E multiples (outlined below), which is how we arrive at a target price of $57.00/share and a target return of 92%.

The above methodology is based on an equal weighting of Price/Sales, TEV/EBITDA, and P/E.
Source: all data and estimates from Capital IQ.
Disclosure: The author is long RDC. The author wrote this article themselves, and it expresses their own opinions. The author is not receiving compensation for it (other than from Seeking Alpha). The author has no business relationship with any company whose stock is mentioned in this article.