Dividend-paying stocks are back in vogue in 2014. The leading stocks year-to-date are the utilities and defensive sectors like the Mortgage REITs, which I wrote about last month (check back in a few weeks for the MREIT Q2 Scorecard). Despite getting off to a nice start, and even with the bounce-back the last few days after a minor correction, stocks and bonds have largely traded in lock-step in 2014. You can see rising prices for both stocks and bonds in 2014 -- that would be falling yields for bonds -- here: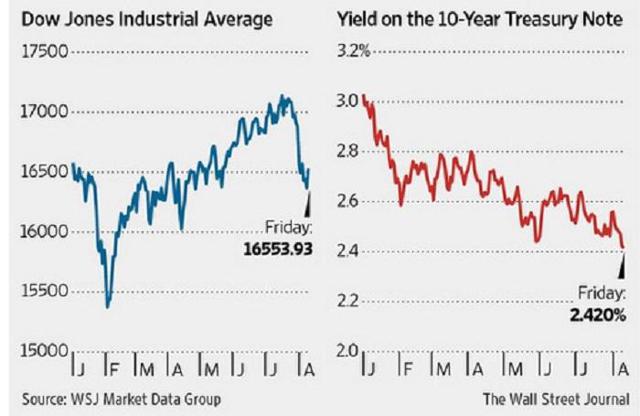 It is unlikely that this relationship will continue. The same situation was evident in 2013, and the situation resolved itself with a massive spike-upwards in bond yields from 1.6% to 3% in the span of 5 months. This decimated the dividend-payers, but I don't expect a repeat anytime soon. If global geopolitical tensions ease and growth in Europe resumes, then interest rates should rise overseas and this could pressure domestic 10-year Treasury yields. But right now, with Germany clinging to 1% 10-year yields and profligate spenders like Spain and Italy only paying 2.50% and 2.75% on their 10-year bonds, U.S. Treasury yields at 2.5% are a steal to many European and Asian investors.
Net-net, don't expect a sustained rise above 3% in the 10-year anytime soon, if even back to that level. That means less competition for dividend-paying stocks. And recent S&P 500 total returns have been skewed to capital gains and less from dividends:

If the composition of total returns reverses, that will put a higher priority on dividends and dividend-paying stocks, which bodes well for my Fab Five below. So let's take a look at 5 names collectively paying 5% if you employ my "basket" approach, which I continue to support for safety and diversification reasons.
CenturyLink (NYSE:CTL): CenturyLink reported another nondescript quarter, which is pretty much what investors are looking for as the company continues to inch toward integration of major acquisitions from a few years ago. CenturyLink beat EPS estimates handily, but more importantly, guided revenue upwards while maintaining EBITDA forecasts for 2014:

Revenue stability should come in 2015, EBITDA stability in 2016. Strategic (growth) revenue is now up to 56% of all revenue from sources like PRISM TV, broadband, and video. Legacy (wireline) revenue is down to 44% of revenue. The two revenue streams were 50/50 only 2 years ago so CenturyLink continues to make progress, albeit at the expense of margins. The new revenue sources aside from broadband are lower-margin than old wireline telephone, which explains EBITDA stability coming later than revenue growth.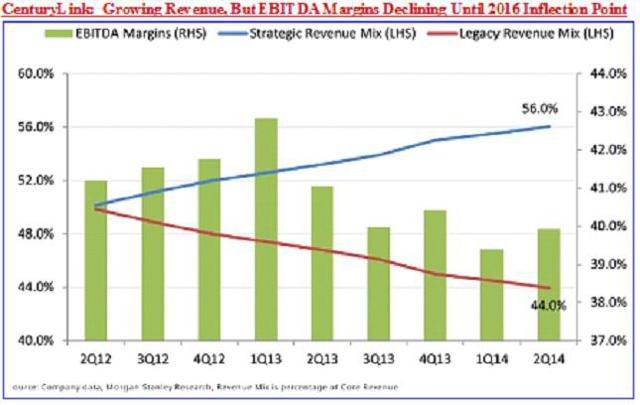 CenturyLink management saw the reaction of the market to Windstream's (NASDAQ:WIN) financial and organizational re-shuffling, but management seems to believe a 1-time financial gimmick will not move the needle as much as continued progress in assuring investors the dividend is secure and buybacks will keep coming. Buybacks may slow to $150 million a quarter as the billion-dollar authorizations from 2013 expire and the stock has recovered to levels not far from when the dividend was slashed on Bloody Wednesday. As they ponder any potential REIT change, CenturyLink offers a lush 5.9% dividend yield, which is only a 55% payout on 2015 fully-taxed earnings.
Royal Dutch Shell (NYSE:RDS.A) (NYSE:RDS.B) had one of the best quarters of any of the large integrated oil companies. Royal Dutch benefited from rising volumes in the Gulf Of Mexico, improved pricing for natural gas in North America, and a continued replacement of low-margin with higher-margin barrels and increased LNG production. Most important, CAPX appears to have reached a plateau and may even decline in a few years.
After peaking at about 600kboe/d in 2002, Shell's Gulf of Mexico activities have been in consistent decline for much of the past decade, combined oil and gas output falling to just under 180kboe/d in 2014. Following the early 2014 start-up of the Mars B platform and with several further additional sources of production set to come on-stream, Shell's U.S. GoM division goes from major headwind to slight tailwind. Although the GoM is unlikely to ever reclaim previous highs, expect 2014 to represent Shell's first year growing GoM production since 2002. Eventually by 2020, Shell should be back close to 300kboe/d from the Gulf.
The story for Big Oil in 2014 and for the next few years is going to be holding the line on CAPX. While none of the large oils is as bad as Petrobras (NYSE:PBR) on the debt front, the chase for oil discoveries the last decade has not really benefited shareholders. An increased focus on dividends and buybacks is a better use of capital in the aggregate. After several years of non-existent buybacks or minimal targeted purchases to offset the "B" shares issued for dividend reinvestment, Royal Dutch Shell will be in a position to net retire shares and also modestly boost the dividend. Shell has grown her dividend at just under 5% per annum since 1990 and $7 billion-$10 billion in additional free cash flow should now be available to boost the dividend or buy back shares.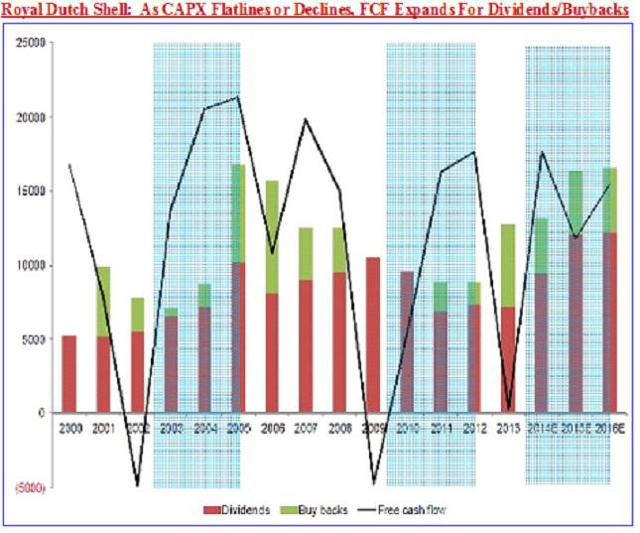 Holding the level on CAPX is what investors want to see. The oil companies by-and-large have enough projects, discoveries, and potential discoveries to keep themselves busy drilling for decades, much longer than their stated reserve life. Shell's debacle with otherwise-lucrative U.S. shale basins shows that being late to the party is worse than being invited. Mining existing properties for oil and natural gas and selling off non-strategic areas not only bridges any CAPX funding gaps, it streamlines the portfolio. With the longest-life portfolio of assets, Royal Dutch has plenty of areas to mine for production as well as sell-off to raise cash (which the company has been doing in earnest):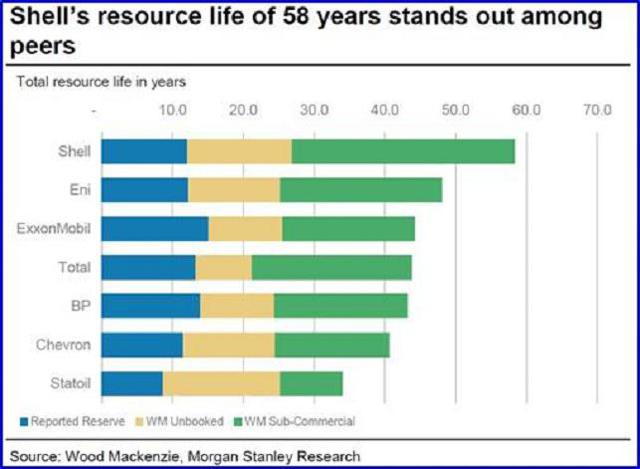 You might want to consider sacrificing a bit of net yield if you take dividends in cash and don't hold them in an IRA account by buying the "A" shares. "A" share dividends are taxable, but if the share prices ever equalize as the company goes to a single-share class, they will reap a 5% windfall. Royal Dutch Shell yields 4.7% on the "A" shares. Don't worry about the dividend for either class of stock: Shell hasn't cut the dividend in over 70 years.
MarkWest Energy Partners (NYSE:MWE) is one of the best-positioned MLPs for growth. MarkWest benefits from having no Incentive Distribution Rights (IDRs) and is leveraged to the high-growth Marcellus and Utica Shale regions. The multi-year growth story in the Northeast should drive solid cash flows for the next several years, though equity issuance to fund the CAPX will weigh on shares for the next few quarters.
MarkWest shares do not suffer from IDRs as there is no general partner. Whether this is as big an advantage in the MLP sector after the consolidation announced by Kinder Morgan (NYSE:KMI) earlier this week remains to be seen. More importantly, MarkWest's increased NGL and fee-based revenues should give operational leverage even in a depressed natural gas environment. Should natgas prices on Henry Hub reach $5/mcf, MarkWest will be able to print money and easily cover double-digit distribution growth out towards 2020. Long-term natural gas futures point to a price close to $7/mcf and some forecasters agree: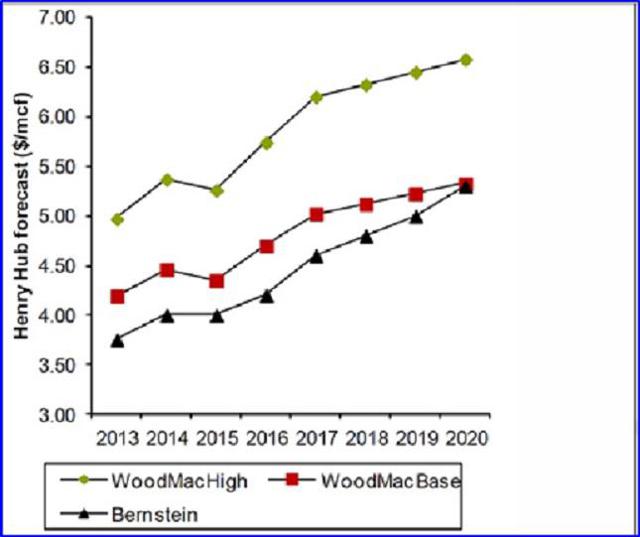 As domestic and export demand for natural gas liquids increases and improves economics on many of MWE's contracts, this is a natural hedge to MWE's other moving parts. As MWE moves to more of a fee-based revenue model and limits commodity sensitivity, the shares will offer higher visibility and value on future cash flows.
Even after the KMI-inspired rally in which MarkWest soared with the rest of the sector, the stock still yields 4.7%. A good time to pounce would be on a market correction or with weakness in WTI/Brent oil pricing, which would knock the yield back above 5% as the price moves back into the $60s, where it has spent some time the last 18 months.
American Capital Senior Floating (NASDAQ:ACSF) is a low-risk business development company that specializes in floating-rate loans. The floating-rate business model is what you want to have in your BDC if you think rates are set to rise because it removes some of the interest rate risk associated with pools of fixed income loans and securities. For floating-rate pools, the interest yield on the investments will rise alongside increases in the short-term LIBOR rate, usually after a 1% floor has been reached. Most of these are of the senior/1st-lien variety, which means that American Capital is on the top step of the ladder in terms of avoidance of credit risk. In the Q2 2014 quarter, ACSF had zero problem loans and no pending credit issues.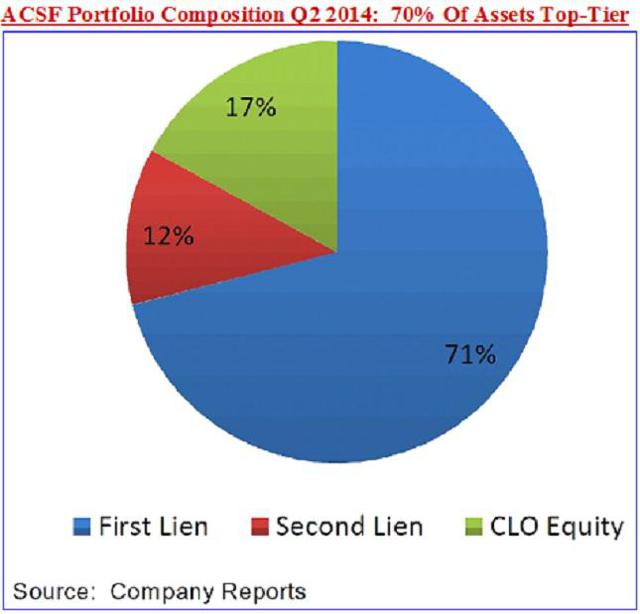 Earnings have barely covered the dividend, but in a risk-on environment that ACSF management largely eschews, that is not surprising. 2nd-lien loans and a slice of equity devoted to a collateralized loan obligation (CLO) give American Capital Senior Floating a kind of "barbell structure" with the loan portfolio returning a very-conservative 5.3% and the CLO juicing the overall yield with an 11.6% yield for a blended average of 6.3%. ACSF is paying a $0.28 quarterly dividend, which represents an 8.0% dividend yield on today's price.
American Capital Senior Floating has an extremely shareholder-friendly cost structure and no management incentive plan. As a result, they are able to generate the dividend yield and net income on a portfolio that averages just over a 6% yield. The analysts at Keefe, Bruyette & Woods note that this is a very attractive risk-adjusted return relative to the BDC group because the BDC sector generally encompasses assets yielding 11% with a net 9.5% dividend yield. This indicates much more credit risk, which should be a consideration to BDC investors (indeed, all equity investors) since we are 5 years into a recovery and the easy money has been made on credit improvement.
American Capital Floating Rate is currently trading at 92% of NAV versus the BDC sector as a whole trading at a slight premium to book value. So you can buy a defensive-oriented 8% yielding equity for 92 cents on the dollar with much more downside protection than most of the other BDC universe. ACSF is also a Stifel/KBW Select List pick (I think very highly of the work done by the Stifel/KBW BDC team -- if you are into this sector, check out their work).
Philip Morris (NYSE:PM) is the largest private cigarette company in the world, with a 16% share of the global cigarette market, 29% ex-U.S. and ex-China. Only the monopoly Chinese National Tobacco Company, with exclusive control of the 2.4 trillion stick Chinese market, is larger. Philip Morris' 930 billion sticks sold in 2012 enabled it to have 15% or higher market share in 98 countries globally. PM aims to deliver double-digit local currency EPS growth over time. The company's stable of premium cigarette brands -- led by Marlboro, the world's best-selling cigarette brand -- allows PM the ability to adapt rapidly to changing consumer tastes and economic conditions.
In Q2 2014, Philip Morris had a home-run quarter as EPS of $2.41 (+8% YoY) beat the consensus of $2.24. Volume trends were encouraging, particularly in the EU, while pricing rebounded, as this chart below shows: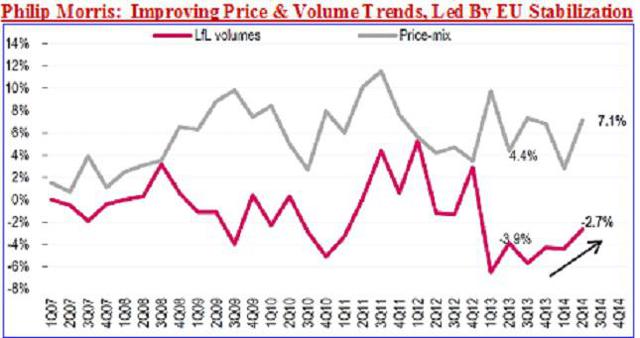 Philip Morris is rolling out new Marlboro architectures and also ramping up reduced risk products in Italy and Japan. This bodes well for future long-term revenue growth. In the meantime, you are buying one of the cheapest global consumer staple stocks out there: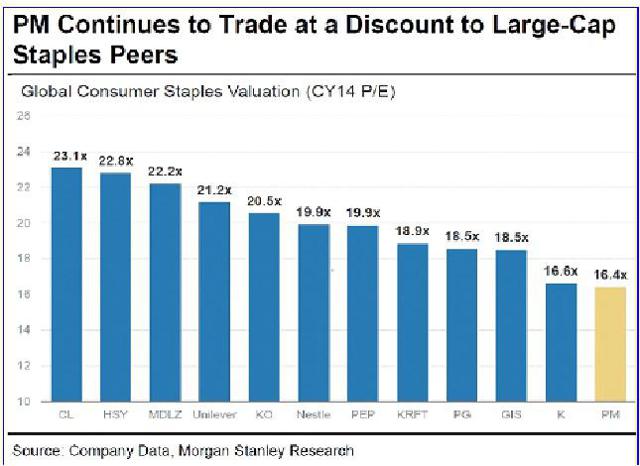 Of course, Philip Morris like most of the tobacco companies has long been noted for her sterling capital discipline, paying a lush dividend and also retiring shares. You can see the actual share reductions by Philip Morris here: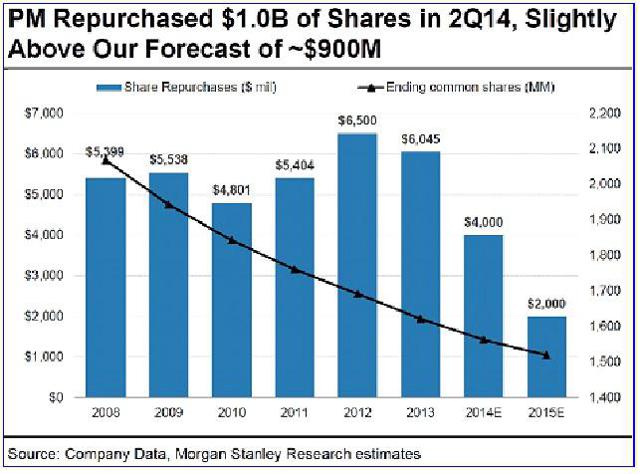 While the pace will slow later in 2014 and in 2015 -- as Philip Morris retires debt and invests in her products and brands -- rest assured that if a stock market decline were to depress the share price, Philip Morris has the wherewithal to significantly up the buyback, as she did in 2009, 2011, and 2012. With the shares almost 9% off their 52-week high and yielding 4.1%, Philip Morris offers something for both the growth and income crowd.
I believe all of these stocks will do well in any correction or protracted stock market decline relative to the overall market and other income-oriented investments. When you are 5 years into a bull market and the Fed is now beginning to wiggle away from their easy-money policy, it pays to make sure you have some yield support as well as defensive business models. If you fear a bear market, then don't just grin-and-bear it: play defense and go for income.
Disclosure: The author has no positions in any stocks mentioned, and no plans to initiate any positions within the next 72 hours. The author wrote this article themselves, and it expresses their own opinions. The author is not receiving compensation for it (other than from Seeking Alpha). The author has no business relationship with any company whose stock is mentioned in this article.
Additional disclosure: The author's online and personally managed portfolios may hold positions in the stocks mentioned above despite no personal beneficial interest.