EOG Resources Inc. (NYSE:EOG) is one of the largest (non-integrated) oil and gas producers in the US. It has proved reserves in the US, Canada, Trinidad, The UK, and China. It is also the largest acreage holder (632,000 net acres) and the largest oil producer in the Eagle Ford. The map below shows where EOG's Eagle Ford acreage is -- mostly right in the middle of the Crude Oil Window.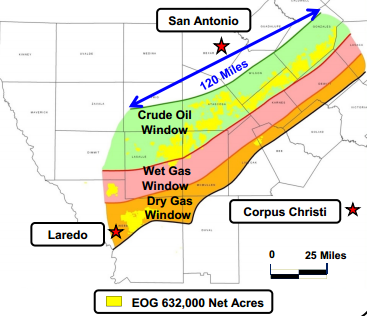 The production mix at the end of Q2 2014 for the Eagle Ford was 78% oil, 10% NGLs, and 12% natural gas. For Q2 2014 EOG's Eagle Ford oil production was up 46% year over year. This translated into 253 Mboe/d net as of June 30, 2014.
At 2013E EOG's total proved reserves were 2,119 MMBoe. About 94% were in the US. EOG total net proved "liquid" reserves increased 25% year over year for FY2013. They were about 60% of EOG's total net proved reserves. Total production for FY2013 was 186.2 MMBoe. EOG had a 9% overall increase in production compared to FY2013.
For Q2 2014, EOG reported a 17% increase in production year over year (to 591,000 Boe/d) and a 33% increase in crude oil and condensate production year over year. EOG raised its dividend 34% effective for the October 31, 2014 dividend (an annual rate of $0.67 per common share or 0.63%). It reported net income of $706.4 million (or +$1.29 per share) compared to Q2 2013 net income of $659.7 million (or +$1.21 per share). Adjusted net income for Q2 2014 was $796.0 million (+$1.45 per share) compared to the year earlier $573.8 million (+$1.05 per share) -- a 38% increase year over year.
With these kind of statistics it is not surprising that EOG beat earnings estimates by $0.08 on adjusted EPS. It did this when many other oil E&P companies were missing. What led to this outperformance? A big part of the answer was probably the Eagle Ford. Not only does EOG have great new and continuing production there; but it has been working to try to improve its results there. It has been successful at this. Perhaps the most straightforward demonstration of this is the statistics from the new Eagle Ford wells in Karnes county, DeWitt County, and Gonzalez County. Below are some recent results:
Karnes County:
McCoy Unit#1H had an IP of 5,290 Bopd with 475 Bpd of NGLs and 2.7 MMcf/d of natural gas.
McCoy Unit#2H had an IP of 5,415 Bopd with 415 Bpd of NGLs and 2.4 MMcf/d of natural gas.
The Wolf Units #6H, #7H, #8H, and #9H had IPs of 3,160 to 3,600 Bopd with 310 to 390 Bpd of NGLs and 1.8 to 2.3 MMcf/d of natural gas.
DeWitt County:
Justiss Unit#11H, #12H, and #13H had IPs of 4,000, 3,900, and 4,130 Bopd with respectively 690, 650, and 750 Bpd of NGLs and respectively 4.0, 3.8, and 4.3 MMcf/d of natural gas.
Gonzalez County:
Boothe Unit#11H and #16H had IPs of 4,570 and 3,245 Bopd with 580 and 500 Bpd of NGLs and 3.4 and 2.9 MMcf/d of natural gas respectively.
Zimmerman Unit#14H had an IP of 3,800 Bopd with 350 Bpd of NGLs and 2.0 MMcf/d of natural gas.
I could go on; but it should be obvious to most knowledgeable readers that these are great results. In the past, any IP of over 1000 bopd was considered good to great. That benchmark should tell less knowledgeable readers just how good the above results are (4x and 5x results). If EOG can continue to produce results like this, it will make the company even more profitable than many have predicted. In Q2 2014, it increased estimated potential reserves for its Eagle Ford acreage by 45% (not proved reserves). This is the third increase in four years. The chart below shows just how dramatic these increases have been. A good part of these are being driven by development technology improvements; and many think there are many more of those to come.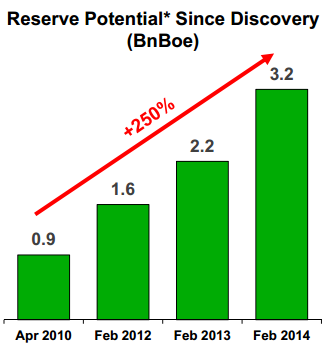 The increase in estimates for potential reserves in EOG's Eagle Ford amount to 250% in about 3.8 years. That's impressive. EOG has 2,658,991 net developed acres (1,452,786 net acres in the US and 1,007,418 net acres in Canada) and 3,376,480 net undeveloped acres (2,706,054 net acres in the US and 482,672 net acres in Canada) for a total of 6,035,471 net acres. If the Eagle Ford net acres only amount to about 632,000 net acres, it should be easy to see that EOG has a huge amount of potential. Much of that potential isn't even being actively developed yet.
I also didn't mention above two other prominent fields that EOG has been making significant headway in -- the Bakken and the Delaware Basin. In the Delaware Basin Wolfcamp shale for instance, EOG is now targeting 900 Mboe EURs (Expected Ultimate Recovery) per well gross with 700 Mboe NAR (net after royalties). For wells that are expected to cost about $6.5 million each, that is an excellent EUR. Keep in mind that this particular play is only 134,000 net acres. When you do this, you can begin to see the huge potential EOG has for the future. Long term, EOG is a buy. Its PE may be high at 24.62; but it has an FPE of 16.51, which is much more reasonable. Plus it has an average analysts' EPS growth estimate of 37.50% for FY2014 and 14.00% for FY2015. At the rate EOG has been growing (and it has a surfeit of acreage to grow with), it should easily exceed the average analysts' FY2015 EPS Growth estimate. The technological advancements alone should see to this. Further, EOG has low geopolitical risk. These factors make it a long-term buy.
The two-year chart of EOG provides some technical direction for this trade.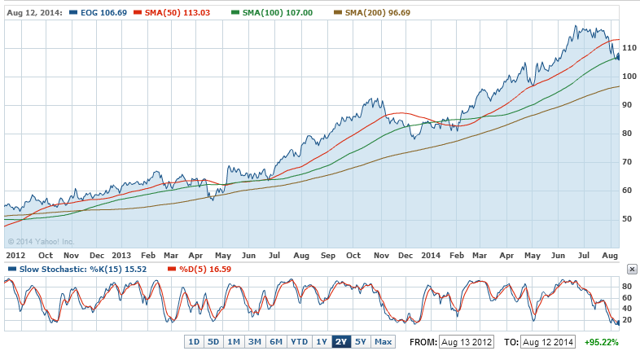 The slow stochastic sub chart shows that EOG is oversold. The main chart shows that EOG has fallen to its 100-day SMA. If the recent past is any indication, EOG is likely to bounce up from here. The Q2 2014 earnings report was very positive for EOG. The recent well results have been hugely positive for EOG. Plus EOG is oversold. It could get more oversold; but EOG is at least at a place where many investors would want to start to average in. It is a buy.
The average analysts' recommendation of 1.9 (a buy) agrees with mine. The only real worry is an overall US equities market crash. That is probably only a small worry for the near term. Time argues for a Bear market soon; but the politicians will likely make sure that the Bear market does not begin until after the midterm elections. Then there is the usual Christmas rally. Plus there is the January small cap rally. It could be the end of January or early February 2015 before investors need to seriously consider that the overall market may fall precipitously.
NOTE: Some of the above fundamental fiscal data is from Yahoo Finance.
Good Luck Trading.
Disclosure: The author has no positions in any stocks mentioned, but may initiate a long position in EOG over the next 72 hours. The author wrote this article themselves, and it expresses their own opinions. The author is not receiving compensation for it (other than from Seeking Alpha). The author has no business relationship with any company whose stock is mentioned in this article.