This week I featured a few articles on Net Lease REITs: The first article was a broad overview of Net Lease REITs with an exclusive iREIT TV interview with the CEO of STORE Capital, Chris Volk. The second article was a feature on EPR Properties (NYSE:EPR) and the third article (yesterday) was on several Net Lease REITs that I would avoid.
Now in this article, I'm tuning into a uniquely-positioned Net Lease REIT that has been one of my top performing picks of my entire investment portfolio. In addition, this Net Lease REIT has the lowest dividend yield in the broad Net Lease peer group.

You guessed it (maybe not since the name is in the title), Gramercy Property Trust (NYSE:GPT) has been one of my best performing stocks over the last 12 months and what's crazy is that up until recently Gramercy did not even pay a dividend. Since my initial investment however, my total return in Gramercy is over 55% (since September 3, 2013).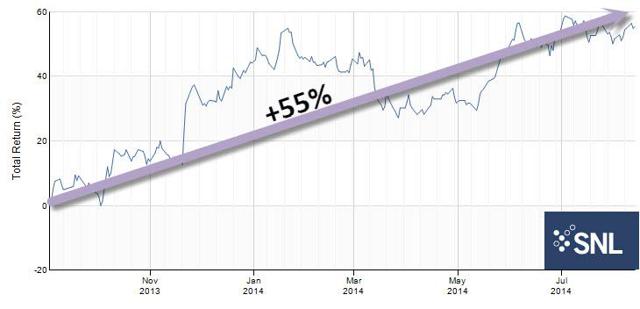 As much as I would like to see Gramercy continue to outperform, I have become a little less optimistic given the more recent share price performance. The last 30 days have been rather anemic for Gramercy shares and now that Q2 earnings are in the rear view mirror, I thought it would be timely to take a closer look at my all-star and determine whether or not it was time to cash in the chips.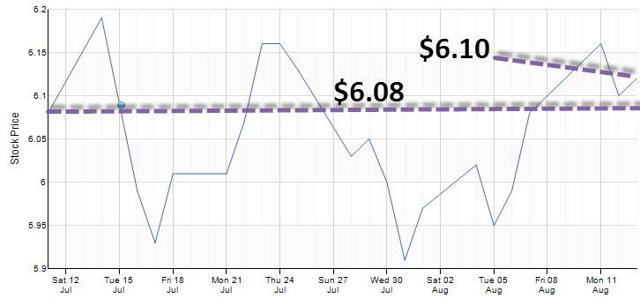 Gramercy: The Odd Ball Net Lease REIT
First off remember that Gramercy started out as an "ugly duckling" when in 2009, the marriage between Gramercy and American Financial began to unravel, primarily due to the combined company's significant leverage as well as the growing distressed loans originated by Gramercy's legacy lending organization.
After bulking up on leverage to the failing multifaceted platform, lenders (Citigroup, Goldman Sachs, SL Green Realty, and LBS Debt Holdings) began to force Gramercy's hand. The primary investors -
SL Green (NYSE:SLG), Citigroup and Goldman Sachs took significant losses in the paper bet. All ended up losing and had it not been for the "hard net lease assets" owned by American Financial, Gramercy would have likely come to an end. This is an example of a train wreck - the aqua blue area represents dividends paid: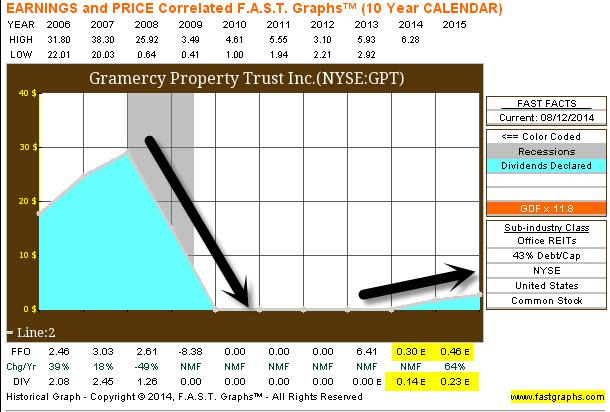 In 2012, Gramercy installed a new management team led by veteran REIT executive, Gordon Dugan. Dugan placed a strong emphasis on reducing leverage and building a durable portfolio of high-quality net lease assets. Along with the new team (many experienced former W.P. Carey employees), Dugan was hired to reposition GPT and reposition the company from real estate finance (legacy was Gramercy Capital Corp.) to net lease property owner rebranding GPT into Gramercy Property Trust.
With just a few years, Dugan has done an excellent job repositioning Gramercy from a hybrid REIT to a "pure play" Net Lease REIT. Still deemed a small cap REIT, Gramercy has grown to a market capitalization of around $718 million.

As of the latest quarter (Q2-14) GPT has 110 properties consisting of Industrial (45%), Office/Banking (48%), and Specialty (7%). The portfolio is 99% occupied and the weighted average remaining lease term is 10.8 years. The portfolio is over 10.7 million square feet with an annualized straight-line NOI of $76.7 million.

Gramercy's portfolio spans from Florida to California to New York and markets in between. Here is a snapshot of the portfolio breakdown by geography.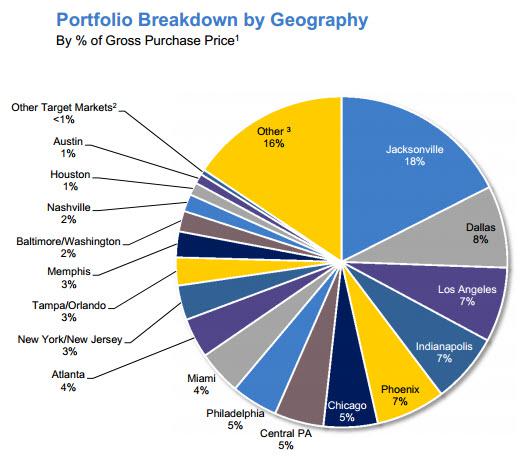 Gramercy's portfolio has over 55% of investment grade rated tenants and Bank of America is the top tenant with around 37% in exposure. Here is a snapshot of the top 10 tenants: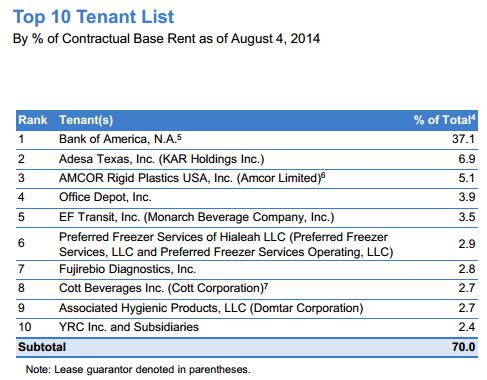 The large (37%) exposure with Bank of America is a considerable risk for Gramercy and here's what Dugan (the CEO) had to say on the recent earnings call:
Our metric is to get that (exposure) under 40% and Bank of America is a very large percentage today. While it's a single a credit, we at the bank operating company, which is our lessee, we do want to get that worked down over time, even though again it's a very fine credit.
Gramercy closed just around $15 million of new investments in the first quarter, however, the company has targeted to close $600 million in 2014. So far this year Gramercy has closed $370 million and that leaves around $230 million to close for the balance of the year. Currently Gramercy has around $75 million under contract so the company should easily meet its acquisition guidance and close another $155 million (after the current under contract transactions close).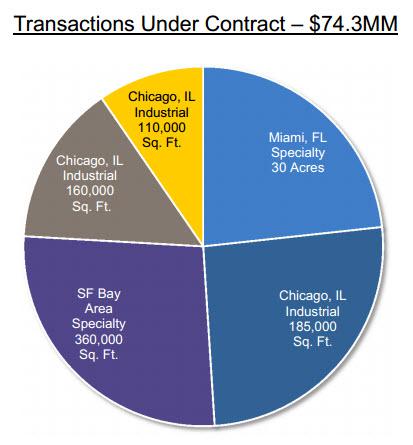 Gramercy has made tremendous headway with its acquisition program (year-to-date closings of $369 million) and these deals were acquired at an initial cap rate of 7.4% an annualized straight-line cap rate of 7.8% with a weighted average lease term of 9.5 years.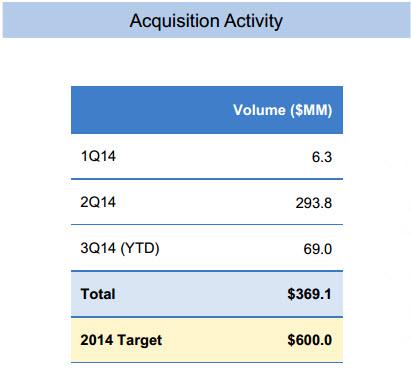 In order for Gramercy to "move the needle" it must continue to feed the engine with accretive high-quality net lease investments. Here's what Dugan said on the recent earnings call:
We believe we have built and are building the highest quality net lease portfolio of a public company. We view high quality both in terms of average lease term, tenancy, but also in terms of contract rent versus market rent. We're really sticklers for underwriting rents that in our contracts are hopefully at or below market.

And so the NOI and some of the other statistics you see here is the high level, but below that every asset has been underwritten in its very great detail on a contract rent versus market rent et cetera. So 99% occupancy, greater than 10-year average lease term, over 50% investment grades. This is a very, very high quality cash flow stream.
Gramercy: Building a Stronger Balance Sheet
In order to feed the machine Gramercy has raised over $200 million of capital by raising equity. As evidenced by the snapshot below, Gramercy has done a terrific job reducing its cost of capital as well as increasing its financial flexibility (No floating rate debt) The company has a total market capitalization of $1.242 billion.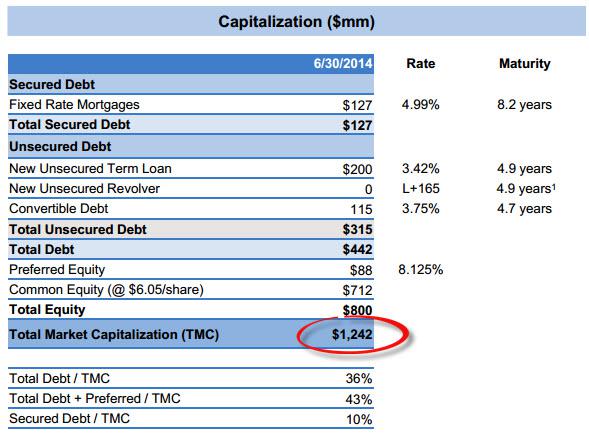 Gramercy's unsecured revolver has zero drawn on it. The new revolver is 165 over LIBOR on the current borrowing. Gramercy has almost $300 million in total liquidity (almost $100 million in cash - remember there's $75 million under contract).

Here's a snapshot of Gramercy's percentage of secured debt compared with the peer group:

Here's a snapshot of Gramercy's total debt to total market capitalization compared with the peer group:

Gramercy: An Inflection Point
On the recent earnings call Gordon Dugan (the CEO) explained that "we've achieved an inflection point in terms of our ability to grow the business. There are continued significant opportunities for Gramercy to grow. The most important will be, of course, to continue to execute on our plan of buying assets with attractive ROAs in our target markets. And we've set ourselves up for the future, for this future growth, with a significantly lower cost to capital and increased balance sheet flexibility."
The fruits of Gramercy's more recent earnings successes are evident with the latest results: generating Adjusted Funds from Operations (or AFFO) during the second quarter of $5.6 million or $0.06 per diluted share. That compares to $3.6 million or $0.05 in the prior quarter. Excluding acquisition costs, discontinued operations and a few one-time things, FFO was $4.8 million, or $0.05 per share, as compared to $3.2 million or $0.05 per diluted share in the prior quarter. The per share measures, the weighted average basic and diluted share count includes the effect of the public equity raise of 46 million shares, which was outstanding for 39 days during the quarter.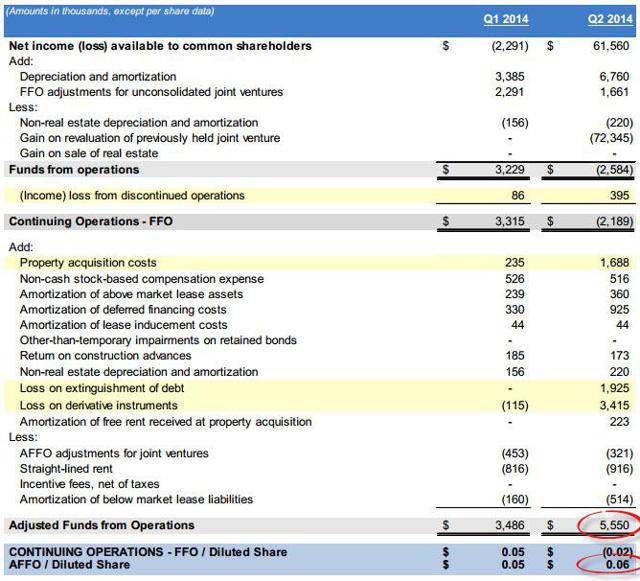 Accordingly, Gramercy reaffirmed previous FFO guidance:

Here's a snapshot of historic and estimated AFFO per share: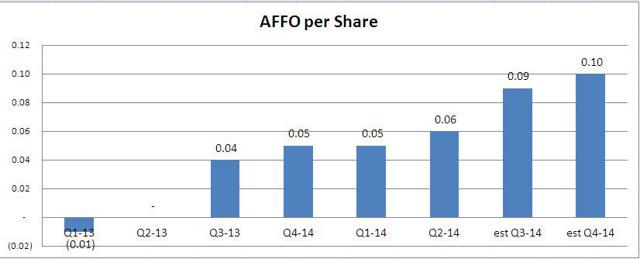 As mentioned above, after a hiatus of more than five years, Gramercy announced (March 2014) that the company was resuming its dividend payment to common stockholders (beginning with the first quarter of 2014). Although I was hoping for a higher payout, the board of directors authorized and declared a dividend of $0.035 per common share.
Gramercy said previously that it would likely payout 85% of AFFO and a dividend yield of 5.7%, more aligned with the peer group. However, the company opted to maintain a more conservative payout ratio positioning itself as a high-growth REIT.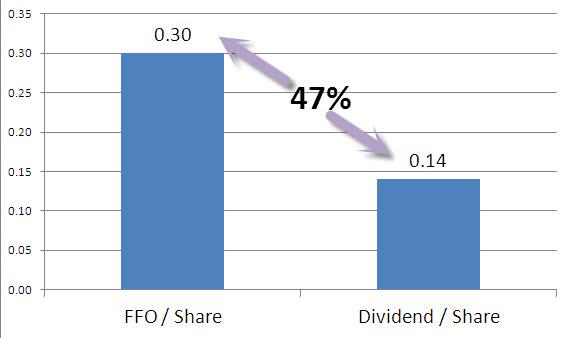 So unlike the majority of Gramercy's peer group, the majority of total return for this security is derived from capital appreciation. There is clearly room for Gramercy to grow its dividend but it appears that the company is maintaining a rather conservative message as it related to retail investors. However, as Dugan explains below, the institutional investors move the needle more so than the retail investors:
…we've intentionally kept smallest dividend payout ratio in our sector. Our institutional investors that I talked to are very comfortable with that. I do believe there's room for significant dividend increase and increases coming up but from our standpoint even though the retained capital isn't all that great, we like some retained capital. We like maintaining a low FFO, AFFO payout ratio so I think the dividends will not be a driver of stock performance for quite some time, even if we are able to increase it significantly as we continue to grow earnings because I think we want to keep a low payout ratio. And our, again the institutional investors that are supporting us are very comfortable with that.
Based on current P/FFO valuations, Gramercy appears to be trading at an expensive level. Is it time to get off the train?

I don't think so. It's clear that Gramercy has had a nice run but based upon the trends unfolding, I see more potential. Gramercy has been able to capitalize on the experience of the management team that has resulted in a healthy pace of acquisitions. Now that Gramercy has posted Q2-14 earnings, I see more clarity as to the earnings potential for the assets that the company has acquired, backing out all expenses.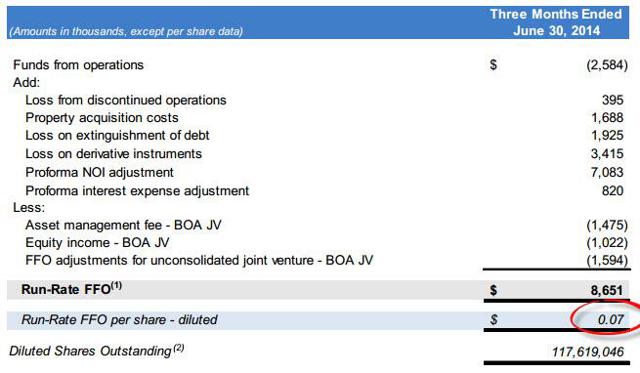 Considering Gramercy's future growth potential, I modeled the company's AFFO and a run-rate of $.46 in 2015 and $.53 in 2016. My valuation estimate incorporates a 16.5x multiple of $7.59 in 2015. In order to achieve these valuations, Gramercy will need to acquire around $600 million in 2014 and $500 million in 2015. I'm not concerned about 2014.

You know the old saying, "if ain't broke there's no need to fix it." I'm Long Gramercy and I believe that my hedged strategy of owning solid dividend-paying Net Lease REITs in addition to high growth REITs (like Gramercy) provide me with a strategic pair trade. I'm not stepping into a full position (5%) with Gramercy but I do like the prospects and considerable insider ownership (management has strong incentive to grow the stock price to at least $9 per share by June 30, 2016). For that reason, I'm Staying on the Gramercy Property Trust Train.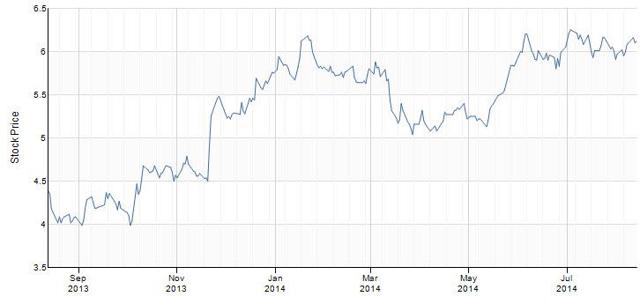 For more information on SWAN (sleep well at night) investing, check out my REIT newsletter HERE.
REITs mentioned: (NYSE:GTY), (NYSE:NNN), (NYSE:O), (NYSE:WPC), (NYSE:SRC), (NYSE:ADC), (NYSE:LXP), (NYSE:CSG), (NYSE:OLP), (NYSE:GOV), and (ARCP).
Source: SNL Financial, FAST Graphs, and Gramercy Investor Presentation.
Disclaimer: This article is intended to provide information to interested parties. As I have no knowledge of individual investor circumstances, goals, and/or portfolio concentration or diversification, readers are expected to complete their own due diligence before purchasing any stocks mentioned or recommended.
Disclosure: The author is long O, DLR, VTR, HTA, STAG, UMH, CSG, GPT, ARCP, ROIC, HCN, OHI, LXP, KIM, WPC, DOC, UDF, EXR. The author wrote this article themselves, and it expresses their own opinions. The author is not receiving compensation for it (other than from Seeking Alpha). The author has no business relationship with any company whose stock is mentioned in this article.