By G C Mays
KMG Chemicals (KMGB) began fiscal year 2011 by reporting solid revenue growth in the first quarter with net sales increasing by 25.7% or $12.7 million, to $62.1 million. However, on a year to year basis, there was a significant decline in gross profit margin from 37% in the first quarter of fiscal year 2010 to 28% in this quarter. Gross profits in both the creosote and penta operating segments were not able to extend the life of the healthy margins KMG Chemicals previously enjoyed.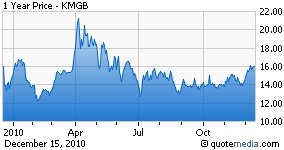 The recently expanded electronic chemicals segment was responsible for the lion's share of sales growth. Electronic chemicals had net sales of $36.8 million, a 59% increase as compared to the year earlier period. The March 2010 acquisition of General Chemical's electronic chemicals business and aggregate demand for semiconductors increasing are reasons cited for the large increase. In my judgment the incremental revenue from the acquisition easily makes up the bulk of the increase as semiconductor prices are still relatively low and inventories are still growing, so any increased demand has only been a small part of the overall sales increase.
Despite the lower margins, net sales of penta products increased $528,000 or 8.9%, to $6.5 million as compared to the year earlier period. They benefited from an incremental improvement in purchases of treated poles by utility companies.
Net sales of creosote declined by $1.8 million or 9.5% to $17.7 million. The decrease was due to lower average prices received which was partly offset by an increase in volume as compared with the year earlier period. Net sales were also negatively affected by rail tie purchases exceeding production by about 3 million as wood treating firms reduced inventory.
A somewhat notable development is consolidation of a couple of firms within the KMG Chemicals wood treating customer base. I say it is notable because KMG Chemicals has a relationship with one of its creosote suppliers that one could only describe as "co-opetition". Koppers Holdings Inc. (NYSE:KOP) is an integrated provider of carbon compounds and commercial wood treatment products which includes manufacturing creosote while KMG Chemicals is a reseller of creosote. KMG Chemicals purchases its creosote from Koppers, however, there have been times that KMG Chemicals have had to import its creosote supply. Koppers also manufacturers railroad ties and utility poles. KMG Chemicals creosote supply contract with Koppers runs through 2017.
The customers Koppers Holdings serves directly are the large Railroads such as CSX Corporation (NYSE:CSX) and other North American Class I Railroads while KMG Chemicals sells its creosote to smaller railroad cross tie and wood treating companies. My concern is that if these smaller companies continue to merge, their newfound economies of scale could allow them to buy directly from Koppers Holdings or they could be consolidated into companies within Koppers existing customer base.
Now let's take a look at operating expenses. Distribution expenses increased by 26.9% to $6.4 million as compared with 5.0 million in the prior year period. Approximately half of this increase resulted from the recently acquired electronic chemicals business. The wood treatment business experienced higher freight costs and railcar cleaning expenses. Total distribution expenses represented 10.26% of overall sales. I expect that percentage to decline somewhat once integration of the electronic chemicals business is complete. S G & A expenses of $5.4 million were flat on a year to year basis. The first quarter included $176K in acquisition integration costs.
Overall, revenues were solid, although not unexpected, given the expected impact of the acquisition. However, the size of the decline in overall margins for the wood treating segments (15.8% vs the expected 25%) was surprising. Historically, rail tie production has matched purchases, so expectations are that demand will begin to return in the third quarter as wood treating firms replenish inventory. Sales should also be positively affected by a market shift away from blending of creosote with petroleum and toward creosote-only treatments in 2011. Management expects utility pole demand to increase gradually. However, chlorine prices remain historically high and volatile so penta profit margins will depend in part on this cost.
At a recent price of $15.98, I think the stock is closer to being fully valued. In my initial article about this stock published about two months ago entitled "KMG Chemicals: Value Play or Growth Opportunity?", I gave the stock a fair value range of $15.12 to $16.76 on a price-to-book and price-to-sales basis, respectively. Averaging these two values gives us a per share value of $15.94. Incorporating the latest financial results, I now value the stock at about $16.90 per share. However, note that on a risk adjusted basis, purchasing the stock at current levels may not adequately compensate you for your risk. I think the stock is a great buy around $14.40. If you hold the view of the author that the current market is over bought, a little patience to get the best price is all that's needed to land a few shares of this well run company.
Disclosure: I have no positions in any stocks mentioned, and no plans to initiate any positions within the next 72 hours.