Company Profile
Baidu (NASDAQ: BIDU) is a Chinese web services company well known throughout China: so much so, in fact, that it is commonly regarded as significantly more popular than Google China (GOOG,GOOGL). Founded in 2000, the company - headquartered in Beijing - offers a myriad of features to its predominantly Chinese audience: its 57 different communities and services include a question-and-answer community (Zhidao), a Wikipedia-esque publication (Baike), an image search, news, an instant messaging application, and a very popular MP3 music player. Jointly, these services equip users with over 740 million web pages, 80 million images, and 10 million multimedia files, according to MSN Money. CEO Robin Li, too, is commonly regarded as a sizeable - if slightly shy - asset to the company: educated in America and grudgingly applauded even by Google CEO Eric Schmidt, who calls him a "clever entrepreneur," Li has big plans for Baidu, and has been hailed by FastCompany.com as a leader who is "shaking up" China's corporate culture. Add to this Baidu's sizeable 31.944 billion 2013 revenue, and it should not be too surprising that Baidu - which holds an impressive 64.5% market share as of January 2013 even with massive competitors like Google and Microsoft (NASDAQ:MSFT) sharing its environment - is the number one search engine in China, fifth in the Alexa Internet rankings, and the first Chinese company to be included in the NASDAQ-100 index.
The Advantages
"Baidu, whose literal meaning is 'hundreds of times', represents a persistent search for the ideal." - Robin Li, Baidu CEO
The advantages to Baidu do not quite stop there. As a site operating in the first language of most of its users, Baidu boasts the key advantage of brand recognition: it is recognized almost everywhere in China; its strong marketing and allegiances with the Chinese government allow it to account for nearly 80% of all search traffic in China (in comparison, as of 2014, Google holds approximately 1.6% of the market after a rapid drop from 11.25% or so in 2010). Baidu's presence in China is advantageous in other practical ways, as well: it's adapted to understand Chinese better than, say, Google is: where English has a single word for "I", for example, Mandarin has several; Baidu, given its Chinese origins, has accounted for these linguistic differences. Baidu's local servers also mean that users are graced with faster browsing speeds than if they were to use foreign engines. Further, Baidu's acquisitions of such already-popular Chinese services as Ttplayer (which ResonanceChina calls "the most popular music player in China") mean that Baidu does not have to struggle to sell its newly acquired features: they are already widely used. All these locally-applicable advantages have the potential to be even more integral to Baidu's success as Chinese Internet services penetrate more of the country: as of 2010, China's Internet penetration rate was only 39.9%, and remains in the mid-40s at present; as rural areas gain connectivity and this percentage grows, it seems likely that Baidu's strength will, too, assuming it continues to dominate market share.
In addition, the company's recent investments into research - specifically, into deep learning: an aspect of machine language (ML) that seeks to use algorithms to model high-level abstractions - may also pay off in future. Last quarter, the company increased R&D spending by 60% from the same period a year prior, according to the Motley Fool; this was used to fund the aforementioned deep learning research, as well as such technology as Baidu's new DNA copyright recognition tech, which automatically scans files for violations of copyright law.
As was mentioned above, the company's executive is also regarded by many as a good investment. American-trained and initially involved in a division of the Wall Street Journal's online development, Robin Li - the company's CEO - is seen as a "knowledgeable, charismatic, and inspirational leader"; he even, allegedly, has a small - if not entirely genuine - following amongst Chinese college students. Even Google's Eric Schmidt has reluctantly admitted that Li is, at the very least, "clever". His skills and reputation are also accompanied by those of professionals like COO Peng Ye, from Apple, so it is not surprising that the company has gained a reputation for having a top-notch executive team.
Another inherent advantage to BIDU lies in the fact that it, true to its name, actively aims to improve where it is weak. In response to the fact, for example, that BIDU has a relatively small international presence, Robin Li recently decided to enter the software industry in nearby Thailand. He also made the decision to hire a director of international communications, whose job it will be to "help tell Baidu's story to the world," and to have the site translated into twelve languages. BIDU has also worked to address another of its weaknesses: its low cost-per-click (CPC) on mobile advertising. In response to claims that BIDU is having trouble monetizing the mobile market, the company released a mobile browser that it intends to pre-install on 80% of handsets sold in China, and began work on a $1.6 billion cloud computing center.
All this is drawing attention to Baidu; the company is, at present, highly acclaimed by analysts, as evidenced by the below ratings: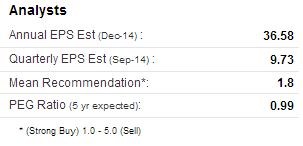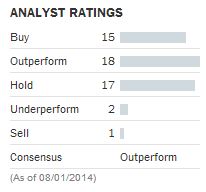 Figure 1. Analysts' ratings from The New York Times and Yahoo! Finance. NYT analysts mostly rate Baidu favourably, with only one analyst recommending a sell; similarly, Yahoo! Finance analysts placed Baidu as a 1.8/5, where "1" is a strong buy and "5" is a strong sell.
Some go so far as to say that Baidu has "the best business in the world" - Gene Munster, an analyst at Piper Jaffray, tells BusinessWeek that Baidu is "essentially… a state-sponsored monopoly." Tangshan Renren Information Service Company (TRISC) would be inclined to reluctantly agree: in 2009, it sued Baidu for, among other things, "monopolizing the Chinese search engine market."
Baidu can also be seen to be consistently growing - with a few minor setbacks - across all of 2013, and even in prior years (Figure 2):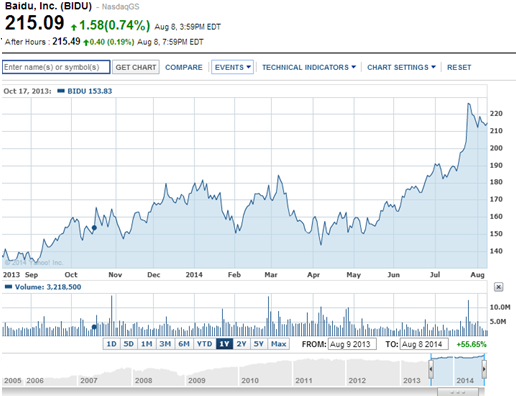 Figure 2. Baidu's historical trends.
The Potential Long-Term Disadvantages
Despite the fact that BIDU may appear flawless given the attributes that have been described above, it decidedly has its weaknesses.
BIDU's general reputation must be considered in analyzing its potential for long-term success; it has not been a perfect one. For one thing, it has not merely been sued for violating anti-monopoly law: it is also regarded throughout China as a company that utilizes manipulative techniques to propel itself forward. Competitors claim that the search engine regularly downgrades websites that refuse to buy its advertising, lowering their search result rankings. Locals find Baidu morally problematic for other reasons: it is widely believed that, on several occasions, Baidu has endorsed unlicensed healthcare groups and has hidden scandals in exchange for bribes.
Users also aren't quick to back Baidu's technical choices 100%: ResonanceChina cites several weaknesses for Baidu, including the fact that it chooses to merge organic search results with paid search results. This often means that the most popular search results are not necessarily the ones greeting users at the top of the page - instead, those search results that are most frequently purchased are seen first, whether or not they are relevant to most users. Further, because search results are filtered by the government, certain content remains unavailable to Baidu users. This is exacerbated by the fact that, according to ResonanceChina, no content from Chinese pages abroad is included, and Baidu's spyders are blocked by several popular social networking services (e.g., Taobao, Xiaonei), making it impossible to obtain certain information even within China.
Another weakness lies in the fact that BIDU has not branched out internationally as much as it would have hoped. As has also been mentioned above, BIDU has yet to earn the trust of the international community. In the words of Rebecca MacKinnon, an American who frequently writes about Chinese Internet services, "nobody trusts Xinhua news agency," and it will be "very difficult" for "anyone… outside of China" to trust Baidu, as well. This may be largely because of Baidu's associations with China's government - it is known even throughout China as a site largely backed by the government. Even Robin Li's fans and director of international communications acknowledge that "This is a company that looks a lot better on the inside than it does on the outside", and that "If I want to know about what happens abroad, I will use Google", because "Baidu's information is influenced by the government so much." In fact, expansion has not generally been favourable for Baidu, either. Efforts to expand into Japan have not been highly successful, and Baidu still has much to work on before it can successfully monetize the mobile market.
Competitors are also a reality that must remain within Baidu's radar. Baidu competes with such respectable opponents as Google Hong Kong, Yahoo! China, Microsoft's Bing, MSN Messenger, and Wikipedia; while it presently has the upper hand in terms of market share, this could shift at any point. Indeed, in fact, Baidu has been steadily declining, while other players are rising (Figure 3).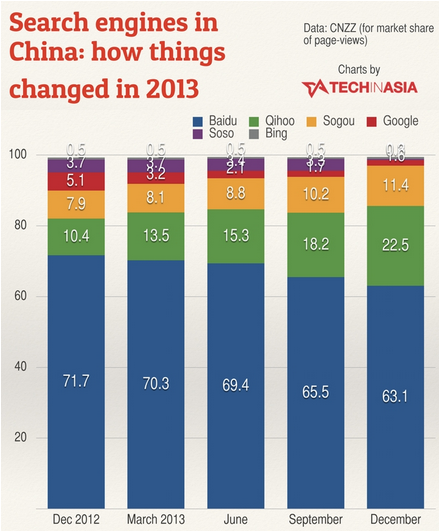 Figure 3. Search engine market share in China as of 2012 and 2013. Courtesy of Tech in Asia.
Certainly, not everyone is doing better than Baidu - Google, for example, which was consistently second or third in terms of Chinese search usage in 2010, is now at approximately 1.6% market share. Now that it has plunged into oblivion, however, other engines are making themselves known. As of December 2013, as the above graphic shows, Sogou had a solid 11.4% of market share. New players also dominated: Qihoo 360 Technologies, which Baidu recently sued, launched its own search engine - so.com - in 2012; as is shown above, it has already seized approximately 22.5% of search volume, and hopes to continue climbing. While Baidu still tops the charts, it is difficult to overlook its 8.6% drop across 2013. If the aforementioned companies continue rising while Baidu continues falling, they could negatively impact Baidu's earnings.
Oddly enough, the Chinese government also constitutes a threat for Baidu in the long term. Known for changing its laws governing Internet censorship considerably frequently, the Chinese government could, at any point, implement censorship law that would force Baidu to modify its technical paradigms. While government backing is presently in the company's favor, it may not be in future.
The Present Situation: Baidu is Bearish in the Short Term
We have already highlighted some potential weaknesses that may impact Baidu in the long term. However, consumers and investors have been aware of these shortcomings for some time; that has not significantly affected Baidu's abiding success in the market. In the long term, Baidu has soared, and as analysts' ratings in "The Advantages" show, most people believe in Baidu's strength.
While we think it is safe to say that Baidu may be a decent long-term investment, pending domination by Qihoo or another search engine, several factors contribute to the idea that it is presently at immediate risk of dropping.
Firstly, empirical evidence suggests that, as of late, Baidu is not immune to significant price declines. In early 2014, in fact, Zacks rated Baidu a strong sell, citing a strong negative trend in earnings estimate revisions. Presumably, estimates moved down with no upward revision, falling the consensus estimate from $6.57 to $5.40. Baidu was also seen to have 1 downward estimate revisions and no revision in the other direction, going from $1.09 a share to $0.94, with share prices dropping over 12% in just one month. At the very least, this was not one of the company's peak periods.
Baidu's historical trends second this. Taking another look at the graphic highlighted in "The Advantages," we see that, over the course of 2013 and 2014, Baidu tended to climb, peak, and drop - after an October peak of 160, the stock fell to approximately 145; then, it climbed to its November peak of 163 or so before again falling to a November low of 147. Climbing throughout December and January to reach a high of 180, it fell significantly, dropping to 150 in February - similarly, we see March highs of 185 accompanied by April lows of 143. The stock experienced comparatively fewer dips from June through August, but is now at an immense high, sitting at 220.
Where the long-run is concerned, don't rest easy, either: some analysts are suggesting that Qihoo or Sogou will dominate with ease, given Baidu's inherent weaknesses. In 2013, for example, Bloomberg's Jordan Robertson went so far as to say that Baidu, while it processes far more queries, is losing to even Google, a small competitor which was already suffering substantially that year. Robertson cited the fact that, by that time, Baidu's stock had dropped more than 40% in two years, its advertising was far from at peak, and it was encountering problems branching into the international and mobile markets. More importantly, while Google had the immensely successful Android software on its tab, which by 2013 had become the most widely used smartphone operating system in the world, Baidu had nearly nothing: it was focused mostly on desktop browsing, which were rapidly decreasing in terms of popularity. While the above-described article was met with controversy given Google's obviously disadvantaged position in China, it is noteworthy that Baidu did not have a response at ready when contacted by Bloomberg. While it may not be Google that ends up stealing the show, some of Robertson's points hold in reference to Qihoo and Sogou; certainly, Baidu is not as impenetrable as it once was.
An Algorithmic Perspective
I Know First uses an advanced self-learning algorithm based on artificial intelligence, machine learning, and artificial neural networks to predict the flow of money in almost 2000 markets from 3-days to a year. This algorithm provides traders with a trend they can use to identify when to enter and exit the market; though it may be used for intra-day trading, the predictability of this trend becomes stronger in 1-month, 3-month, and 1-year forecasts; as such, it can - when coupled with traditional analysis and careful reasoning - effectively be used to analyze the value of such stocks as BIDU.
In fact, I Know First has previously successfully predicted BIDU's progress on several occasions. Specifically, I Know First recommended a strong bullish long position for BIDU for a period of three months, from April 29th to July 29th, 2014. Comparing this forecast to BIDU's actual progress (Figure 4), we see that I Know First successfully predicted BIDU's progress then: the stock performance was +15.37%.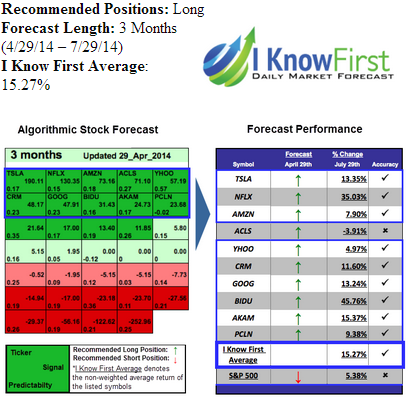 Figure 4. I Know First successfully predicted BIDU's strong bullish trend for three months in April 2014. I Know First's April 29th forecast is shown on the left; BIDU's actual performance is shown on the right.
I Know First also successfully forecasted BIDU's progress for another period: May 11th to August 11th, 2014. According to the stock forecast, BIDU would be strongly bullish; indeed, BIDU went up 42.61% by August 11th (Figure 5).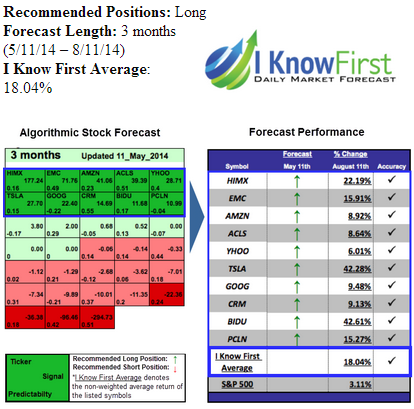 Figure 5. I Know First also successfully predicted BIDU's progress from May 11th to August 11th.
The new forecasts generated by the I Know First algorithm, updated on August 7th, are shown below (Figure 6). Bright green signifies a highly bullish signal; light green also indicates that the forecast is bullish, but not as strongly so. Bright red, in turn, signifies a bearish forecast; correspondingly, light red indicates a bearish forecast as well, but not as negative a forecast. Each compartment contains two numbers: the strength of the signal itself (represented by the number in the middle of each box, to the right), and its predictability (found in the bottom left corner, this is the approximate level of confidence the algorithm has in the forecast). Taking all this into consideration, the ticker symbol for Baidu - "BIDU" - may be seen as strongly bearish in the 3 to 7 to 14-day frame, and remains strongly bearish across the 3-month frames; this and predictability should be taken into consideration when this algorithmic perspective is used to inform traditional analytic tools.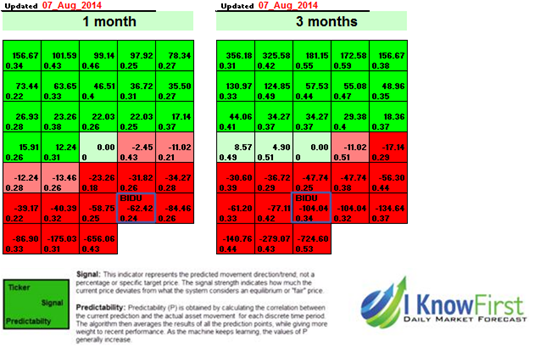 Figure 6. Most recent algorithmic forecast for BIDU. BIDU appears bearish in the 1-month and 3-month horizons, and remains relatively stagnant, demonstrating the forecast's consistency.
I Know First's forecast, then, appears to mostly parallel our previously-established understanding: that BIDU is by no means to be easily considered a strong short buy in the upcoming months.
Conclusion
While BIDU has inherent advantages such as government backing, colossal market share, sizeable revenue, and a stable record of success, its lack of international penetrance, its reputation for immoral conduct, the magnitude of its competitors, the volatility of Chinese government censorship, and a myriad of other factors ensure that it is wise to carefully monitor the company's activities. BIDU also dropped significantly in early 2014, and shows a historical trend of sizeable peaks followed by sizeable drops. In light of these trends especially, given that BIDU has been at peak recently, I Know First forecasts a strongly bearish signal for BIDU in the immediate future. Given its strengths, however, and its tendency to resurface after it falls, BIDU may well be something to hold on to for the coming years, if one's portfolio can handle some dips.
Business relationship disclosure: I Know First Research is the analytic branch of I Know First, a financial start-up company that specializes in quantitatively predicting the stock market. This article was written by Sophia Glisch, an I Know First intern, and edited by Daniel Barankin. We did not receive compensation for this article (other than from Seeking Alpha), and we have no business relationship with any company whose stock is mentioned in this article.
Disclosure: The author has no positions in any stocks mentioned, and no plans to initiate any positions within the next 72 hours. The author wrote this article themselves, and it expresses their own opinions. The author is not receiving compensation for it (other than from Seeking Alpha). The author has no business relationship with any company whose stock is mentioned in this article.