Home builders have gradually ground down from a play on an economic recovery in the U.S. to a contrarian play that the outlook for housing is not as dire as it seems from recent housing data. Century Communities (NYSE:CCS) seems not only to be a contrarian play but a cheap one as well. With a 12.2 trailing P/E, 7.0 forward P/E, 1.5 price-to-sales, and, the best part, a 0.96 price-to-book ratio, CCS is a home builder that is hard to pass up. Moreover, the stock is trading below its June 18th initial public offering (IPO) price of $23 which in turn was at the low-end of the expected $23-26 range. I have to give a hat tip to a follower on Twitter who reminded me about CCS last week.
CCS delivered its first earnings report as a public company on August 7, 2014. Based on trading volume after the report, it seems CCS earnings went largely unnoticed, another good scenario for a contrarian play.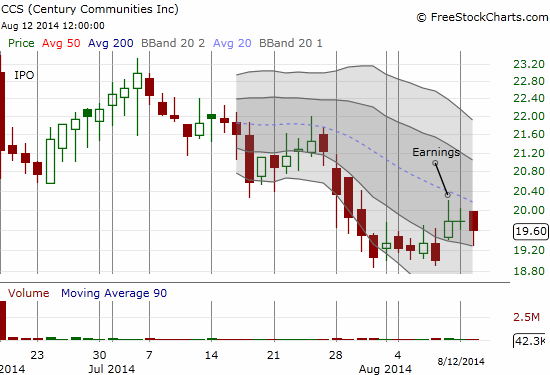 Century Communities as underwhelmed after its IPO, and its first earnings report went largely unnoticed
Source: FreeStockCharts.com
Overall, CCS reported strong numbers, but margins and earnings per share (EPS) were slightly down from last year. So, I am not surprised CCS got a muted response from its earnings report:
Year-over-year revenues from home sales grew 87% to $77.3M. Excluding recent acquisitions, revenues grew 17.1%.
Home building gross margins cooled off slightly year-over-year from a very strong 25.8% to a still respectable 24.7%, Excluding recent acquisitions, margins grew slightly from 25.8% to 26.1%.
Earnings per share declined slightly year-over-year from $0.32 to $0.30 as net income grew 36% to $5.3M
Cash and cash equivalents jumped 52% from December, 2013 to $167,723, thanks largely to the $81M raised in the IPO.
Homes in backlog increased 109.6% to 394 homes.
CCS is concentrated in Colorado's relatively strong housing market. Its core strategy is typical of today's home builders: build in metro areas featuring strong population and job growth. CCS has also made acquisitions a core part of its strategy. I am generally leery of acquisitive companies as M&A is sometimes used to mask fundamental weaknesses in the core or original business. In the case of CCS, its Colorado core appears solid. CCS has focused recent acquisitions on Las Vegas and Texas. The opportunities in Texas look very good while I am more circumspect about Las Vegas.
On April 1, 2014, CCS closed on its acquisition of Las Vegas Land Holdings, LLC (LVLH). CCS paid $165M for the company with 1,761 lots including five communities and two 18-hole championship golf courses. LVLH sells homes in the $215K to $500K range in Las Vegas. This range is well above the $175K median in Las Vegas. Although CCS announced this as a key strategic acquisition in a land-constrained market, I am little wary given notable softness in the general housing numbers for Las Vegas.
From DataQuick on June, 2014 sales conditions:
Las Vegas-area home sales were stuck at a six-year low in June as would-be buyers continued to face inventory, affordability and credit challenges, and as the share of homes purchased by cash and absentee buyers fell again. The median sale price rose from May to a 67-month high, but the median's year-over-year gain was the lowest in two years, a real estate information service reported.
The news is better in Texas although the housing markets there may be a little too frenetic. In Texas, CCS operates under the established brand of Jimmy Jacobs Homes (JJH). In early July, JJH acquired 527 home sites in two Austin locations. After earnings, on August 12th, CCS acquired Grand View Builders, paying $14M for 13 communities in the Houston area. CCS now owns and controls 601 lots in Houston. Both Austin and Houston are experiencing the growing pains of strong housing markets.
Austin is apparently suffering from a widening affordability gap. The Austin Business Journal recently reported the following from Realty Trac:
…Austin is in the same league as San Francisco, Portland, San Antonio and Atlanta as metro areas are seeing a growing gap between how much workers make and how much of that income it takes to afford a median-priced home.

The report used housing price data from the second quarter of 2014 and compared that with historical trends for each area. In Austin in May 2014 it took 31.3 percent of the income from a median-income worker to afford a median-priced home, compared to a historical average of about 26.7 percent. Historically, the national percentage is even lower, at 19 percent. Of the cities with growing median-income-to-price gaps, Austin's had one of the biggest jumps in the study along with San Francisco and Indianapolis.
The demand for real estate in Austin since the recession has been described as "unprecedented," but it has led to prices much higher than competing Texan cities. CCS will likely not have trouble selling homes in Austin, but it will be a fine balance between pricing and absorption rates.
Houston is experiencing a price squeeze from limited inventory and exceptionally strong demand. The Houston Business Journal recently reported the following from Zip Realty:
…Houston's single-family housing stock dropped 13 percent, from 19,595 homes in 2013 to 17,065 homes in 2014…the largest drop in home inventory among 23 major metro areas nationally…
Houston now has the fourth fastest housing market in the country with homes staying on the market only 17 days. Population and job growth are driving demand and reducing inventories in Houston. This is clearly a good time for CCS to invest in Houston's hot housing market and provide more options for Houston's home buyers. Houston is actually facing a labor shortage with jobs growing at the second highest pace in the country (Dallas is first). Resolution of the labor shortage, driven primarily by well-paying jobs in the energy sector, will certainly bring many more home buyers into the Houston market.
Going forward, I hope to see how well CCS integrates the sales operations of these new acquisitions. I will want to understand whether CCS's premium Las Vegas offerings are relatively immune to the slowdown in that area. I will also want to see how CCS leverages higher prices and limited inventories in Texas into revenues. Austin seems to be reaching its limits in terms of affordability. The housing market in Houston is extremely fluid as inventories went up slightly from the first to second quarter, from 2.6 to 2.8 months of sales. Either way, these are very low numbers that reflect the torrid pace of sales in Houston. Homes sold increased 46% from the first to the second quarter!
The earnings conference call was very short. Q&A lasted for about 11 minutes and featured multiple questions from just three analysts; again, demonstrating that few people are paying attention to CCS right now. Each analyst came from one of the three book-runners for CCS's IPO: FBR, J.P. Morgan and Deutsche Bank Securities. So, no surprise that few of the questions probed deeply into CCS's results. For example, I would have liked to hear the company explain whether it expects growth to return to margins and earnings per share once it has obtained some momentum in its recent acquisitions.
Since the Q&A was so short and did not feature deep-probing questions, I am providing my complete notes from the session rather than my typical highlights. Please do not treat these notes as exact quotes as I used paraphrasing in many places for expediency. If you read no further, then note that CCS pointed out a slight softening in sales in the second quarter that it described as seasonality in-line with expectations. Confirmation of seasonality should be top off mind when the next earnings announcement rolls around. CCS's response to follow-up questions on seasonality seemed to "evolve" ever so slightly.
JP Morgan
Gross margins continue to be very solid relative to first quarter and a year ago and a bit above what we were looking for from a modeling perspective and above expectations. I want to understand what the delta might be.
Answer
Not giving exact guidance on margins for rest of year. For backlog, expect gross margin to be consistent with this quarter. Some noise in the second quarter on purchase price allocation and bond raise.
Follow-up question
I assume this is before interest amortization on backlog margin. Will purchase accounting burn off quickly?
Answer
The margin backlog, pre-interest and pre-purchase accounting
Follow-up
Quarterly run-rate..? (no answer)
Second question
Orders came in at what we were looking for. Trying to get a sense from a regional standpoint are there any doing worse or better than expected from sales absorption? Are you more or less optimistic on any of the markets?
Answer
Fortunate that all three of our markets are very similar in job and population growth. Operating as anticipated. Very happy with results from 2nd quarter in terms of sales. Saw a bit of softening in July in some of the communities and across the markets. Some of it is seasonal, so not calling it a trend, but we are watching it going forward.
Follow-up question
So you say a bit of softening relative to prior expectations or is it just from the seasonal dynamics that you would have expected?
Answer
We think it is more seasonality. The easiest comparison with year-over-year is with Colorado since we were only operating in Colorado a year ago. We saw some seasonality a year ago and see seasonality this year.
Follow-up
So when you say seasonality you mean in-line with expectations?
Answer
Yes
FBR
Acquisitions are a big component of the strategy here. Would like to get a finger on the pulse of that environment. Is there a sense of urgency on your part to deploy capital before prices run up further or is there some rationalization on the part of sellers and things are beginning to cool down a bit? What is the thought process there in terms of timing?
Answer
In terms of timing, it is really about finding the right opportunities. Last year we did 2 transactions over the period of 9 months. As we go forward we are looking forward to doing more acquisitions. We are not going to do something not accretive to earnings. Will source through opportunities and hope they are sooner not later. Will do deals that make long-term sense.
Follow-up
Are there any particular markets?
Answer
In terms of 3 core markets will continue organic growth. We look for population growth, job growth, and expectations of price appreciation for acquisitions.
Follow-up
Can you give idea of how the quarter shaped up relative to expectations for Las Vegas acquisitions?
Answer
It was in-line to a little bit better in terms of sales and margins.
Deutsche Bank
There has been some talk from other builders there has been some talk about selective use of incentives. You noted some reduction in incentives in earlier discussions. Would like to get an update on that.
Answer
In our markets still not having to provide additional incentives. Most incentives are around design center. Not seeing any pressure to provide additional incentives.
Follow-up
On the other side of coin, premiums are the important part of land development activity. So how have the trends been in that regard?
Answer
That is something we focus on in terms of land planning and pricing strategy. We have been able to obtain the types of premium we were anticipating. That is why the margins are a little stronger. We don't model in the profits we expect on auctions. Have not had to discount premiums.
Follow-up
Adding the two operations over the past 9 months, coming with different brands. What are longer-term thoughts on operating separate brands? Is there an attempt to operate as same brand?
Answer
In terms of Jacobs brand because it was very well-known as a high-end builder in central Texas. In Las Vegas the Dunhill operation had only been there 4 years and have phased out the name. Already transitioned that to Century Communities. In other markets and acquisitions, would make similar decisions.
Follow-up
If you look back over the last year on IRRs (internal rates of return) on acquisitions versus land deals, how do those compare? Did you have a higher threshold for new market entry?
Answer
We really look at each opportunity to stand alone. We are looking at how that particular transaction will operate on its own and then how it blends into overall company.
The conference call ended there…
Be careful out there!
Disclosure: The author is long CCS. The author wrote this article themselves, and it expresses their own opinions. The author is not receiving compensation for it (other than from Seeking Alpha). The author has no business relationship with any company whose stock is mentioned in this article.