Macy's (NYSE:M) stock has been a great investment over the past five years, returning 244.5% and comfortably outpacing the S&P 500. The stock dropped 5% post-earnings today, when sales and the forward-looking outlook came in softer than expected. In spite of the tepid forecast, I believe that Macy's is an attractive, relatively low-risk investment opportunity especially post the earnings dip.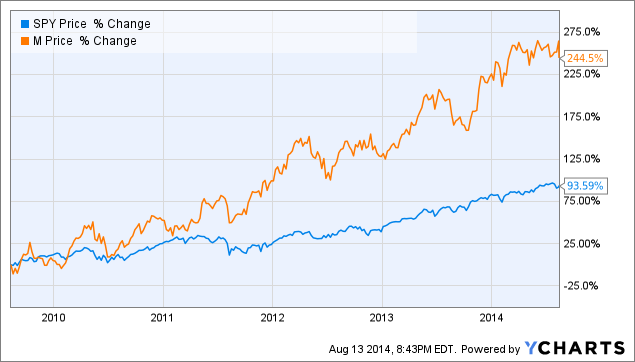 Business performance
Limited store expansion
Store expansion and increasing same-store sales are the engines of growth for any retailer. In the case of Macy's, the company has been extremely cautious about expansion, and has actually reduced its store count slightly over the last four years, going from 850 stores in 2009 to 840 in 2013. It is an established presence in many of the markets in which it operates, and clearly sees limited room for expanding its store count.
Expanding same store and online sales
However, it has been extremely successful in increasing its same store sales as well as expanding its online channel, which has resulted in an increase in revenue from $23.5B in FY09 to $27.9B in FY13 - impressive in light of the net store reductions.
Careful cost management and merchandising
Macy's has been extremely successful in maintaining its levels of profitability over the last four years. Gross margins have been remarkably stable - they have varied between 40.1% and 40.7% over this period, which indicates that Macy's has stable pricing power and a loyal set of customers.
It has also been successful in increasing sales while reducing relative spend on SG&A, leading to margin expansion. SG&A expenses are now around 30% of sales, down from 34.3% in FY09. This has led to an expansion in its operating margin, from 6.2% in FY09 to 9.9% in FY13.
Valuation assumptions
In my valuation model, I am assuming net zero store growth. This is an area of potential upside, especially if the company decides to expand internationally, but I have not factored this into my model.
I am assuming same-store sales growth of 2.5%, which is in line with Macy's expectations for FY14. There is upside here, as the company has realized growth in excess of this rate in three of the past four years. Hence, I would say that this assumption is on the conservative side.
From a margin perspective, I am assuming that gross margins stay at around 40% going forward, while SG&A is around 30% of sales. Hence, I am not assuming any significant margin expansion - which is also conservative given the company's success at improving its margins.
The company has also spent less on capex compared to depreciation historically, which means that operating cash flow has outpaced net income. However, in my model I have not factored in any tailwinds from this, as I am assuming that in the long term capex will equal depreciation.
Valuation summary
Based on these assumptions, and using a discount rate of 9% with a terminal value growth rate of 2%, I get to a fair market value (FMV) of $61 for Macy's, which is 7% above the current share price. I am using a slightly lower discount rate taking into account the relative stability of the company. This indicates that Macy's is a good buy at current prices, especially in an environment where undervalued companies are hard to find. The complete valuation model is attached below.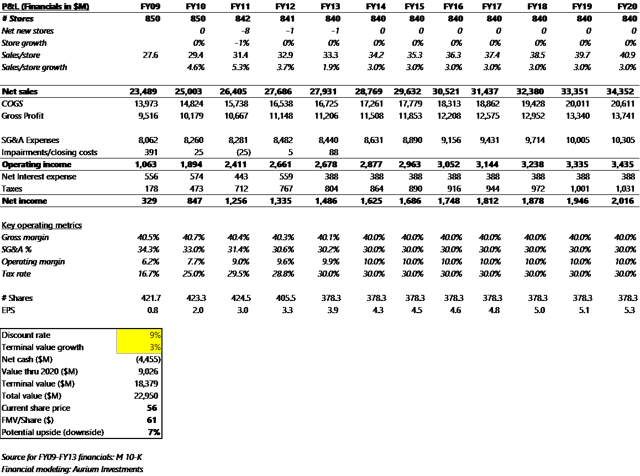 Risks and opportunities
The biggest risk to Macy's is being able to sustain its healthy gross margins. Every one point deterioration in long term gross margin results in a $5 reduction in the FMV. Of course, there is upside in the other direction as well, if the company continues to expand on its operating margins. On balance, I believe my valuation errs towards conservatism.
Conclusion
Macy's has been a stable business for more than a hundred years and is conservatively managed. In the current frothy market environment, it is one of the few relatively good values left. I would recommend buying at these prices.
Disclosure: The author has no positions in any stocks mentioned, but may initiate a long position in M over the next 72 hours. The author wrote this article themselves, and it expresses their own opinions. The author is not receiving compensation for it (other than from Seeking Alpha). The author has no business relationship with any company whose stock is mentioned in this article.