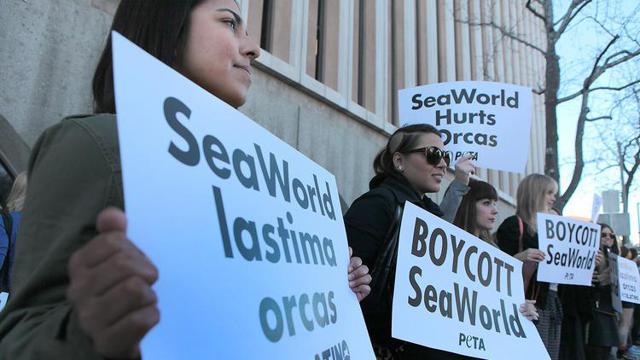 Demonstrators stand outside the courthouse in Pasadena on Feb. 3 as they voice support for 16 people arrested in connection with a protest against SeaWorld's float in the Tournament of Roses Parade. (Brian van der Brug / Los Angeles Times)
How big of a splash can one whale documentary make? That's the golden question. SeaWorld (NYSE:SEAS) is "a United States chain of marine mammal parks, oceanariums, and animal theme parks owned by SeaWorld Entertainment." On April 19, 2013, SeaWorld went public at $27 a share. Wednesday, after damp earnings, that stock plummeted 32.86% to $18.90 a share. So, the question begs, what went wrong, and is this a safe investment?
Before we actually get into the nasty earnings statement, let's look at the casual factors behind the dramatic decrease in share price for this company. But first, let's uncover the pessimism that existed before the company even went public.
James Hardiman, analyst at Longbow Research LLC, said: "SeaWorld may be hard-pressed to justify the premium because the company and its peers operate in a mature business that's probably not ripe for large-scale expansion. From an attendance perspective, they're pretty slow growers. I don't know that there's any low-hanging fruit that would make SeaWorld's growth accelerate after it becomes public." As time has come to fruition, we can now substantiate that his prediction was accurate. The company was simply already reaching the pinnacle of its attendance base, yet the high expectations for expansion was still expected and exaggerated. In the same period that Six Flags' attendance base increased by 6%, SeaWorld's base floated behind at 3.2%. The current day attendance does not look any better, but we will get to that.
Let's get to the bearing question: How big of an effect did this "Blackfish" documentary actually have?
The answer is that it had and is still having a colossal effect. SeaWorld admits it itself in its earnings release on Wednesday that the documentary and the media coverage surrounding the film did make an indention in the rate of attendance. Other reasons were explicated, as well, such as the weather being unfavorable and the new Harry Potter attraction at Universal Studios, but let's face it SeaWorld, the public has woken up to the reality of what's really going on with the whales. All it took was a little bit of awareness.
California State assemblyman Richard Bloom introduced a bill that would effectively phase out the captivity of whales and end the whale shows. It would also ban the import, export and breeding of Orcas while requiring SeaWorld San Diego to move its 10 killer whales out of tanks and into larger sea pens. His inspiration for the proposed legislation? The documentary "Blackfish." The public outrage after this movie was released precipitated an astonishing 1.2 million signatures on a petition that was delivered to that Assembly by three elementary school students that had also effectively stopped a field trip to SeaWorld due to this raging indignation.
The ripples didn't dissipate there, though. As many of you may know, on July 31st, Southwest Airlines (NYSE:LUV) and SeaWorld terminated a 26-year-old marketing relationship. The justification for such a sporadic move? Southwest spokeswoman Marilee Mclnnis says it is "strictly a business decision...Southwest and SeaWorld mutually determined that we wanted to redirect resources in other directions." What Marilee fails to mention is the petition on Change.org with 30,000 signatures demanding for the company to separate itself from SeaWorld, claiming that it is essentially assisting in the captivity and abuse of the animals. So, what does this mean for SeaWorld? Well, Southwest was the park's official domestic airline partner with three of its planes emblazoned with the SeaWorld logo, so the sudden eradication of such big advertisement could severely affect SeaWorld's bottom line.
There is also another petition on Change.org to stop British Airways from selling trips to SeaWorld that has compiled over 85,000 signatures. To add to this, on January 23, Business Insider reported a poll by Skift that found 28% of Americans say they are less likely to visit SeaWorld as a result of "Blackfish." And that was in January. Imagine the awareness that has spread since then. Imagine the multitude of people that have been influenced by another party to watch the film, and then imagine how the outrage has spread since then. Let's take a psychological point of view on this situation. If SeaWorld becomes known as the world of captivity and oppression for animals, then any interaction with it would become socially unacceptable and condemned. It will no longer be a place of joyous entertainment and family fun; it will become a political institution and an individual's decision of attendance will perceptively determine that person's stance on animal rights. Whether or not that is the case, many people will feel so strongly towards the abolishment of SeaWorld and the emancipation of the animals that it will present the opportunity to present itself as a political stance.
Ultimately, this is a number's game. And it's not looking good for SeaWorld. Wednesday's earnings release unveiled the following statistics:
Q2 EPS of 43cents fell below analysts' consensus projection of 59cents.
Revenue of $405.2M was lower than analysts' consensus projection of $445.29M.
Attendance increased moderately by 0.3% against prior year to 6.6 million, which doesn't say much considering the prior year attendance rate -9%.
YTD attendance rate is down 4.3%.
FY14 revenue is expected to be down 6-7% compared to the prior year (WS expectations were +3%).
FY14 adjusted EBITDA is expected to be down 14-16%.
YTD generated revenue of $617.4M, a decrease of $32.5M, or 5% compared to same period in 2013.
YTD adjusted EBITDA was $111.0M, a decrease of $27.0M, or 20% compared to same period in 2013.
Net loss of $12.1M, or loss of $0.14 per diluted share for the six months ended June 30, 2014.
But, on a good note, the Company did approve a $250M share repurchase program that will begin on January 1, 2015. Whether or not this is a duplicitous stunt intended to deceive the reality of their egregious circumstances is unclear to me, but if you for some reason plan on holding these shares, this is something you can look forward to.
If I've left any ambiguity on my stance towards the sinking ship that is SeaWorld, allow me to clear the air and voice my opinion: SELL. There's no way I can justify a stance in this company at the moment. The profit margins are weak, net income is simply deteriorating and the return on equity is not exactly mesmerizing. Do I think that the sky is falling? No. Do I think that the sky is cloudy with a chance of meatballs? Yes. SeaWorld may recover from this political impediment in due time after the effects of "Blackfish" have worn off, but as long as political officials and PETA continue their march for emancipation, I can't see SeaWorld's water getting clearer any time soon. So, to stay safe from the potential evisceration of SeaWorld's profits due to a huge legislative victory or massive, nationwide protesting, my advice is to get out of the water, and stay dry, my friends.
Disclosure: The author has no positions in any stocks mentioned, and no plans to initiate any positions within the next 72 hours. The author wrote this article themselves, and it expresses their own opinions. The author is not receiving compensation for it (other than from Seeking Alpha). The author has no business relationship with any company whose stock is mentioned in this article.