By Sumit Roy
The oil correction is not over yet.
The Department of Energy reported this morning that in the week ending Aug. 8, U.S. crude oil inventories increased by 1.4 million barrels, gasoline inventories decreased by 1.2 million barrels, distillate inventories decreased by 2.4 million barrels and total petroleum inventories increased by 1.5 million barrels.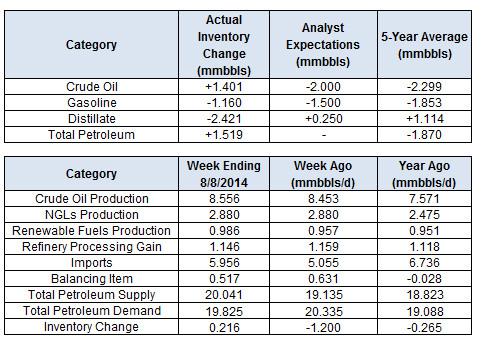 Crude prices continued to correct lower over the past week, with Brent touching a 13-month low just above $102. WTI has yet to put in new lows as it hovers above $96, but still remains near the cheapest levels of the year.
As can be seen from the chart below, Brent has decisively broken below the support area around $105 and looks poised to test the psychologically significantly $100 mark in the coming days or weeks.
BRENT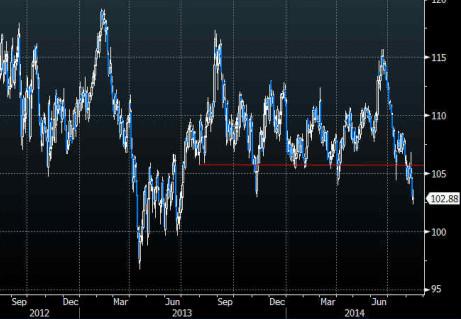 WTI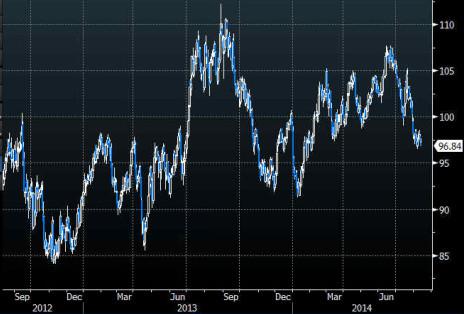 Traders are ignoring headlines about the ongoing conflict in Iraq, betting that the Sunni insurgency does not imperil the bulk of the country's oil production that lies in the South. In our view, the market is making a reasonable assumption that the relatively calm southern oil fields won't feel the effects of the violence raging elsewhere.
Without the benefit of supply concerns, the oil market has shifted its attention to demand. On that front, the outlook has soured. On Tuesday, the International Energy Agency cut its global demand growth forecast by 180,000 barrels per day to 1 mmbbl/d. The IEA cited a "weaker GDP outlook from the [International Monetary Fund]" for the cut.
According to the IEA, oil inventories in OECD countries such as the U.S., U.K., Germany, Turkey and others surged by 88 million barrels in the second quarter- the largest quarterly build since the third quarter of 2006.
"The Atlantic market is currently so well supplied that incremental Libyan barrels are reportedly having a hard time finding buyers," the IEA said.
"Many in the market seem more focused today on potential short-term downward price pressures from a further increase in Libyan production" than on "upward price pressures as might result from an escalation of fighting," the agency concluded.
Bottom Line: Look for Brent to test $100 and perhaps even lower levels in the near term. A buying opportunity may emerge, but prices will need to stabilize before we would be comfortable wading back into the market.
Turning to this week's EIA inventory figures, total petroleum inventories in the U.S. rose by 1.6 mmbbl, against the five-year average of a 1.9 mmbbl decrease. In turn, inventories now have a surplus of 13.6 mmbbl, or 1.2 percent, against the five-year average.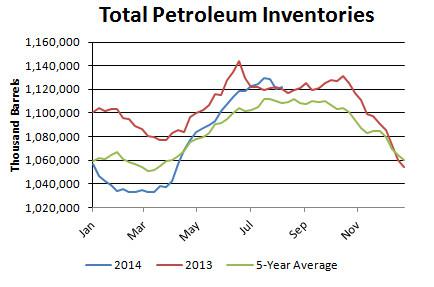 Crude oil inventories rose by 1.4 mmbbl, against the five-year average of a 2.3 mmbbl decrease. In turn, the surplus in the crude category rose to 11.3 mmbbl, or 3.2 percent.
Regionally, inventories inside the Midwest fell, while inventories outside the region rose.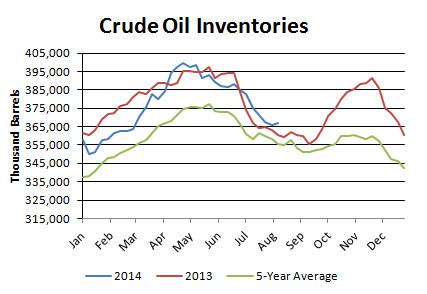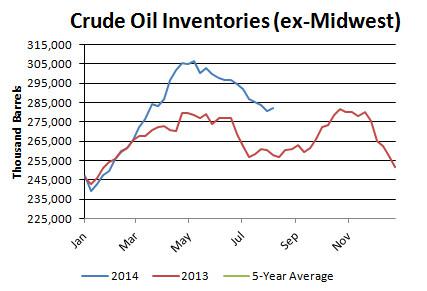 Gasoline inventories fell by 1.2 mmbbl against the five-year average of a 1.9 mmbbl decrease. The gasoline deficit now stands at 1.2 mmbbl, or 0.5 percent. Distillate inventories fell by 2.4 mmbbl against the five-year average of a 1.1 mmbbl increase. In turn, the distillate deficit widened to 26 mmbbl, or 17.5 percent.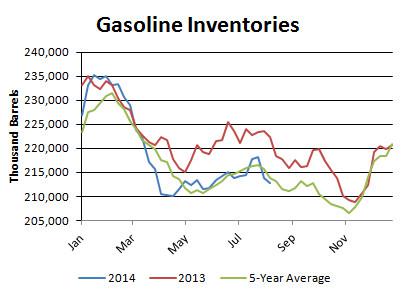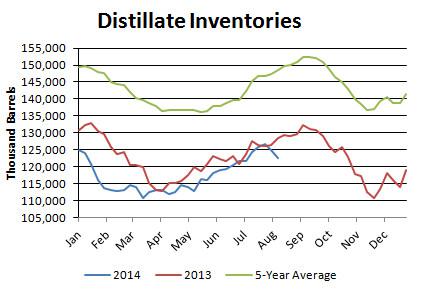 Demand
Total petroleum demand in the U.S. slipped to 19.8 mmbbl/d, while gasoline demand sagged to 8.9 mmbbl/d and distillate demand remained unchanged at 4 mmbbl/d. On a four-week rolling basis, total demand was up by 1.1 percent from last year. On that same basis, gasoline demand was down by 1.3 percent and distillate demand was up by 0.3 percent.
It's worth noting that these figures may be overstated due to the EIA's methodology for calculating demand. The administration does not distinguish between domestic demand and exports. Given that U.S. product exports (distillates, in particular) are running at record levels, U.S. oil demand seems greater than it is.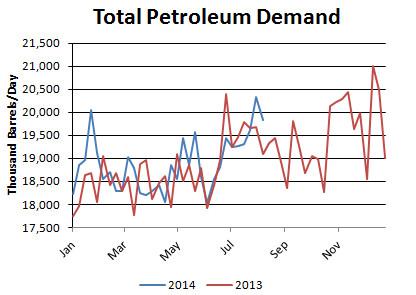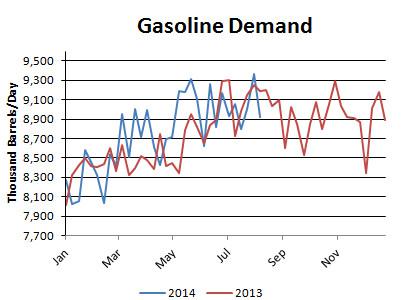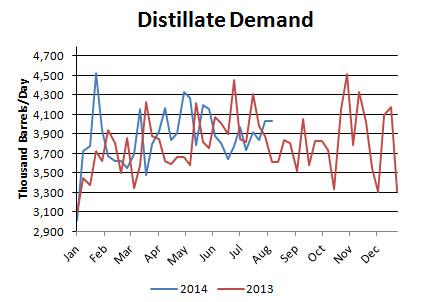 Imports
Crude oil imports rose by 0.3 mmbbl/d to 7.8 mmbbl/d. On a four-week rolling basis, imports have averaged 4.6 percent below the year-ago level.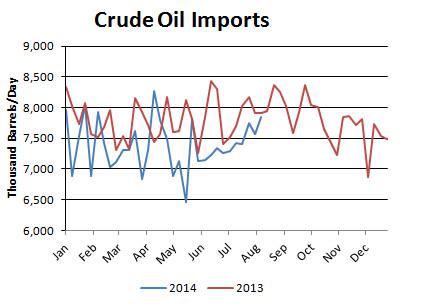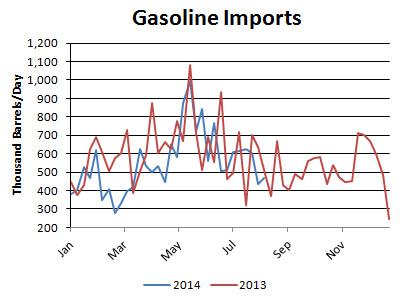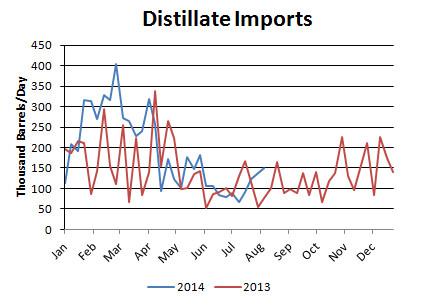 Refinery Activity
Refinery utilization edged down from 92.4 percent to 91.6 percent. Utilization is above the year-ago level and the five-year average. Gasoline production dropped to 9.5 mmbbl/d, while distillate production fell to 4.7 mmbbl/d.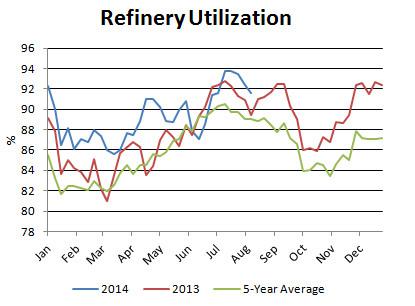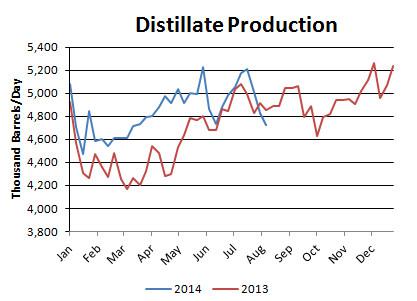 Miscellaneous
U.S. crude oil production increased to 8.56 mmbbl/d, remaining near the highest level since October 1986. Output has been rising swiftly due to surging production in unconventional oil plays. Since the start of the year, output has averaged 1.1 mmbbl/d, or 14.8 percent, above the same period a year ago.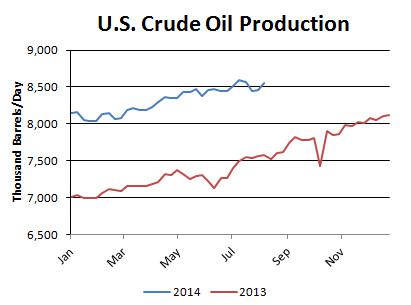 Inventories at the Nymex delivery point in Cushing, Okla., rose by 0.4 million barrels to 18.4 million barrels, or 22.7 percent of the EIA's estimate of capacity. Overall, Midwest inventories fell by 0.2 million barrels to 85.1 million barrels, or 52.8 percent of estimated storage capacity.
Front-month WTI calendar spreads remained in backwardation at -$0.89.
Front-month Brent calendar spreads shifted remained in contango at +$0.87.
West Texas Intermediate's discount to Brent decreased week-over-week from -$7.35 to -$5.91. WTI's discount to Louisiana Light increased from -$3.74 to -$4.50.