It seems to be a quarterly tradition now as Vipshop (NYSE:VIPS) beat analyst expectations once again on both the top and bottom lines. Since going public back in 2012, Vipshop has managed to beat both the top and bottom lines each and every quarter. With another quarter in the books, this marks the eighth straight time that Vipshop has topped expectations.
The good news didn't stop there as management expects third quarter revenue to be even higher than what it previously had planned. The table below shows Vipshop's strong earnings results as well as future guidance.
| | | | |
| --- | --- | --- | --- |
| VIPS Earnings Results | Revenue | EPS | Guidance |
| Analyst Estimates: | $791.5M | $0.64 | $825.6M |
| My Estimates | $810M-$820M | $0.71-$0.75 | $840.0M |
| Actual Results: | $829.4M | $0.72 | $855.0M* |
*VIPS Q3 guidance is between $850M and $860M

As we can see, Vipshop easily surpassed analyst expectations once again with another dominating quarter. Earnings per share ("EPS") came in-line with my expectations with revenues coming in well ahead. Even with a ramp up in marketing expenses, EPS came in well ahead of analyst expectations. Now just imagine how much bigger of a beat it would have been if marketing expenses didn't ramp up this quarter.
According to management, the reason why marketing expenses climbed was a reflection of the Company's strategy to reinvest its profit in the business to drive long term growth, by building greater brand awareness, acquiring more mobile users, and expanding market share. As the saying goes, you gotta spend money in order to make money and Vipshop has certainly proven that it can deliver on its investment.
Vipshop Q2 Highlights
Active customers grew to 9.3M from 3.5M, an increase of 167.9% year-over-year (YoY).
Total orders increased to 26.3M from 11.0M, for an increase of 138.4% YoY.
Vipshop recorded revenues of $829.4M for an increase of 136.1% YoY.
Third quarter revenue guidance came in between $850M - $860M, representing YoY growth of 122% to 124%.
Gross margins increased to 24.8% from 23.5% YoY.
Eric Shen, Chairman and CEO of Vipshop, talked about Vipshop's strong quarter saying;
"We are very pleased with our robust second quarter financial and operational results. Operationally, our total active customers amassed to 9.3 million, of which 4.1 million were new active customers during the quarter. In addition, this quarter also witnessed continued integration with Lefeng, which contributed nearly 2.0 million total orders, and more than 1.3 million total active customers. With mobile becoming a more important revenue stream, we recently launched our first U.S. R&D center. Based in San Jose, this facility will leverage the deep pool of mobile and data mining talent in Silicon Valley to improve our business in the areas of Big Data, data mining, and machine-to-machine learning, further tailoring and optimizing the shopping experience on our platform."
Conclusion
It's no secret that Vipshop has been the darling of Wall Street with shares climbing more than 4,000% in just the last two years. With fantastic earning reports quarter after quarter, shares should continue their magnificent run.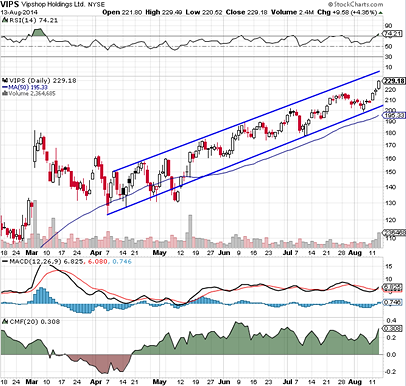 So with another great earnings report in the bag, where do Vipshop's fundamentals currently stand?
Taking into account the after-hours closing price ($218.12), Vipshop currently has a trailing P/E of 103. Yet, on a forward looking basis, Vipshop's P/E drops all the way down to 43. Quite a remarkable drop for a company that is consistently growing revenues at phenomenal levels.
On a price/sales level, Vipshop is going for 3.5X 2014 estimates. Looking ahead into 2015, Vipshop is trading at just 2.2X estimates. On a PEG level, Vipshop is trading at 0.90 based on 2014 estimates and 0.54 on 2015 estimates.
| | | | | | |
| --- | --- | --- | --- | --- | --- |
| Vipshop (PEG Ratios) | 40% Discount (0.60 PEG) | 30% Discount (0.70 PEG) | 20% Discount (0.80 PEG) | 10% Discount (0.90 PEG) | 1.00 PEG |
| Price Target | $240 | $280 | $320 | $360 | $400 |
* Based on 2015 estimates: EPS = 5.00, Growth Rate 80%
Finding a stock with a low PEG that is consistently surpassing Wall Street's expectations is what every investor should be closely watching. Luckily for investors in Vipshop, they have already found one of those Wall Street gems.
Again, looking at a variety of valuations, Vipshop seems pretty cheap for the type of growth (+100% YoY) it has given investors year after year.
After another huge quarter and with guidance coming in higher than what the experts expected, analysts will have no choice but to fix their models and up their current price targets again. Because of these reasons that I've outlined, I believe Vipshop still has plenty of room to run and will be getting many upgrades from analysts over the coming days and weeks. With that, don't be surprised to see price targets up into the $275-$300 range now.
With revenue looking to continue growing at a blistering pace over the next couple of years, investors should be rewarded with plenty of gains over the coming months and years if they haven't already done so.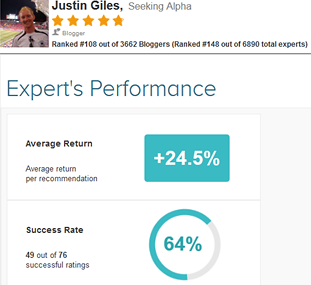 As always, I'm providing you with my track record and other particular stocks that I recommend. The link provided will show you all of my picks, how they have fared, and where I think they will be going in the near future. I think you will find my track record to be very impressive and useful.
Disclaimer: Link
Disclosure: The author is long VIPS. The author wrote this article themselves, and it expresses their own opinions. The author is not receiving compensation for it (other than from Seeking Alpha). The author has no business relationship with any company whose stock is mentioned in this article.