We are maintaining our Neutral recommendation on Optimer Pharmaceuticals Inc. (NASDAQ:OPTR) with a target price of $12.00.
Headquartered in San Diego, California and founded in 1998, Optimer Pharmaceuticals Inc. focuses on discovering, developing and commercializing anti-infective products. The company is currently engaged in the development of products that treat gastrointestinal (GI) infections and related diseases where current therapies have limitations such as diminished efficacy, serious adverse side effects, drug-to-drug interactions, difficult patient compliance and bacterial resistance.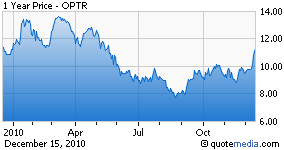 Optimer Pharmaceuticals recently reported a third quarter 2010 loss per share of $0.30. The loss per share exceeded the Zacks Consensus Estimate by a penny and the year-ago loss by $0.02. The wider loss was attributed to higher costs incurred by the company on research and development (R&D) and marketing purposes in the reported quarter.
Optimer does not have any marketed products at present. It earns revenues primarily from research grants and collaborative agreements. Revenues jumped 279% to $669,137 due to funds received from collaborative research agreements.
(Read our full coverage on this earnings report: Loss at Optimer Inches Up Slightly )
Optimer has two late-stage anti-infective product candidates, fidaxomicin and Pruvel (prulifloxacin). In November 2010, Optimer completed the submission of its rolling new drug application (NDA) to the US Food and Drug Administration (FDA) for fidaxomicin for treating patients suffering from clostridium difficile infection and for the prevention of the recurrence of the infection.
While submitting the NDA, Optimer requested the agency to review the application on a priority basis. The candidate is currently under review in Europe. Optimer intends to submit a NDA to the FDA for Pruvel in the first quarter of 2011. We are pleased to note that both candidates score better than the currently available treatment options on many parameters.
Although we are quite optimistic regarding their approval, we remain concerned about the competitive scenario. On approval, these drugs will have to compete with many established pharma players such as Pfizer (NYSE:PFE), Bayer (OTCPK:BAYRY) and Sanofi-Aventis (NYSE:SNY). We are also concerned about the dependence of the company, which has limited resources, on its two lead pipeline candidates.
Given these headwinds, we believe that Optimer's current valuation adequately reflects its fairly balanced risk/reward profile. We see limited upside from current levels and consequently have a Neutral stance on the stock in the long-run. The stance is supported by the Zacks #3 Rank (short-term 'Hold' rating) currently carried by the company.