C.R. Bard (NYSE:BCR), which makes medical, surgical, diagnostic and patient care devices, has issued an upbeat outlook for fiscal 2011. At its annual analyst meeting, the New Jersey-based medical devices maker stated that it envisions adjusted (excluding special items) earnings per share for 2011 to grow 14% over its projected earnings for the current year.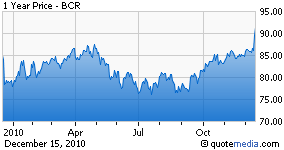 Moreover, C.R. Bard expects net sales to grow in the range of 5-8% (in constant currency) for full-year 2011. The company has backed its adjusted earnings guidance for fiscal 2010, which is expected in the range of $5.50 to $5.54 per share. The current Zacks Consensus Estimate for 2010 and 2011 are $5.52 and $6.15, respectively.
C.R. Bard's well-diversified end-markets and vast product portfolio (used in life-saving less invasive surgical procedures) insulate it from fluctuations in any single therapeutic category. The company's resource depth and focused innovation are its major competitive advantages. C.R. Bard has a reasonably strong pipeline with several new product launches expected to support growth moving forward.
We expect new product flows and an expanded sales force to drive organic revenue growth and help the company achieve its sales objective. Moreover, incremental R&D investment should boost the pipeline and give way to product innovation/differentiation.
However, we remain cautious considering heightened competition and pricing pressure. C.R. Bard faces a mix of competitors ranging from large manufacturers with multiple business lines like Boston Scientific Corporation (NYSE:BSX) and Johnson & Johnson (NYSE:JNJ) to smaller manufacturers that offer a limited selection of products like Angiodynamics Inc. (NASDAQ:ANGO).
Competition is expected to increase across several businesses (especially in soft tissue repair) in 2011. Moreover, the pricing environment has been lackluster for most of the devices offered by the company due to competition and a still soft hospital equipment purchase backdrop.
We are also concerned about C.R. Bard's aggressive acquisition strategy, which has inherent integration risk. Our Neutral recommendation on the stock is supported by a short-term Zacks #3 Rank (Hold).