Background:
JetBlue Airways (NASDAQ:JBLU), also stylized as jetBLue, is a low-budget airline carrier headquartered in Queens, New York with its main base at the JFK International Airport. JetBlue was ranked the highest in customer satisfaction among the low-cost carriers in 2014 making it their 10th consecutive award from J.D. Power. JetBlue founder David Neeleman and several of the company's other executives previously worked at Southwest Airlines. Although JetBlue is categorized as a low cost carrier, the company differentiates itself by making 36 channels of DirecTV free for all passengers and letting customers check in one bag free of charge.
2nd Quarter Earnings:
In the 2nd quarter, JetBlue increased its flying capacity by focusing on key cities such as Boston, Fort Lauderdale, and the Caribbean. Because of their expansion into other major cities, revenue increased 12%.
JetBlue sold its LiveTV subsidiary, one of the top 4 providers of in-flight entertainment systems, to Thales for $399 million in cash giving the company a gain of $242 million. After taking this sale out of earnings, JetBlue's revenue still increased by 70% year over year.
JetBlue also began offering a new premium class called Mint. These seats are equipped with 10" video screen, a brand new entertainment system, and 100 channels of DirecTV. Select flights going from New York to Los Angeles have been implementing Mint this year and the reception has been positive. Other airlines have a similar premium service program from New York to Los Angeles, but they are usually about 4 times the price at $2000; JetBlue offers it for a quarter of the price at $499. If JetBlue Airways continues implementing the premium class, they will gain a bigger portion of the industry's market share for luxury flights.
What's next for JetBlue?
A couple days ago, JetBlue announced that they were offering nonstop flights from New York to Curaçao, an island in the southern Caribbean. Currently, the only airline carrier flying to Curaçao from the United States are American Airlines and Insel Air. Most tourists going to the island paradise come from the Eastern United States, the Netherlands, and South America. The island's minister of economic development Stanley Palm says, "New York is a top market for the island and we are confident that the new service will meet the demand we've seen from the northeast and international travelers alike."
The Caribbean Tourism Organization published a study highlighting tourism statistics around various destination spots. In May, Americans traveling to Curaçao dropped about 2.7%. Although there was a decrease in tourists from the United States to Curaçao, I don't see this as much of a problem since the U.S. economy is currently growing (as measured by market growth) and demand for leisure will rise as Americans become more and more financially secure. Additionally, there is ample opportunity for JetBlue to profit from this new venture considering that they are only the third airline flying directly to Curaçao from the United States.
Peer Analysis:
I selected Spirit Airlines (NASDAQ:SAVE) and Southwest Airlines (NYSE:LUV) as peers because they are also discount airlines that compete for the same market segment.
| | | | |
| --- | --- | --- | --- |
| | Spirit | JetBlue | Southwest |
| EV/Revenue | 2.38 | 0.88 | 1.02 |
| EV/EBITDA | 12.53 | 6.71 | 6.68 |
| P/E | 27.49 | 24.55 | 24.49 |
| | | | |
| Profit Margin | 11.40% | 6.23% | 5.99% |
| Operating Margin | 18.32% | 7.79% | 10.30% |
| | | | |
| Quarterly Revenue Growth | 22.60% | 11.80% | 7.90% |
| Quarterly Earnings Growth | 54.20% | 538.90% | 107.60% |
(Data: Yahoo! Finance)
Using the EV/Revenue and EV/EBITDA ratios to measure the value of the companies, Spirit Airlines seems overpriced but maintains a profit margin almost 2x higher than its peers. JetBlue's quarterly earnings growth is inflated because it includes the sale of its subsidiary, LiveTV.
I see potential for JetBlue to increase its profit margin from its new Mint premium services. Flights from the Northeast to Curaçao will increase revenue and serve a market where there is currently little competition. JetBlue has executed a lot of key strategies this year demonstrating their commitment to growth. If JetBlue continues at this pace, I see a lot of potential in this company.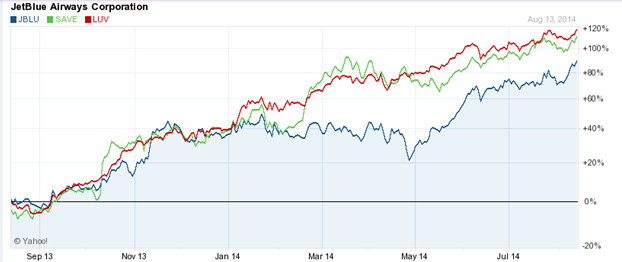 (Source: Yahoo! Finance)
In the first 5 months (August 2013 - December 2013), overall returns were essentially even between the 3 companies. Its weak earnings report in the first quarter was due to the harsh winter in the Northeast which handicapped the company's operations. As a result, JetBlue reported adjusted earnings of 1 cent while analysts were estimating it to be around 7 cents. Investors punished the stock but JetBlue made a healthy recovery and is now up 90% year-over-year.
Conclusion:
The airline industry has been one of the fastest growing industries this year. JetBlue still has a lot of potential to expand as they try to grow their presence in major U.S. cities. Their Mint premium service program will cut into its competitors' market share since JetBlue's price point for the luxury service is so much lower. JetBlue's business plan is sustainable as long as risks such as oil shortages and bad weather remain minimal. It's hard to say if JetBlue is the best investment in the airline industry but I definitely expect it to be one of the most competitive going forward.
Disclosure: The author has no positions in any stocks mentioned, and no plans to initiate any positions within the next 72 hours. The author wrote this article themselves, and it expresses their own opinions. The author is not receiving compensation for it. The author has no business relationship with any company whose stock is mentioned in this article.