Jacobs Engineering Group Inc. (NYSE:JEC) has won construction contracts from Metrolink Light Rail System in UK and Architect of the Capitol in Washington, D.C.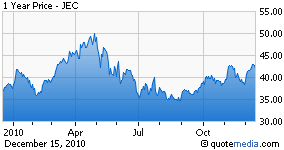 According to the agreement, Jacobs will be rendering design and construction services for the extension of the Metrolink system. Although, the transaction value was not disclosed, the total construction cost is estimated at $590 million.
Architect of the Capitol will be provided with one-year construction management services of $30 million. The contract encloses a four-year extension option with the value of $6 million each year.
Architect of the Capitol is the federal agency responsible for the maintenance, operation, development and preservation of the United States Capitol complex in Washington, D.C,
Jacobs' diversification across markets, geographical regions and services will also help to generate growth. Jacobs' plans to expand into the emerging markets of India, China and the Middle East, which are expected to perform much better than the developed markets in the coming years.
Moreover, Jacobs' ongoing acquisition strategy and robust liquidity position will help it to emerge stronger than its competitors like Fluor Corporation (NYSE:FLR) and Foster Wheeler AG (FWLT). At the end of the third quarter of fiscal 2010, Jacobs' net cash position was $847.6 million.
However, Jacobs' continuous decrease in backlog since the beginning of fiscal 2010 is expected to negatively affect its top-line results in fiscal 2011. Further, the stock is cyclical in nature and thus, the sluggish economic environment, which has reduced the spending power of the clients, was the prime reason for the decrease in backlog. Large investors fear to infuse capital in these unstable market conditions.
The company also faces immense risk as it operates in a highly-competitive environment. Hence, the stock currently retains its Zacks #3 Rank (short-term Hold rating).