My ETF Pullback strategy (see Appendix below for explanation and performance data) closed its one-week precious-metals-oriented trades, probably a day later than I wished (see figure 1 below for performance tracking) but it does seem that the underlying forces that pointed the model in that direction last week may remain alive.
This week's ETF list seems tied, one way or another, to monetary circulation, the more the better. Here's the new list:
This is last week's list.
There are two components to this week's monetary circulation (or as economists would say, "velocity of money") theme.
One is the focus on the consumer, which we see in the Gaming and Leisure ETFs. The consumer play, here is obvious. We also see it, to an extent, in the Internet ETF, which has about 30% of its assets in consumer-oriented names like Google (NASDAQ:GOOG), Amazon.com (NASDAQ:AMZN), Ebay (NASDAQ:EBAY), Yahoo! (NASDAQ:YHOO), Priceline (NASDAQ:PCLN), and Netflix (NASDAQ:NFLX).
For these plays to work, one of two things would have to occur. Consumers need to get more money, or they need to loosen up when it comes to using the money they have right now. Trends in employment are what they are: lackluster and slow-moving. QE II should be putting more money into the economy, but that too will take time to work its way into the hands of Joe Average. So I don't expect the more-money scenario to play out much in the near term. If leisure and gaming stocks are to do well, it'll probably have to come about as a result of increased monetary velocity. Psychology is a big factor here and in this regard, QE II and perhaps favorable resolution of the tax-rate issue can help.
The other focus is developing-world investing, where we see two ETFs this week, one concentrated in Indonesia and the other in Turkey. There's a lot of core potential in both places assuming economies continue to develop, and assuming they're not derailed by corruption (a particular issue in Indonesia).
But right now, the main concern may be hot money. The potential of the developing world is one of the investment community's worst-kept secrets and funds have been flowing briskly into those stock markets, too briskly, perhaps. Governments have been noticing and are getting increasingly keen to stem this tide. Taking corrective measures, such as lowering interest rates and pressuring currencies downward, increases the risk of domestic inflation. But the hot-money problem is serious (it can zip out just as easily as it zips in and lead to capital-market chaos) so inflation may be seen as the lesser of two evils.
The idea of this technical ETF-selection model is to catch pullbacks in the context of broader uptrends. It presumes we're seeing pauses, not reversals. I can buy into this for a week, which is my standard rebalancing period.
Longer term, though, this inflation theme doesn't seem to want to go away. Precious metals ETFs have been selected in several of the last few runs, and I wouldn't be at all surprised to see them come back in the very near future.
In any case, the end of the latest week indicates that precious metals, which has likewise attracted quite a bit of money, hot money I suppose, may not now ready for buy-and-hold stature absent a willingness to tolerate considerable volatility. (See Figure 1 is a screen shot from my account showing my real-world performance with this strategy at FolioInvesting.com.) But as can be pieced together from several of the recent articles in this series, it does look like we're solidly entrenched in a tug-of-war between developing-world potential and growing inflationary pressures.
click to enlarge images
Figure 1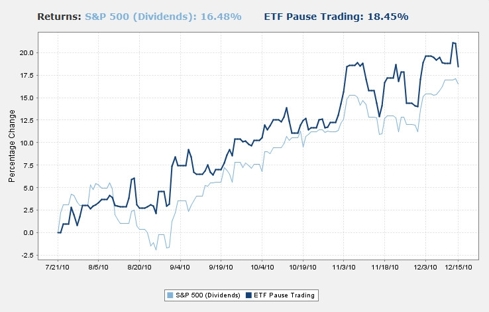 Click to enlarge
APPENDIX
To create this model, I started with a very broad-based ETF screen I created in StockScreen123.com.
Eliminate ETFs for which volume averaged less than 10,000 shares over the past five trading days

Eliminate HOLDRs (I don't want to be bothered with the need to trade in multiples of 100 shares)

Eliminate leveraged and short ETFs (I think of these as hedging tools rather than standard ETF investments of even trading vehicles)
Then I sorted the results and select the top 5 ETFs based on the StockScreen123 ETF Rotation - Basic ranking system, which is based on the following factors:
120-day share price percent change - higher is better (15%)

1-Year Sharpe Ratio - higher is better (15%)

5-day share price percent change - lower is better (70%)
The idea of using weakness as a bullish indicator is certainly not new. But often, it's an add-on to other factors that, on the whole, emphasize strength. Here, the weakness factor is dominant, with a 70 percent weighting.
This model is designed to be re-run every week with the list being refreshed accordingly. I trade through FolioInvesting.com, where I pay a flat annual fee rather than a per-trade commission, so I don't care about the fact that turnover form week to week is often 80%-100%. If you want to follow an approach like this but do have to worry about commissions, the strategy tests reasonably well with three ETFs, or even with one. (Cutting the number of ETFs is far preferable to extending the holding period.)
Figure 2 shows the result of a StockScreen123 backtest of the strategy from 3/31/01 through 10/7/10.
Figure 2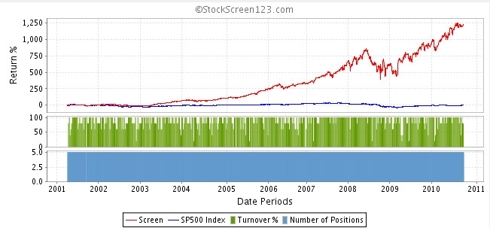 Click to enlarge
Figure 3 covers the past five years, a very challenging market environment that witnessed the fizzling of many strategies that had succeeded for a long time.
Figure 3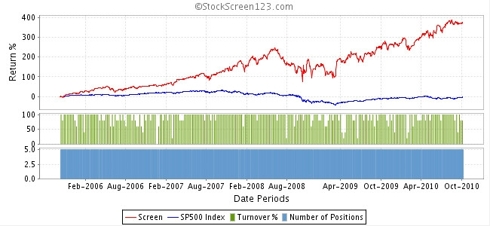 Click to enlarge