Dynacor Gold (OTC:DNGDF) is an ore processing and gold exploration company with operations in Peru since 1996. Since 1998, Dynacor has operated the Huanca-Acari gold ore processing plant, growing gold production from just 3,000 ounces in 1998 to more than 60,000 ounces in 2012. The ore processing division is profitable, with Dynacor currently reporting full-year EBITDA of more than $12 million and earnings per share of $.25 in 2013.
Dynacor uses its cash generated from the ore processing division to conduct work at its three exploration properties, mainly the exciting Tumipampa property. Since the company is profitable, it does not have to issue shares to explore its properties - this is a huge advantage to investing in Dynacor, giving shares more potential upside.
Dynacor Company Information
Here is some information about shares of Dynacor Gold, which trade on the US OTC under DNGDF and on the TSX under DNG.TO:
Recent Stock Price: $1.61
Shares Outstanding: 36.4 million
52-week Range: $1.23 - $1.99
3-Month Trading Volume: 7,434

Earnings Per Share Last 3 Years:
2013: $.25
2012: $.22
2011: $.10
(click to enlarge)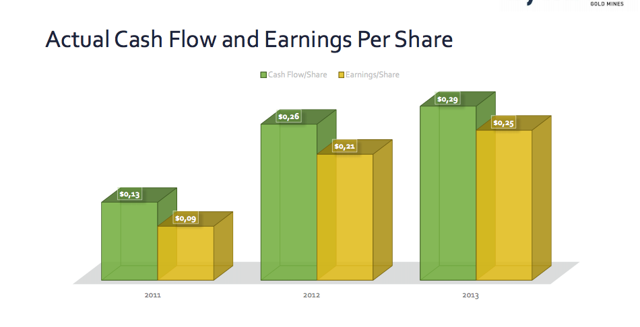 Click to enlarge(Credit: Dynacor Gold)
Trailing P/E: 6.4
Enterprise Value: $49.96 million
Price/Sales: .64
EV/EBITDA: 3.8
Operating Margins: 13.26%
Working Capital: $17.4 million
Total Cash: $11.7 million
Debt: $0
Why Dynacor?
Dynacor is a non-dilutive company with just 36.3 million shares outstanding, which is very rare when it comes to gold exploration or production companies.
Dynacor operates a low-risk ore-processing business model that currently brings in more than $10 million a year in cash flow. With that money, Dynacor can either invest in expanding its ore processing division or explore its high potential exploration properties, or both. Dynacor has also been operating in Peru for almost 20 years and has built a good reputation with the government and authorities.
The company's Huanca ore-processing mill is expected to produce 70,000 ounces of gold for 2014; however, the company is planning an expansion and waiting on a permit at a new mill called Chala, which could increase production to 300 - 600 tonnes per day, from the current levels of 250. This could end up doubling profits for Dynacor.
Even without Chala, Dynacor has recorded some impressive operating statistics at the Huanca mill, increasing gold production more than 100% from 2010 - 2013: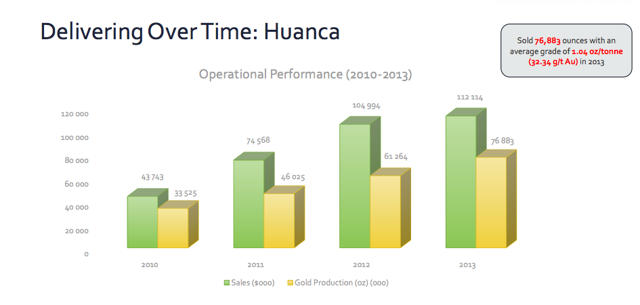 Click to enlarge
(Credit: Dynacor Gold)
As production has increased, so too has the company's earnings; in 2013, cash flow per share came in at $.29, up more than 100% from 2011's total of $.13. This is because gross margins have remained strong, averaging more than 15% consistently.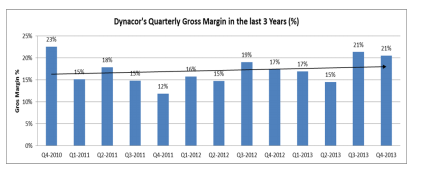 (Credit: Dynacor Gold)
Future Potential of Dynacor's Ore Processing Division
You'll see above that production has topped out in 2013 at 76,883 ounces and is expected to come in close to that number in 2014; however, the company estimates that it could end up producing as much as 144,000 ounces of gold with its new mill expansion at Chala. Even at a 450TPD rate, the company would still produce more than 110,000 ounces of gold.
The company estimates that with 600TPD capacity and 144,000 ounces of gold produced annually, it could end up earnings $17.2 million or $.48 EPS; at those numbers and the current stock price of $1.60, the company would have a P/E ratio of 3.3. With a more reasonable P/E ratio of 10, the stock would be worth close to $5 a share, implying potential upside of at least 300%.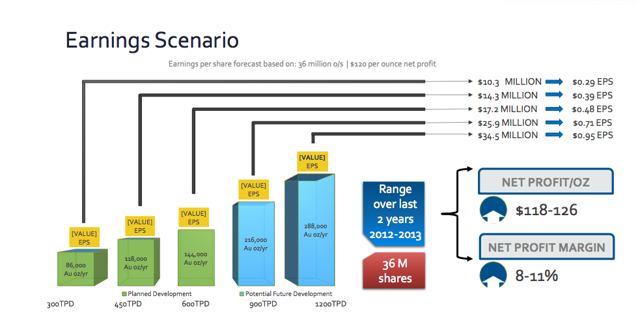 Click to enlarge
(Credit: Dynacor Gold Presentation)
In a long-term upside scenario with Dynacor producing 1200TPD at its mills, the company would record $34.5 million or $.95 EPS; this scenario assumes net profit margins of 8-11% and shares outstanding of 36 million, which is currently about what the company records, so it does not seem that unreasonable.
With full-year EPS of $.95 and a P/E ratio of 10, the stock would have a share price close to $10, implying at least 700% upside from current levels.
Tumipampa: A High-Grade Gold Project With Big Upside
But the investment case for Dynacor gets even sweeter as it owns the high-grade Tumipampa gold project, located on the Apurimac Copper Porphyry-Skarn Belt in Peru.
The project is located in the heart of a mining region of Peru, where $8 billion has been spent in development. 15 gold veins at Tumipampa have been discovered to date, and the project consists of three types of gold mineralization - copper/gold skarn, gold veins and disseminated gold associated with Breccias.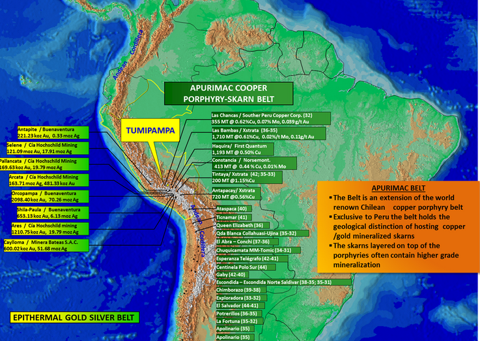 (Credit: Dynacor Gold)
Other nearby mines and projects include "Los Chancas", a copper project with 355 million tonnes copper at .62%, Constancia, a copper project with 277 million tonnes at .43%, acquired for $520 million in 2011, and Las Bamas, which was sold for $6 billion to China in 2014.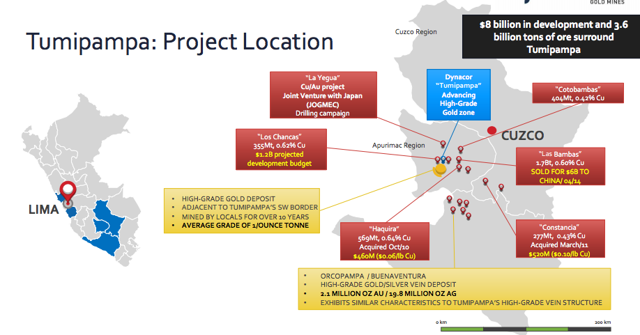 Click to enlarge
(Credit: Dynacor Gold)
Exploration results at Tumipampa have been pretty impressive, to say the least. Dynacor struck 4.85 metres of 36.48 g/t gold and .43% copper in July of 2013. Other results included .75 metres of 111.5 g/t gold and 1.13% copper. These are very high grade results.
Dynacor has set a $4.5 million exploration budget for 2014-15 at Tumipampa, with 18 drill holes planned. Any positive drill hole results could send shares higher. Exploration is funded by Dynacor's ore processing business, so the company does not have to dilute shareholders to develop its properties. This is basically unheard of for a gold exploration company, and again, it is a huge benefit for Dynacor shareholders.
It's hard to put a value on Tumipampa currently, because the property is still in its early stages; however, early drill results are a very positive sign, and I think the potential for a high-grade multi-million gold equivalent ounce deposit is very strong, potentially worth upwards of $100 million ($50 per gold equivalent ounce).
Second Quarter Results Strong
Second quarter results for Dynacor were announced on Tuesday, August 12. The company reported sales of $26.8 million and net income of $2.1 million or $.06 per share.
This was a great quarter for Dynacor for a few reasons. First, operations re-started following a temporary halt to ore purchases and gold exports in Q1, due to new measures taken by the Peruvian government over illegal gold exports. The company bounced back nicely, producing 17,608 ounces of gold. Sales increased 3.5% year-over-year, with earnings per share up 100% in that time.
EBITDA was $3.5 million, compared to $2.4 million, a 45.8% increase year-over-year. Production should continue to improve in the coming quarters, according to Dynacor's CEO Jean Martineau. The company has set guidance for 70,000 ounces of gold production for 2014, even though only 29,783 ounces has been produced thus far.
Temporary Plant Shutdown
On January 29, 2014, it was announced that government authorities and the Customs Agency, in an effort to crack down on illegal mining and illegal gold exports from Peru, had reinforced the inspection process at the ports and airports that are used for the export of gold. The authorities required much more detailed information than previously, and led Dynacor to decide to temporarily and voluntarily suspend gold ore purchases from its suppliers.
Dynacor was not at fault here, as the company is one of the leading gold ore processing companies in Peru and only purchases gold ore from registered suppliers, complying with all government regulations.
However, on March 3, the company announced that it had resumed its gold exports from Peru and began purchasing gold ore from registered suppliers for its Huanca plant. First quarter results were still impacted, but the company did still manage to report net income of $.9 million and EPS of $.02. However, the company bounced back nicely in the second quarter, reporting net income of $2.1 million and $.06 EPS.
This situation has also led to a temporary delay in the company's construction permit for the new Chala plant. However, now with the issues in the rear-view mirror, I think it's only a matter of time before the permit is released, and earnings will bounce back strongly over the next two quarters.
The Bottom Line: Dynacor is a Compelling Buy
To recap, I think shares of Dynacor Gold present a buying opportunity at current prices, for a few reasons:
- Dynacor operates a high-margin, profitable gold ore processing plant that is expected to net the company at least $10 million in cash flow in 2014. The company reported EPS of $.28 in 2013, giving shares a trailing P/E of just 6.4.
- Dynacor's ore processing division has huge potential upside as it has the potential to expand from 250TPD to 600TPD, potentially netting the company $17+ million in net income annually at 8-11% profit margins.
- The Tumipampa property is a very high-grade gold project with a considerable amount of copper as well, as made evident by its recent drill results. The project could end up developing into a multi-million ounce gold equivalent deposit, potentially worth $100 million or more.
- Dynacor has just 36 million shares outstanding; with $11 million cash and $17 million working capital, the balance sheet is strong; Dynacor does not need to dilute shareholders, so the potential for long-term value creation is very good in my opinion.
Disclosure: The author has no positions in any stocks mentioned, but may initiate a long position in DNGDF over the next 72 hours. The author wrote this article themselves, and it expresses their own opinions. The author is not receiving compensation for it (other than from Seeking Alpha). The author has no business relationship with any company whose stock is mentioned in this article.
Editor's Note: This article covers one or more stocks trading at less than $1 per share and/or with less than a $100 million market cap. Please be aware of the risks associated with these stocks.