Given the plans of the U.S. Federal Reserve to end asset purchases in October and to begin raising the Fed Funds Rate in 2015, rates should be heading higher. However, a surprising set of other factors have demand for U.S. Treasuries increased and interest rates lower. It's a respite for real estate investors, but a mirage for real estate stocks.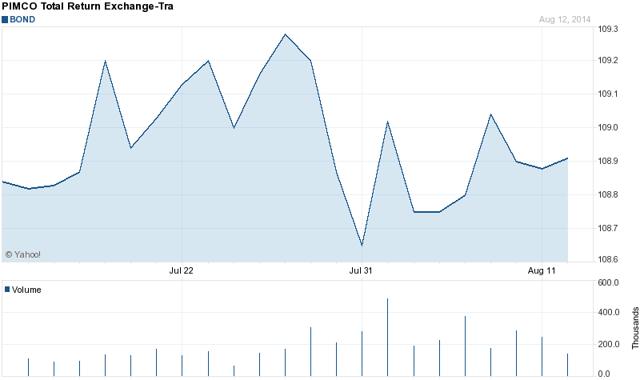 1-Month Chart for BOND at Yahoo
The PIMCO Total Return Fund (NYSE: BOND) shows a rising price trend since the start of August. It's not a coincidence that long-term US Treasury Yields have been declining through the same period. 10-Year Treasury Yields were down to 2.43% on August 13 from 2.52% on August 1st, while 30-Year Treasuries are yielding 3.24%, versus 3.29% on August 1st.
Rates are lower due to the issue in Ukraine, in my opinion. Since the shooting down of Malaysian Airlines Flight MH17, the rhetoric and the ratcheting up of sanctions have been substantial. Europe has been drawn into the mix with its own set of sanctions against its neighbor, and the U.S. has raised its degree of sanctions to pain Russia. Russia has responded with its own set of sanctions against Western nations, and in my opinion, a sort of Cold War II is underway.
Yesterday's reporting of German Business Sentiment showed a significant degree of concern in Germany about how these events might stunt the EU recovery. The euro is finally seeing the impact I predicted would occur back in the springtime. I've written extensively on this subject, so simply review my article feed; you can also follow my column from the same page.
It's my opinion that the dollar will eventually be exposed as an illegitimate safe haven, and gold will prove the destination of choice for the masses. Take note that if the dollar loses its purchasing power some day, you'll be glad you own real estate and other hard assets. At that point, the threshold to home ownership would be significantly raised though, and I believe out of the reach of many Americans.
While rates are lower, the chart of 30-year mortgage rates found on Zillow (NASDAQ: Z) shows the decline has really only been minimal. If things get harder on Europe, for instance if energy distribution is cutoff at some point by the Russians, interest rates will come down even further. But the situation should be short-lived in my opinion, as Russia also has the U.S. in its economic crosshairs. War, even economic warfare, can be messy, and I suggest it would be if engaged in with the current Russian leadership. So the dollar could be undermined as well, however challenging it may seem at the moment.
Therefore, I believe we could be in the last days of the latest affordable housing age, offering a last opportunity for renters and American dream seekers to own their own property before rates potentially rise on the Fed's plans and the recovering economy. Rates had already been on their trajectory higher on these expectations, so the latest decline offers a respite for home seekers and real estate buyers. The 1-month stock chart of the iShares U.S. Real Estate ETF (NYSE: IYR) below illustrates a revival since the end of July.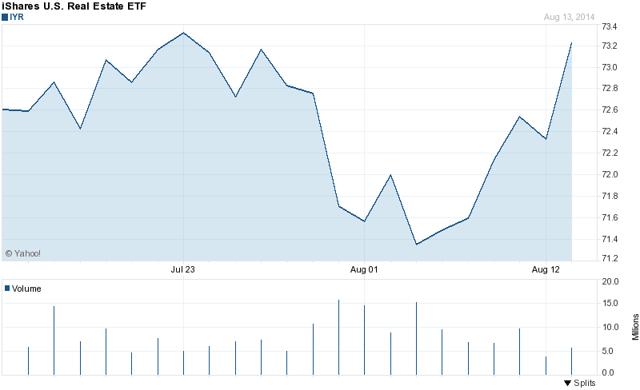 1-Month Chart of IYR Security at Yahoo
Despite the surge in the IYR shares since the start of this month, the year-to-date performance of many real estate relative stocks, especially those tied to the purchases of property, indicates the trend relative to Fed and rate expectations. While the iShares US Real Estate ETF and the Vanguard REIT Index (NYSE: VHQ) are still showing solidly higher year-to-date results, the shares of the SPDR Homebuilders (NYSE: XHB), America's critical home lender Bank of America (NYSE: BAC), and mortgage insurer MGIC Investment (NYSE: MTG) all show year-to-date records in the red.
| | | |
| --- | --- | --- |
| Real Estate Relative Stock | TTM | YTD |
| iShares US Real Estate | +13.6% | +16.1% |
| Vanguard REIT Index (NYSE: VNQ) | +13.6% | +18.3% |
| SPDR Homebuilders | +4.8% | -8.9% |
| Bank of America | +4.5% | -2.1% |
| MGIC Investment | +9.2% | -7.1% |
Yet, even the charts of the MTG, XHB and BAC securities indicate a recent revival in share price. Bank of America is a special situation, with significant corporate specific characteristics that should in my opinion support its shares over the long-term (I'll discuss in an upcoming article). However, I believe the revival in many of these real estate relative shares is a short-lived mirage that could be replaced by a harsh reality soon.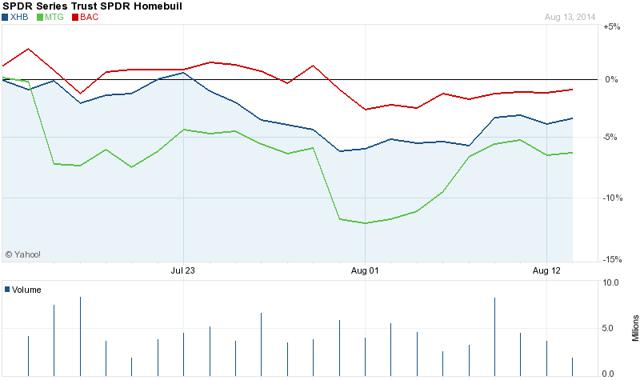 Chart of MTG, XHB & BAC at Yahoo
If the Ukraine situation blows over, market focus would immediately rediscover Fed expectations and the rising interest rate trend should resume. That factor is the reason behind the rising rate trend that existed before the recent respite. It had also hampered real estate relative shares, and I expect it would do so again. If the Ukraine situation deteriorates, I do not expect that Russia would solely target the EU and the euro, and that the dollar and U.S. economy would also find its crosshairs, making hard assets like gold and real estate of important interest for individuals. But for economically sensitive housing stocks, I expect it would likewise do harm. So this is why I say the latest low rate oasis is a mirage for housing relative stocks.
Disclosure: The author has no positions in any stocks mentioned, and no plans to initiate any positions within the next 72 hours. The author wrote this article themselves, and it expresses their own opinions. The author is not receiving compensation for it (other than from Seeking Alpha). The author has no business relationship with any company whose stock is mentioned in this article.