Mortgage Insurer Radian Group (NYSE:RDN) is well-positioned to benefit from industry growth when the housing market recovers. After recent capital raises, the company has resources to weather additional claims from Alt/A that are expected in 2011 and 2012 as interest rates reset. Tapping the equity markets in May, and issuing convertible bonds in November, Radian has demonstrated access to capital markets and is actively writing profitable new business.
At Wednesday's close of 7.81, and with a P/B of .55, the risk/reward profile is attractive to investors who believe that the worst of the housing meltdown is past.
I've tracked Radian for years, but never looked at it close enough to make a trade. A reader drew it to my attention again after he took up a position. Researching it, I've arrived at a positive although cautious outlook. Relatively high implied volatility provides the opportunity to modify the risk/reward profile with options in ways that make sense to me.
Management's view
CEO S.A. Ibriham, presenting in late November at Friedman Billings Ramsey Capital Markets Fall Investor Conference, suggested three key takeaways:
First, we believe that Radian is well positioned to capitalize on what we see as a gradual improvement in the fundamentals of our industry. We expect this to drive our long-term growth. Second, we still continue to face near-term uncertainties in our businesses. Third, there are important, positive trends in both our mortgage insurance and financial guaranty businesses.
The investment challenge here is getting past the near-term uncertainties. The company issued a press release on December 13th, reporting a continuation of the decrease in its delinquency inventory, and Pete Najarian reported heavy call buying in connection with the news. I think it's a risk worth taking.
Valuation
In November the company sold convertible bonds with a conversion price of 11.68, which currently trade to yield about 3.5%. Noting that bond buyers have been better informed than equity investors on the mortgage crisis, and that the holding company has only a CCC+ rating from S&P, it appears that market participants place substantial value on the future opportunity to convert at 11.68 per share. Based on that observation, I arrive at a target of 13, within two years. By late 2012, there will be a lot more clarity on the outcome of the questionable Alt/A business.
From under 8 to 13 in two years returns 27% annualized, sufficient to compensate for bearing substantial risk.
Short interest
13.95% of the float has been sold short, compared to 16% for rivals PMI and MTG. Clearly the whole industry is targeted: if housing takes a serious double dip, short sellers can expect ample profits. By way of comparison, bond insurers MBIA (NYSE:MBI) and Assured Guaranty (NYSE:AGO) have short interest of 10% and 5.6%, respectively.
The short interest, combined with the low P/B and litigation exposure, creates a volatile situation, which is reflected in options premiums and in the opportunity for outsize profits on a big move.
Litigation risk
Litigation risk around putbacks works in different directions for the bond vs. mortgage insurers. The bond insurers have to pay their claims, then go to court to recover if they have been wronged. In contrast, mortgage insurers routinely deny or rescind coverage, paying claims only on mortgages they determine meet warranties and representations. However, Bank of America (NYSE:BAC) has sued PMI, alleging excessive rescissions, and additional suits are always a possibility.
Major banks did an execrable job on mortgage underwriting during the bubble, and while they can go to court their chances of winning relief from rescissions are trivial.
Bond insurance exposure
Again from the most recent presentation (Radian Assets is the bond insurance subsidiary):
Now, turning to our financial guaranty business on slide 19, you can see that Radian is uniquely positioned, with Radian Assets providing significant capital support to the mortgage insurance business. As I mentioned earlier, we are not currently writing business in that company but are instead focused on managing and proactively reducing the exposure in that book and accelerating mortgage insurance access to the capital and dividends in our financial guaranty book. Radian Assets currently has $1.1 billion of capital and an additional $1.3 billion in claims-paying resources, for a total of $2.4 billion of claims-paying resources. The Company has a history of paying consistent dividends, even in this environment, and expects to pay approximately $65 million to Radian Guaranty in June 2011. And, in the third quarter, we received regulatory approval from our primary regulator in the-- of the financial guaranty business, which is the New York Insurance Department, to release $42 million in contingency reserves into statutory surplus. This represents the second such release of contingency reserves in the past year.
Holding Company Financial Risk
Insurance holding companies are subject to the risk that if their subsidiaries become under-capitalized regulators may not permit them to pay dividends to the parent. Radian has retained much of the proceeds of its capital raises at the holding company level, in the interest of maintaining flexibility. They can downstream it as required to support capital at the operating level. Radian Assets expects to pay 65 million in dividends to Radian Guaranty in June 2011.
Industry Conditions and Competition
The FHA is a major competitor: however, the government agency would like to see increased participation by other providers, and raised their rates in October. Radian has gained market share and is regarded as being stronger than its competitors.
Foreclosuregate
From the 3Q 2010 earnings conference call transcript:
Now I would like to address the foreclosure suspensions, which have been the subject of news headlines in recent weeks. Based on what we know today, we believe that this issue is mainly one of timing. Therefore, we do not expect a material impact either positive or negative for Radian because of these suspensions and it is important to note that the maximum interest we will pay on a defaulted loan is cap for Radian at two years, and we also have the right in our insurance policies to adjust claims for improper servicing practices. At this point, we do not expect any delay in claim payments to affect our claims paid guidance for 2011, although the new suspensions add greater uncertainty to this estimate.
Mortgage Insurance Risk
The primary risk is that losses on insured mortgages will overwhelm capital, forcing the company into runoff. The continuing trajectory of the housing slump is the subject of much debate. Noting the continuing improvement in Radian's delinquency inventory, I am willing to invest in ways that will be profitable if that trend continues.
The relevant considerations are: 1) RDN is writing profitable new business, 2) they have demonstrated access to capital markets, 3) they have gained market share, and 4) they are somewhat stronger than their competition.
If losses erode capital, Radian can raise more, because the business is profitable going forward. Shareholders might experience further dilution, although management made provisions to limit it in connection with the convertible offering. A mediocre outcome is possible, but a complete loss of capital is improbable.
Options Strategy
Believing the stock is undervalued, and noting implied volatility of 63%, any bullish options strategy that involve the sale of time premium would be a natural. The following position makes sense to me:
Long 10 RDN May 21 2011 8.0 calls
Short 10 RDN May 21 2011 10.0 calls
Short 10 RDN May 21 2011 7.0 puts
This position consists of a vertical call spread funded by the sale of puts, and is a variation on the bullish reversal theme. The 7 put sold is slightly above an area of support at the 52 week low. RDN has traded under 6 three times during the past year, intraday, but has always closed above it. There was one trade at 4.99 during the minicrash which can be disregarded. This history suggests the risk of being assigned on the put is quite manageable.
click to enlarge images

The 10 call sold is at a resistance level, going back to May, the minicrash and the dilutive share offering. With this in mind, the put and the call have been sold in the area of support and resistance, logically tidy.
Here is a spreadsheet covering three outcomes: static, called away, and assigned at the 52 week low as of the first expiration date. The prices shown are mid bid/ask as of Wednesday's close, rounded against the investor: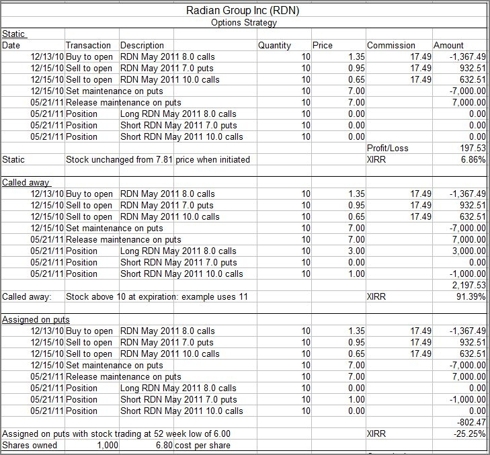 The investor receives more time premium than he pays out. The static return is 6.86%, after defining the amount invested to include cash to secure the put obligation. Many brokers require considerably less margin/maintenance, but it is best to compute return on the full amount at risk, bearing in mind that selling puts without full cash to back them is a leveraged strategy.
The annualized return if called away is very attractive at 91%.
If assigned on the puts, the investor owns shares at 6.80, less than 50% of book value. The loss, at 25% annualized, is manageable. In dollars, it is less than the amount the investor hoped to gain.
Disclosure: I am net long RDN as described in the article.