Back in May, I published the article, "JetBlue Soaring to New Heights" which advocated a long position in the security after its Q1 Earnings miss. Since then, JetBlue (NASDAQ:JBLU) has appreciated by over 40% in value, climbing over $3/share in only three months. As the security continues to rise, it is appropriate to assess its current state and project how it should perform during the remainder of calendar year 2014. Strong performance in the North American airline industry along with valuation analysis show that the security should continue to outperform.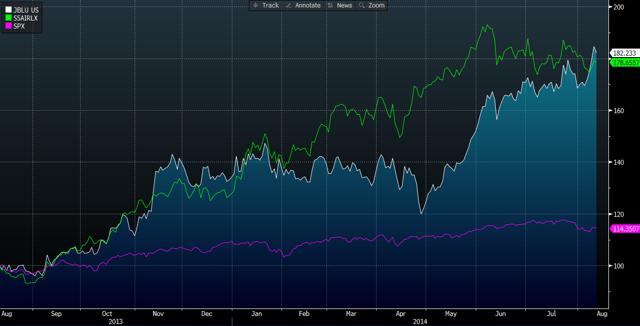 Q2 Earnings Recap
On July 24th, the company announced its Q2 Earnings and noted that it achieved 17 straight quarters of profitability. Quarterly revenue came in at $1.5bb, an 11.84% increase YOY. Additionally, yield per passenger mile was 14.25 cents, up 6.3% from Q2 2013, and the company's operating margin increased 1.8% YOY to $141mm. Net income came out to be $230mm compared to only $36mm in Q2 2013. CEO Dave Barger comments,
"Today, we are pleased to report record second quarter earnings and our seventeenth consecutive quarter of profitability. We saw improved profitability across our network, reflecting the success of ongoing efforts to adapt our products and services to meet our customers' ever-changing needs. I would like to thank our 15,500 crewmembers for their dedication to running a safe airline and delivering outstanding service to our customers."
Mid-Year Industry Trends and Company Outlook
The entire North American airline industry has been on a steady upswing since early May, as higher yields and lower fuel costs have improved earnings. Normalized from the start of 2014, budget carriers such as JetBlue and its competitor Southwest (NYSE:LUV) have recently crossed over the S&P's performance, and this is a trend that looks set to continue with more dramatic improvements within the industry.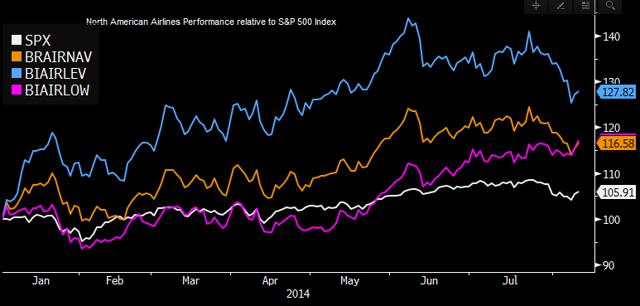 While the company's earnings have, more or less, lagged behind its competition based on Wall Street's analysis, the company is looking to strategically attack this problem over the next few quarters. JetBlue recently announced that it is planning on rolling out bucketed packages, which will allow fliers to bundle different services such as luggage along with fares, thus increasing annual revenue by an estimated $150mm to $200mm. In addition, the company is looking to increase its flight capacity, which is expected to increase revenue by $250mm.
In general, higher returns are necessary for JetBlue since it covers many markets that its competitors do not. A lot of those markets, however, lose the company money, and JetBlue can improve its margins by cutting those flights completely. These flight routes are primarily transcontinental routes to the west as well as flights coming in and out of Boston, which each lose the company between $3mm and $7.4mm annually. These losses are made up by the strong performance of routes to Florida and the Caribbean, the former pulling in $800mm each year.
To build on lower fuel costs, airline margins across the entire industry are expected to continue rising as oil production increases. Evidently, the U.S. is set to become the largest producer of petroleum in the world, surpassing historic rivals such as Saudi Arabia and Russia. Consequently, analysts saw a 3.1% fall in jet fuel prices in Q1, and coupled with the introduction of new, efficient aircraft fleets into the industry, fuel demand will contract, reducing the operating expenses for airlines.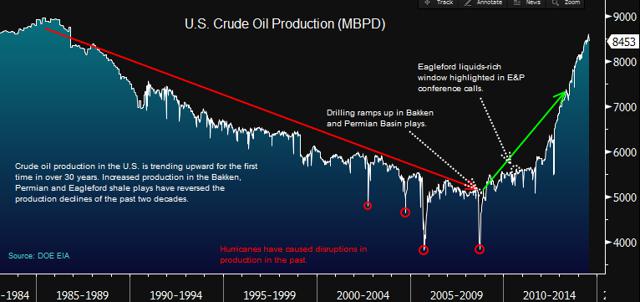 Another trend that has shaped up within low-cost airlines is the strength of domestic and Latin American routes. Although the World Cup ended in mid-July, Wall Street analysts have strong conviction that there is still an overhang behind the entire fiasco, improving performance throughout the industry as airlines continue to have strong service in Central and South America. JetBlue, in particular, flies in an out of numerous locations in the Caribbean, and its performance for this quarter will be largely due to the heightened demand of the summer months. Regarding domestic flights, domestic air travel makes up nearly 70% of North American passenger traffic with a positive trend shifting towards budget carriers. This bodes well for companies such as JetBlue and their performance in the coming future.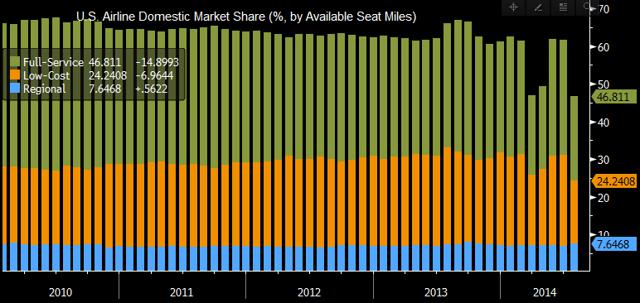 Company Valuation
In my previous article, the DCF that was ran projected the company's value per share to be $21.75, representing an almost 85% premium to what it is currently trading at. The developments that have occurred between the time of publication for that article and today were generally already factored into my growth assumptions (e.g. Bucketed packages and lower fuel costs improving margins), meaning that my assumptions for the DCF have not changed.
Running a set of different regressions on JetBlue all show that the company is currently trading at a discount to its predicted value. PE and ROE Decomp regressions give the company a fair price between $14/share and $15/share while a PB regression predicts the company's share price to be a very bullish $17. A hold signal was given, though, when adding in operating margin as a custom factor for the PB regression - it yielded a price of $11.17. However, if the company can improve its operating margins through the strategies outlined before, this value obviously has the potential to rise.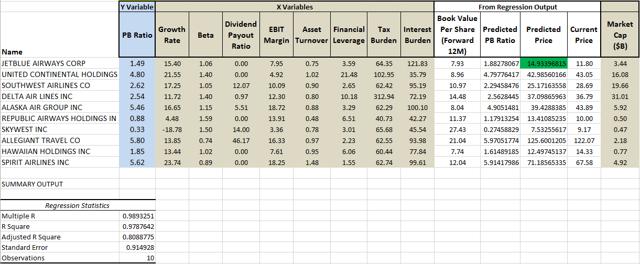 Taking a look at other metrics, nothing surprising popped up. Short interest has remained relatively stable for the past month and the interpretation of JetBlue's MACD indicator shows that the company is currently well above the signal line and is experiencing a definite upward shift in momentum. The company's PEG ratio is right in-line with the peer median at 1.09-1.10 and its Tobin's Q ratio of 1.05 makes it undervalued in that sense to its competitor Southwest. Only one insider transaction took place in the last month when a company officer sold 6,000 shares at $10.72.
Conclusion
JetBlue definitely still has the makings of a brilliant investment opportunity even at its current price level. The strengthening of the industry over the first half of this year has definitely helped the company out, and an improvement in the company's strategy over the next few quarters will help it fare better with its competitors and take it even higher. I am setting a price target of $15 for the early part of 2015.
Disclosure: The author has no positions in any stocks mentioned, and no plans to initiate any positions within the next 72 hours. The author wrote this article themselves, and it expresses their own opinions. The author is not receiving compensation for it (other than from Seeking Alpha). The author has no business relationship with any company whose stock is mentioned in this article.