Introduction
Aceto Corporation (NASDAQ: ACET) is a small-cap pharmaceutical products and chemical company. A more thorough Company Overview is available here.
Please note the correction in the next paragraph and please accept my sincere apologies. I keep tentative earnings dates on my calendar until each company announces the actual date, and I thought I had updated them all, but I missed one. ACET does not report after the bell today. Sorry … haste makes waste.
In attempt to get this article finished and published before earnings, which should be within two weeks, though ACET has not announced the date yet, I focus mainly on valuation measures and refer readers to my prior ACET articles for investment thesis details.
As I wrote in a recent article in which I discussed my general market outlook (2014 Mid-Year Call Performance And Updates), part of my opinion is that:
"When all small-caps are randomly sold at lows, as has been happening for months, the good ones that are already undervalued are sold off with the rest. This is an opportunity that was already brewing and, with a little help from our Fed, is near-ripe for picking by long-term investors."
I said "near"-ripe because I obviously don't know when the current small-caps rout will end, but when I touched on that same point in my February 5 article, Corrections Come, Corrections Go, only in retrospect did I realize that was the day of one of two bottoms for the Russell 2000 small-cap index this year:
"It's important to know that all small-cap growth stocks tend to get hit in "risk-off" scenarios. That does not mean that a stock is broken so, if you "know what you own, and why you own it," don't get spooked too easily and sell at bottoms, instead of buy at bottoms."
My point is that ACET is one of the "good ones that are already undervalued," but extreme weakness in all small caps has magnified weakness in ACET that resulted from quarterly sales fluctuations, along with very tough comparables relative to prior absolute blowout quarters. It may take more time for ACET to recover and price on true valuation, but it's still a strong long-term holding.
Opinion Updates (Upside Potential, Timeline, Downside Risk)
Price-To-Earnings Ratio [P/E] Valuations
The last four quarters of earnings per share [EPS] for ACET were $0.20, $0.40 $0.24 and $0.19 ($1.03 total). With $1.03 trailing-twelve EPS, and the $18.31 current share price, the trailing P/E is 17.78x. With a next-year EPS estimate of $1.13, which my calculations indicate is far too low, the forward P/E ratio is 16.20x. I'm most interested in the future value that a forward P/E represents, but I'll offer valuations based on both the trailing and forward P/E.
According to S&P Capital IQ historical data, over the past ten years, the ACET P/E ratio has hovered in a 12-31x range (when the most extreme outliers are discarded). With such a wide range duly noted, the most typical P/E range has been in the low 20s, with 21.50x being the average of the noted wide range.
With a 21x multiple applied to the $1.03 actual trailing-twelve EPS from ACET, the resulting share price would be $21.63. With a 21x multiple applied to the $1.13 next-year EPS estimate, the resulting share price would be $23.73. If the EPS trends up to exceed $1.20 over the next few quarters, as I believe it will, a 21x multiple takes the share price to at least $25.20. In that same EPS scenario, if ACET returns to a 25x P/E range, which is well within its historical range, the share price would be $30. Even with the current $1.13 next-year EPS consensus estimate, a 25x multiple would take the share price to $28.25.
Discounted-Cash-Flow [DCF] Valuations
As the chart below shows, the ACET average annual EPS growth over the past five years was 41%, and the growth rate is currently projected to be 24% for the next five years. As noted in the Opinion Performance section below, when I first wrote about ACET last October, the five-year projected growth rate was 22% and I opined that it would reach 25%. That's still possible so the point is to consider the effects on my calculations if the growth rate continues higher.
I ran multiple Discounted Cash Flow [DCF] calculations to estimate how ACET might fare in various earnings scenarios and, frankly, I had trouble getting an outcome as low as the current share price with any combination of inputs. For example, in order to get to an $18 range, I had to use a Discount Rate of 15% (versus a more common 10%, or even a more conservative 12%). I also had to simultaneously lower the EPS growth to 20% (versus the 24% projection).
Using more normal inputs, such as a 12% discount rate, with the 24% actual growth projection and the actual $1.03 trailing-twelve EPS, the resulting share price is $29.34. If I lower the EPS growth back down to 20%, the share price result is $25.27. Even with an extreme discount rate of 15%, and the actual EPS growth projection of 24%, the resulting share price is $20.69.
The point is that all of my DCF calculations returned share prices for ACET in a $21-31 range, with the low-$20s only resulting from the extremely pessimistic assumptions and a high-$20s range resulting from assumptions that are more optimistic, but that are also more consistent with the actual data.
Price-To-Earnings-Growth [PEG] Valuations
My other valuation calculations are supported by the fact that the PEG ratio for ACET is also very low. With ACET's 17.78x trailing P/E ratio, 24% EPS growth rate and 1.31% dividend yield, the company's current PEG ratio is only 0.70x.
With PEG ratio, 1.00x indicates that a stock is fairly valued, while below 1.00x implies undervaluation and above 1.00x implies overvaluation. In order, to get the PEG ratio for ACET up to 1.00x at the current share price, the EPS growth rate would have to drop from the 24% per year average projected for the next five years, down to only 16.47%. It is also worth noting that the vast majority of companies in the Diversified Chemicals industry group have PEG ratios well above 1.00x, with a handful even exceeding 2.00x.
Valuation Conclusions
It's important to note that none of those estimates represent fair value today, since my focus is the 9-12 month timeline of my price target. With that said, I'm raising my ACET price target to $25 with a 9-12 month timeline. My $25 target is 67% above the $15 price during my initial call, 39% above the $18 price during my February update, and a 37% above the $18.31 current price.
My price target is based on the collective results of my valuation calculations, combined with the various other aspects of investment thesis, which indicate that the assumptions for my calculations are reasonable, if not conservative.
In fact, I believe ACET is also undervalued in current terms. My calculations imply that ACET should be at least $20-21 already, before even approaching the farther end of my 9-12 month timeline.
ACET has already exceeded both my initial $21 price target from last October and my $23 updated price target from February, but the stock sold off in May, along with most all small caps, and has not yet recovered. That implies to me that the market is aware of the true value of ACET shares, but value has been temporarily overridden by broader issues like market, sector and market-cap group weakness. As an investor who builds positions over time, that is exactly the scenario that I look for, since it means multiple opportunities to add to my positions at discounted prices without significantly increasing my cost basis.
While I consider ACET to be undervalued at this time, I also think it is prudent to incorporate into decisions the possibility that small caps may have trouble reconciling valuation discrepancies until the negative sentiment subsides.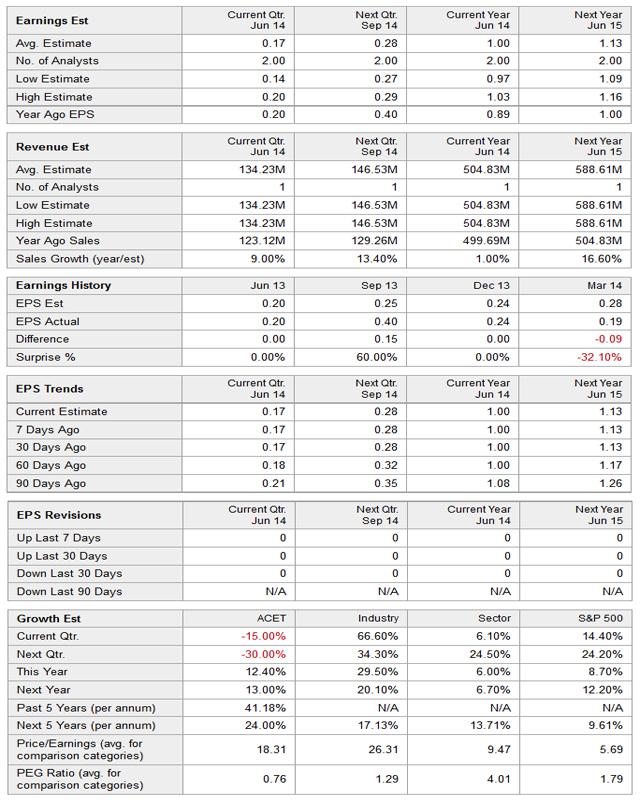 Source: Yahoo Finance
Downside-Risk Estimation
I prefer the 200-day simple moving average [SMA] to estimate downside risk because it is an updateable guide, rather than a static price that only applies for a short time. This link to Yahoo Finance always leads to an updated chart with a green line representing the 200-day SMA. Here is my opinion about downside risk with ACET from my February article:
"From the recent sell-off, we now have confirmation that downside risk for ACET can be estimated with the 200-day simple moving average. The current 200-SMA of $16.88 is 6.2% below the $18.00 top of my current $17-18 suggested buy range. That does not mean ACET can never go below its 200-SMA. It just means I think it is unlikely to do so absent more extreme market weakness."
I think it's fair to say that the market has experienced more weakness than it had up until February, and that is especially true of small-cap stocks. In fact, since mid-May, ACET has been trading below its 200-SMA for the first time in nearly three years. The current 200-SMA for ACET is $19.60 and the $18.31 current share price is 7% below the 200-SMA level, which is right in the range where ACET typically bottoms. In addition to my valuation calculations, this is yet another reason that I don't see much more downside left in ACET shares.
At the same time, anything is possible if the recent weakness in the market as a whole turns into a full correction and goes deeper than the 10% I consider it sensible to plan for, or if the small-cap rout that has gone on for months now continues much longer than I expect that it will.
Performance Drivers
The primary components of my investment thesis are: [1] key acquisitions are transforming ACET from a no-growth pharmaceutical ingredients supplier into a high-growth producer of low-risk generic pharmaceuticals, [2] as a result of acquisitions, the high-margin Human Health segment has been growing into the dominant part of the company over the past few years, [3] since ACET is a well-established global company that has been around for nearly 70 years, the market is only gradually recognizing and revaluing the company for the fact that it is a very different company than it was just a few years ago, let alone ten or twenty years ago, [4] under its reinvigorated business model, ACET is likely to continue making acquisitions to help the company grow and expand, including global growth markets like China where ACET has strong sourcing relationships, [5] due to the combination of aforementioned factors, ACET is very well positioned to capitalize on four separate long-term secular trends, [5.1] increasing access to medicines by the rapidly expanding middle class in developing nations with huge and growing populations, [5.2] ever-increasing numbers of people gaining access to healthcare products and services due to the evolution of healthcare systems in developed nations, [5.3] demographic shifts toward an aging-population that requires more medications, and [5.4] societal shifts toward healthier lifestyles, which results in higher consumption of dietary supplements, vitamins and other nutritional supplements.
Each factor is covered in detail in my full-thesis ACET articles, and this is only an update, so I'll just reiterate that it is important to remember that none of the drivers are things that happen overnight, and all are inherently long-term.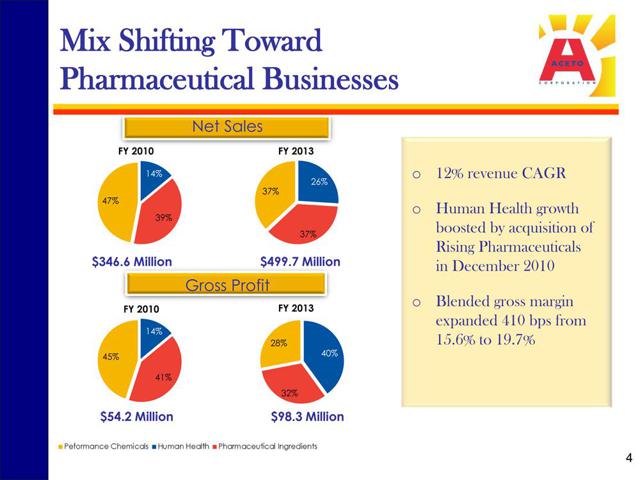 Source: company presentation
Opinion Performance
After initially sharing parts of my ACET investment thesis in SA StockTalks for months before I started writing articles, and also wondering out loud why only a few people were talking about the stock at all (one reason I began writing), my first official ACET call was in an article published on 10/1/2013:
"I'm keeping my price target at $21 to remain conservative, but I won't be surprised to see EPS growth hit at least 25%, instead of 22%, which would lift the fair value to $24 (50% above current $16 share price)."
ACET was below $16 at that time, rallied to $21 by December and touched on a short-term peak of $25 by December 31, but it dropped back to the $18-19 range in February. While it was in that $18-19 range, I wrote another article, which was publish 2/16/2014, stating the following:
"ACET is still one of my favorite picks and the earnings estimates from the time of my first article have each been met or beaten. Partially due to concerns about the attention the stock has drawn from momentum traders lately, I'm only raising my price target to $23 with a 9-12 month timeline. My price target is 53% above my initial $15 recommended buy price and 28% above the top of my new $17-$18 suggested buy range."
Over the following few months, ACET rallied again to touch another short-term peak at $23 in early May, before dropping back to a $17-18 range by mid-May and hovering there ever since. The performance of my ACET call has been:
[+22% to-date from published call / +67% at peak from published call]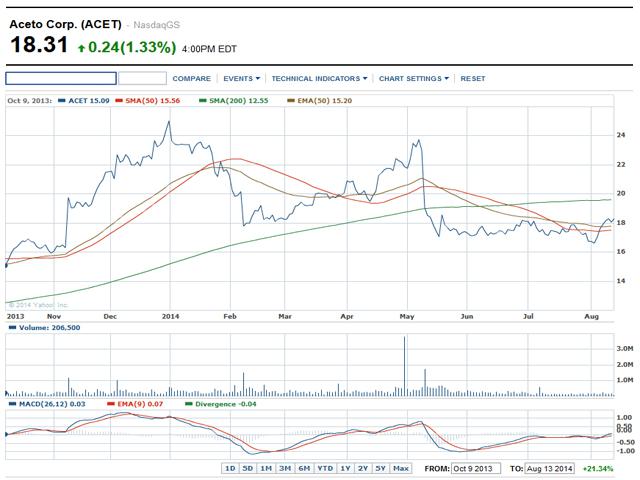 Source: Yahoo Finance
Final Thoughts
It has only been six months since my last article about ACET and, to be frank, I don't invest in terms, months or quarters -- I think about years and decades. My point is to emphasize the fact that I'm discussing ACET as an investment, not a trade. So, I'm not suggesting ACET will immediately rally to my target price on a single earnings release, and I'm not suggesting rushing into a new position right before earnings. My opinions are most suitable for investors like me, who build long-term positions over time and who previously opened ACET positions at lower prices. I opened my ACET position at $14, add to all of my positions periodically, and have stated ranges at which I see ACET as buyable.
My opinion is that ACET is notably undervalued from a long-term perspective, despite the current weakness. Considering my valuations and thesis opinions, I think ACET could rally to at least $20-21 in short order, but beyond that, I do not expect the full upside potential to be realized quickly or all at once.
By definition, secular trends play out over a course of years, not quarters. In fact, even ACET company-specific drivers take time, since acquisitions are not integrated overnight and new pipeline successes are not marketed overnight.
Furthermore, in a market that has clearly been uncertain about the short-term direction it wants to take lately, and with all small caps experiencing negative sentiment, now is a time to be cautiously optimistic.
I'm far from among those who have been predicting a market-wide correction every day since 2009, but for only the second time in about two years, I had been saying for two months that I think a correction is likely. I actually think the correction started around July 31, and I'm not sure that it's over yet. In either case, I believe a correction would be fairly brief, mild and in context of a secular bull market that will continue at least a few more years, if not many.
The first week of July was the worst week for the Russell 2000 small-cap index in over two years and, as mentioned earlier, that index is currently very close to the 1,095 level that turned out to be where both of the two bottoms so far this year have occurred. So, all small caps remain under pressure, regardless of individual stock valuations, but that could turn around soon.
I discuss my reasoning behind the general aspects of those opinions, and also review the performance of all of my calls to date, in my recent mid-year market outlook article: 2014 Mid-Year Call Performance And Updates.
Thank you for reading. Consider the "Follow" button at the top of the page to see my new articles on your SA home page, since most are only free for thirty days. I apologize in advance that I can no longer dedicate time to comments beyond the opinions that I offer in my articles. As always, every reader is free to dismiss any or all of my opinions. Or, as SA puts it, "Read. Decide. Invest." Best of luck with the rest of your due diligence. I wrote this article 8/10-8/13.
Disclosure: The author is long ACET. The author wrote this article themselves, and it expresses their own opinions. The author is not receiving compensation for it (other than from Seeking Alpha). The author has no business relationship with any company whose stock is mentioned in this article.
Additional disclosure: I am long ACET, and may buy or sell shares at any time, though I currently have no immediate plans to buy or sell.