The oil rig market can be a confusing place for inexperienced investors. For experienced investors, the market itself is not confusing, but the direction in which the industry is currently heading is almost impossible to interpret.
It is widely considered that at present, the offshore drilling industry is in somewhat of a cyclical downturn. However, this is not a broad downturn, and some sectors will fare better than others. For this reason, investors really have to get to know the fleets of the offshore drillers.
The purpose of this article is to outline the fleets of some of the industry's most prolific companies, as well as providing an insight on how market trends should play out over the next few quarters.
For a basic primer on the offshore drilling industry, Investopedia has put together a simple guide, which can be found here.
The fleets
The offshore drilling market's main players are listed below, along with their fleet sizes and current utilizations.
This data is provided by RigLogix, and is correct as of 08/11/2014. The data includes rigs both cold stacked (put in storage) and under construction. The list includes offshore rigs only.
| | | | |
| --- | --- | --- | --- |
| Manager Name | Rigs Contracted | Rig Fleet | % Utilization |
| Atwood Oceanics (NYSE:ATW) | 10 rigs | 15 rigs | 66.7% |
| Diamond Offshore (NYSE:DO) | 26 rigs | 44 rigs | 59.1% |
| ENSCO (NYSE:ESV) | 59 rigs | 75 rigs | 78.7% |
| Helmerich & Payne (NYSE:HP) | 2 rigs | 13 rigs | 15.4% |
| Hercules Offshore (NASDAQ:HERO) | 20 rigs | 39 rigs | 51.3% |
| Nabors Offshore (NYSE:NBR) | 14 rigs | 71 rigs | 19.7% |
| Noble Drilling (NYSE:NE) | 27 rigs | 35 rigs | 77.1% |
| North Atlantic Drilling Ltd. (NYSE:NADL) | 8 rigs | 9 rigs | 88.9% |
| Ocean Rig ASA (NASDAQ:ORIG) | 9 rigs | 13 rigs | 69.2% |
| Pacific Drilling Limited (NYSE:PACD) | 5 rigs | 8 rigs | 62.5% |
| Rowan (NYSE:RDC) | 27 rigs | 34 rigs | 79.4% |
| Seadrill Ltd (NYSE:SDRL) | 41 rigs | 63 rigs | 65.1% |
| Transocean Ltd. (NYSE:RIG) | 55 rigs | 96 rigs | 57.3% |
| Vantage Drilling (NYSEMKT:VTG) | 7 rigs | 8 rigs | 87.5% |
As you can see, the largest fleet belongs to Transocean, with Ensco coming in second, Nabors Offshore third and Seadrill fourth. What's also interesting to note is that North Atlantic Drilling and Vantage, two of the smallest fleet operators, have the highest fleet utilization.
That being said, North Atlantic was spun off from Seadrill earlier this year. Seadrill picked a selection of rigs to drop down into the company due to their long contracts and high utilization rates. Rowan has the largest fleet with the highest utilization at present.
Nevertheless, the size and utilization of each company's fleet has very little to do with its long-term outlooks. In the world of offshore drilling, it is not enough to just build a huge fleet; the composition and abilities of the fleet are also key.
Drilling deeper
As oil becomes increasingly difficult to find, drillers are having to go to new depths to discover reserves. While shallow, onshore wells still make up the vast majority of drilling activity, due to the low cost of drilling and U.S. shale oil boom, the real prizes are deepwater reserves.
The chart below, found within Transocean's investor presentation, shows to what extent big oil relies on these offshore deep wells. Indeed, while the number of shallow wells drilled over the period studied is greater, the deeper wells yielded better results in terms of hydrocarbon reserves discovered. The volume of hydrocarbons discovered within each deepwater well far exceeding those of the shallow wells.
So deepwater drilling and exploration is in demand, but over the next few months, there is expected to be a slowdown in this industry as big oil scales back capital spending.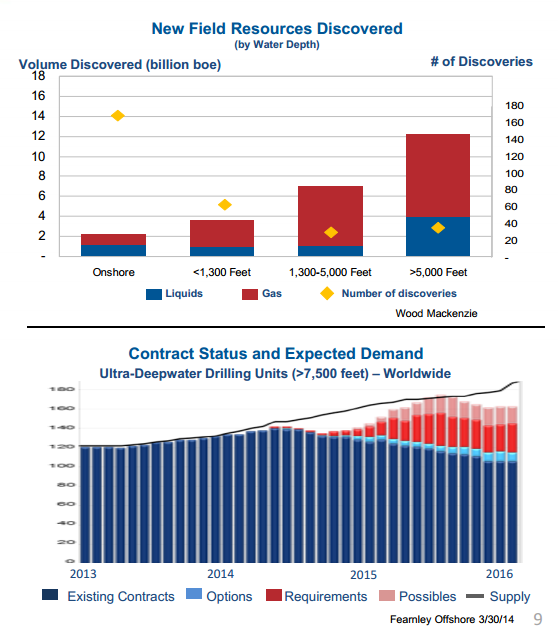 As shown in the chart, Transocean is forecasting a slight decline in the demand for offshore drilling units over the next few quarters.
This forecast falls into line of that issued by Maersk Drilling, a unit of Danish shipping conglomerate A.P. Moller-Maersk, and one of the offshore drilling industry's heavyweights, which warned of a slowdown in the industry back during February.
Claus Hemmingsen, the chief executive of Maersk Drilling told news agency Reuters that the current slowdown in the offshore industry will last 12 to 18 months, and the market for rigs will rebound in 2015.
In a telephone interview, Claus stated that:
"I would rather call it a short-term softness than anything dramatic… We see postponements, not cancellations"
But this is where offshore drilling investors need to know their fleets. The chart above indicates the demand for Ultra-deep water drilling units, UDW for short.
Exploration companies are increasingly looking for UDW units as they explore in ever more remote regions for oil and gas. Exploration is also taking place further offshore in regions, which have previously remained out of reach.
There is also a rising demand for the most technologically advanced drilling units; after the Macondo well disaster in the Gulf of Mexico, companies want to take as little risk as possible, and only want to use the most trustworthy and safest equipment.
Best-of-breed
When it comes to UDW drilling, Seadrill has a fleet that is second to none. The company owns 21 UDW floaters, as seen in the chart below, around 32% of its current fleet, and there are more on the way.
Around 32% of Transocean's fleet is also UDW floater units, although as shown further down, the average age of these units is more than 20 years, compared to Seadrill's average age of around five years, which puts Seadrill at a significant advantage.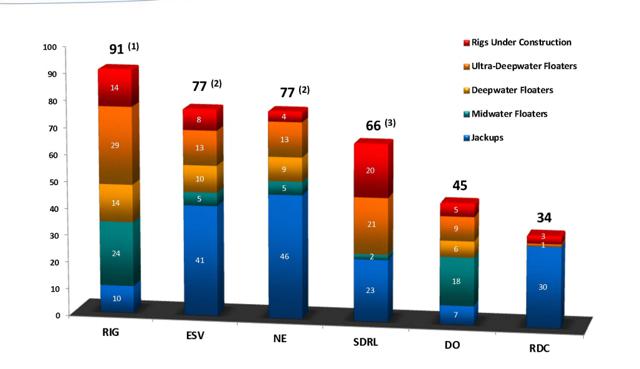 Chart taken from Transocean's Investor Presentation - There is a slight discrepancy between the numbers displayed in this slide and the table at the top of this article. This is to do with the time difference between the two data samples and the inclusion of cold stacked rigs.
Unfortunately, with large jackup fleets, both Ensco and Rowan are at a disadvantage. The jackup market has recently entered a period of oversupply, as the global fleet has been saturated with new builds.
According to data supplied by rig data company RigLogix, the global jackup fleet has expanded nearly 11% this year. Now, this growth is slower than the growth of the drillship fleet, but there is now less demand for jackup units.
Number of drilling units in the global fleet.
Rig Type

1 Year Ago

Current

YoY Fleet Growth

Contracted

Total

Contracted

Total

Drill Barge

8

10

8

9

-10.0%

Drillship

72

84

86

104

23.8%

Inland Barge

0

1

0

1

0.00%

Jackup

354

405

357

449

10.9%

Semisub

164

187

155

189

1.1%

Tender

25

30

22

34

13.3%
This data is provided by RigLogix, and is correct as of 08/11/2014.
Data from RigLogix shows how the market has grown over the past year alone, and how utilization has fallen over the same period.
Month

Jackups

Contracted

Total

Utilization

July 2014

363

447

81.20%

June 2014

358

444

80.60%

May 2014

364

439

82.90%

April 2014

370

435

85.10%

March 2014

371

427

86.90%

February 2014

368

427

86.20%
This data is provided by RigLogix, and is correct as of 08/11/2014.
It is clear that the drillers with the largest jackup fleets are at a disadvantage. These would be Ensco, Rowan and Noble.
However, for the most part, Ensco, Noble and Rowan have not reported drastic declines in revenue and income, although it would appear as if the worst is yet to come. According to Morgan Stanley:
"... Jackup dayrates have held up vs. what has unfolded in the floater market. We nevertheless highlight a surge in jackup orders, driven largely by speculative drillers at Chinese shipyards The jackup orderbook now stands at a record 140 units, of which only ~20 have been contracted…"
While Deutsche Bank believes that:
"... Jackup market next to roll: While most have come to grips with the ugly reality of the floater market, many are still of the view that the jackup market will somehow escape deepwater's fate. While demand is more elastic and continued high oil prices should continue to support strong levels of activity, supply growth begins to accelerate dramatically in the 2nd half of this year and continues through 2017. In order to absorb the 27% capacity growth expected over this time period, the industry would have to experience record demand growth. We think this scenario is highly unlikely and expect to see pressure on rates and utilization begin to materialize in 2H '14 and continue well into 2015..."
With utilization rates already declining and expected to fall further, the jackup market is not the place to be.
So, where should investors look to place their cash? Well, it appears that the best company to invest in would be a driller with a young fleet of UDW-capable floater units and a small exposure to the jackup market.
This slid from Seadrill's investor presentation should help you decide.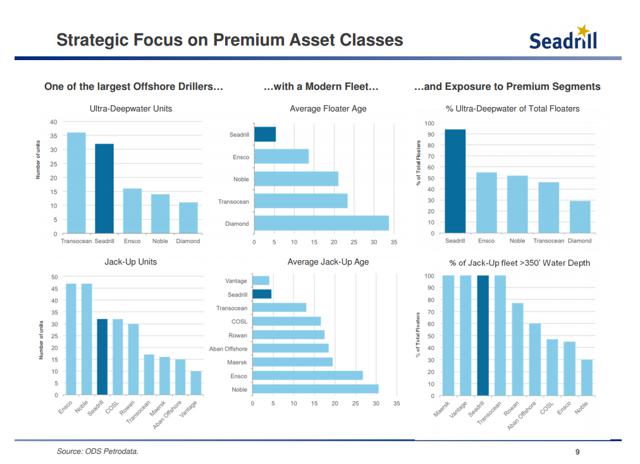 From a presentation given by Seadrill at the Howard Weil 42nd Annual Energy Conference during March of this year.
Conclusion
So in summary then, there should be four key takeaways from this article. Firstly, in the world of offshore drilling, UDW-capable units will outperform over the next few years. Secondly, modern fleets will be in demand. Thirdly, the jackup rig market is entering a period of uncertainty and oversupply. Lastly, in the offshore drilling industry, the biggest fleet is not always the best.
Of course, this article only scratches the surface of the industry, and there are plenty of other important factors to consider. Those factors I will be following up within later articles.
Disclosure: The author is long RDC. The author wrote this article themselves, and it expresses their own opinions. The author is not receiving compensation for it (other than from Seeking Alpha). The author has no business relationship with any company whose stock is mentioned in this article.