Integra LifeSciences (NASDAQ:IART) recently reported its financial results for the second quarter ended June 30, 2014. The company registered total revenues of $231.4 million, which increased $25.8 million, or 12.6%, over the same period of the prior year. Adjusted net income for the quarter came in at $22.2 million, or $0.68 per diluted share, compared to $14.8 million, or $0.53 per diluted share, in the year-ago period. Further, the company generated $16.4 million in cash flows from operations, and invested $9.4 million in capital expenditures during the quarter.
Peter Arduini, Integra's president and CEO, said, "Our global Neurosurgery business, which was 40% of our total revenue, posted growth across all major product lines." The company expects that its full-year 2014 revenues would be between $920 million and $940 million, and maintains its original guidance for adjusted earnings per diluted share between $2.88 and $3.06. From investors' point of view, Integra's second-quarter earnings and guidance for the rest of the year are quite encouraging. The stock reacted positively immediately after the earnings.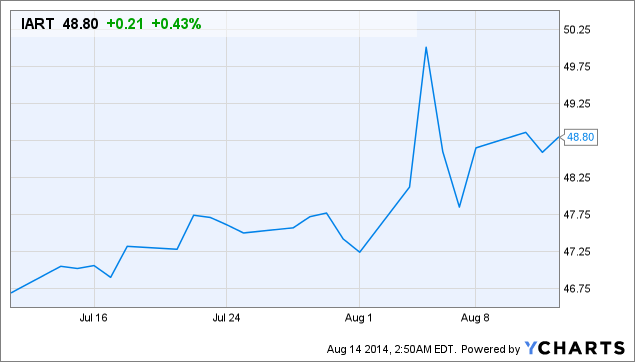 In my original analysis, I mentioned that the company's revenues are expected to grow at a CAGR of 7.1% for the next four years, in line with the bionics market. I expect that Integra's dural repair as well as skin and wound businesses will register strong performance in 2014. The company's 2014 adjusted EPS was expected to be around $3.15, almost in line with the company's guidance. I believe that Integra's shares are heading towards $60 in the medium term.
Disclosure: The author has no positions in any stocks mentioned, and no plans to initiate any positions within the next 72 hours. The author wrote this article themselves, and it expresses their own opinions. The author is not receiving compensation for it (other than from Seeking Alpha). The author has no business relationship with any company whose stock is mentioned in this article.