Again today the greatest weighted factor driving the direction of the SPDR S&P 500 ETF (NYSE: SPY) should be the geopolitical. The economic schedule is light today, and inclusive of very little market-moving type data. There is one significant earnings reports today that could also weigh influence on the SPY performance. Clearly though, the situation in Eastern Ukraine is coming to a head as the Ukrainian government prepares to receive a mysterious delivery from Russia.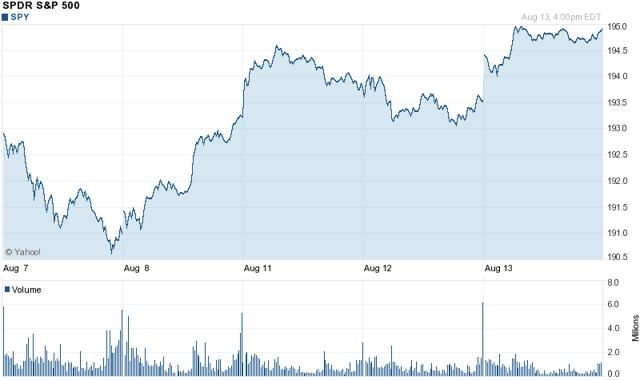 5-Day Chart of SPY ETF at Yahoo
The SPDR S&P 500 ETF performed positively yesterday as economic data softness seen in the retail sales report offered respite from Fed rate fear. Also, the market is at ease with regard to Ukraine, but I believe it is greatly mistaken in its comfort.
A convoy of some 280 white trucks is on its way from Moscow to Russian separatists in Ukraine. Kiev remains skeptical about what the contents of the vehicles are and about the interest of Russia in its domestic matters. The Red Cross has yet to survey the inventory of the aid being transported. The Ukrainian government will not accept the delivery unless it is unloaded, inspected and handed over to the Red Cross at the border. It's unclear whether Russia will comply, because of statements out of the Kremlin indicating opposition. Meanwhile, Russia's President met with his security council yesterday and is today meeting with his entire cabinet and other lawmakers. These appear to me to be regarding the Donetsk separatists and their dwindling resources and smothered position. President Obama is making an unscheduled return to Washington this weekend, and yes, I would read into that. Please see my latest report on gold for more details.
The economic schedule is light today, with the weekly Unemployment Insurance Claims data coming due this morning. Also, Import & Export Price data is due this AM, along with the Bloomberg Consumer Comfort Measure and the EIA Natural Gas Report. The consumer measure is a weekly indicator and does not seem to move markets like other consumer confidence accounting. The natural gas data typically impacts its local energy relatives.
Jobless claims data has hardly moved of late, and is on a long-term improving trend. Considering the time of year, with very little getting done in American offices, or elsewhere, layoff data loses some of its weight. However, economists see the jobless claims for the period ending August 9 coming in at 295K, which would be up from last week's reported 289K. I hardly expect the SPY to budge on this data.
However, you'll want to watch the Import Export Price data, as inflation is in vogue these days. The market is highly attuned to everything pricey, and in this report we have highly volatile energy and agricultural price influences, which are only exacerbated now by the geopolitical situation between the east and west. Export prices are expected to have fallen by 0.1% in July after falling 0.4% in June. Export prices are influenced significantly by U.S. agricultural exports. Import prices are expected to show a 0.2% drop, after a 0.1% gain in June. At the moment, the key driver here is a strengthening dollar, which is buying more for every buck these days. Any unexpected sign of inflation starts the SPY ETF lower, so beware, but this is unlikely given dollar strength.
Wal-Mart (NYSE: WMT) reported its EPS results this morning, and the stock was up in premarket trading at 8:00 AM. I'm not sure that will hold though, given that the company revised its guidance lower and saw flat U.S. same-store sales. Revenues look to have surpassed analyst expectations, while EPS came in inline. Valuation probably matters here, as the stock has prepared for disappointment, falling nearly 6% year-to-date. The stock trades at about 13.7X consensus EPS estimate for the next twelve months (inferred by me). But analysts' growth outlook for the next fiscal year ended in January 2016 is just 9.1%, so WMT feels pricey still to me. The repercussions here for the SPY are negative, given the flat same-store sales growth. I feel that the forward guidance weakness depends greatly on market share impact of Amazon.com (NASDAQ: AMZN) and stores like Five Below (NASDAQ: FIVE). Wal-Mart is America's store, so this reflects poorly on America, unless other competitors are simply stealing away business. It's hard to say this quickly.
All depends today on how the aid shipment from Russia is received in Ukraine, and how Russia responds to any rejection or difficulties. I'm anticipating conflict very soon between Russia and Ukraine, given the collapsing position of Donetsk and the precedent we've seen in Georgia in 2008. Sell the SPY my friend, seriously. Risk near-term is too high for passive long positions now. I'm covering this security daily now, so I welcome you to follow along.
Disclosure: The author has no positions in any stocks mentioned, and no plans to initiate any positions within the next 72 hours. The author wrote this article themselves, and it expresses their own opinions. The author is not receiving compensation for it (other than from Seeking Alpha). The author has no business relationship with any company whose stock is mentioned in this article.