Income Investors would be wise to keep an eye on LMT, a solid above average yielding large capitalization stock in a highly stable industry.
Background
Lockheed Martin (NYSE:LMT) is a leading aerospace and national defense products and services company. LMT is engaged in the design, development, and production of advanced systems. The company operates in five segments, Aeronautics, Information Systems, Missiles and Fire Control, Mission Systems, and Space Systems.
Recent Share Activity
LMT shares have remained strong rising with the overall market yet remaining well bid over the recent, albeit modest, market sell-off. Currently, the shares trade towards the higher end of their 52-week range of 121 - 171.36. LMT shares currently have a dividend of 3.15%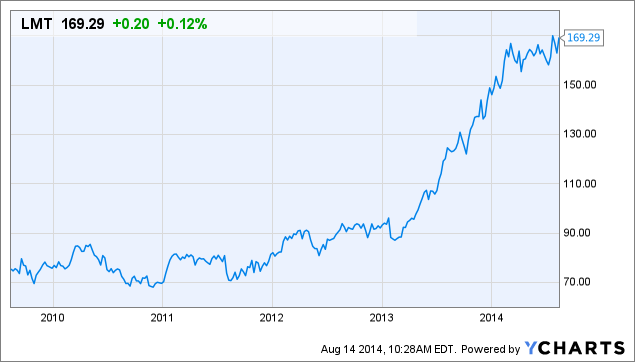 Valuation
Our valuation analysis looks at LMT from a relative perspective, comparing LMT's metrics to both the large cap S&P 500 index and the Industrial Sector.
On a dividend yield basis LMT is substantially ahead of the overall market and industrial sector with a yield of 3.15% versus 1.98% for the S&P 500 and 2.04% for the industrials sector
On a trailing earnings basis LMT trades in line with the S&P 500 earnings multiple with a PE ration of 17.5 versus 17.61 for the index. LMT trades at a trailing earnings discount to the industrials sector that has a PE of 18.19.
LMT is highly attractive on a forward earnings basis trading at 15% discount to both the S&P 500 and Industrials sector. LMT's forward PE is just 14.0 versus 16.5 for both the S&P 500 and Industrials. However, LMT's projected earnings growth rate is lower than the S&P 500 and Industrial Sector.
In analyzing the above we find it helpful to view the forward PEG ratio that measure the cost of future earnings growth. We note that LMT's PEG ratio of 1.49 is right in line with both the S&P 500 and Industrials sector with ratios of 1.4 and 1.45 respectively.
From a valuation perspective we find LMT highly attractive given the discount to both the market and sector on a forward basis and attractive PEG ratio.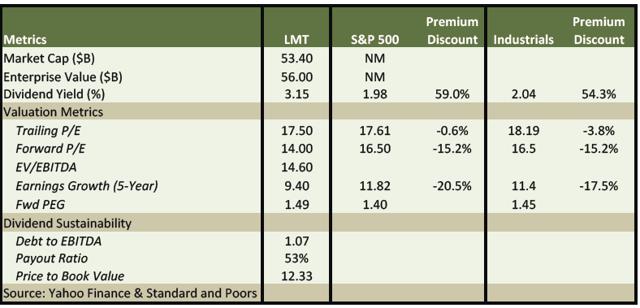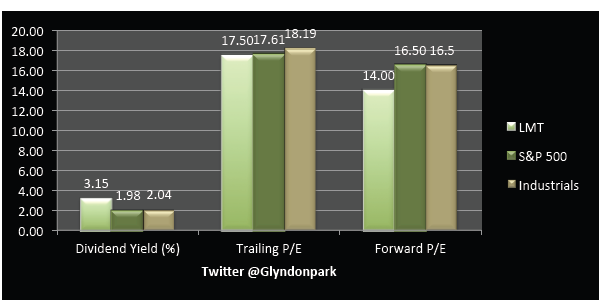 Income Investors
For income investors the emphasis is on the company's dividend yield, stability, and preservation of capital. LMT has a long history of paying and increasing dividends. LMT maintains a strong balance sheet and ample ability to service debt with Debt to EBITDA ratio of just over 1. LMT has ample capability to cover dividend payments that amount to just over half of annual earnings. From a qualitative standpoint the company operates in a highly competitive yet stable industry. Often government contracts are long term in nature and given many of the required security protocols for defense contracts substantial barriers to entry exist.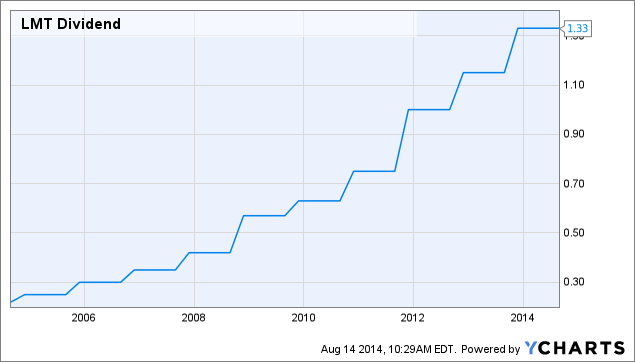 LMT Dividend data by YCharts
Overall we recommend LMT shares for income investors noting the shares have a highly attractive dividend yield, strong relative valuation, and are highly stable with little likelihood of a dividend reduction.
Disclosure: The author has no positions in any stocks mentioned, and no plans to initiate any positions within the next 72 hours. The author wrote this article themselves, and it expresses their own opinions. The author is not receiving compensation for it (other than from Seeking Alpha). The author has no business relationship with any company whose stock is mentioned in this article.