There has been a lot of conversation recently regarding whether or not IBM's share price is correctly valued. I am going to dig into this issue and attempt to explain why it is fairly valued based on the current declining trend in revenue. Before I detail the revenue trend it's important to understand how IBM structures itself as a business and where those sales numbers are coming from. I will never invest in a company in which I don't understand the nature of the underlying business. Investors tend to overwhelmingly focus only on ratios, trends, and technical indicators, but if you don't understand how the money is made, how can you project where the stock will be in the future?
In order to understand the nature of each of IBM's segments I highly recommend reading the 2013 Annual Report. If you don't have the time or energy to do so I have included a brief summary of each branch below.
IBM consists of five business segments.
1) Global Technology Services: Focuses on providing IT infrastructure and IT outsourcing solutions to clients. IBM also offers cloud services within this business segment and has begun implementing the cloud with its IT solutions in order to drive growth.
2) Global Business Services: Consists of consulting and application management. This is mostly a professional services branch of the firm. They focus on providing value added services to business clients in a number of different areas involving technology.
3) Software: This segment consists of middleware and operating system software. Middleware is available to help businesses integrate "systems, processes, and applications across a standard software platform".
4) Systems and Technology: This branch provides to clients needing a large amount of computing power and storage. This includes the sales of servers and semi-conductors. This also includes the development and sales of main frames such as System z. This is essentially IBM's hardware segment.
5) Global Financing. This segment provides loans to clients as well as to dealers. It operates as a commercial lender for clients, to help them buy products and services.
With even a simple understanding of the business it is possible to understand the trends occurring within each segment regarding sales.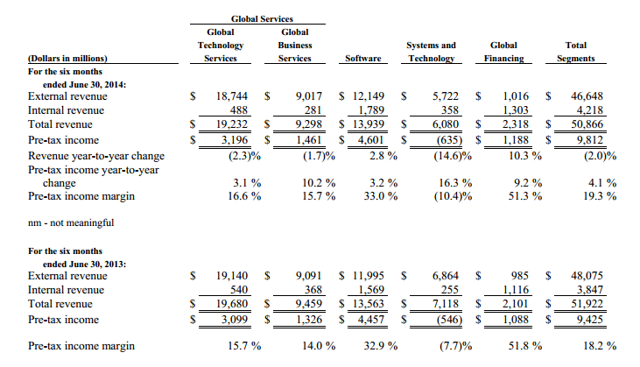 The only year over year increases in revenue for the first two quarters of 2014 occurred within the Software and Global Financing segments. The decline in revenue here is concerning and IBM blames it on "a combination of secular and cyclical challenges in the hardware business". The majority of the losses were due to a decline in sales of the System Z mainframe (down 16.4 %). This decline represents the increased reliance that companies are putting on the use of the cloud. Although IBM continues to invest in the cloud, it also relies heavily on the sale of hardware. As long as the Systems and Technology segment continues to exist they will need to find a way to innovate to drive the growth of hardware once again.
Remedies that the company has listed to combat downturn in revenues:
1) Move toward growth areas of "analytics, cloud, mobile, and security".
2) Invest in:
Softlayer: A "global cloud infrastructure program"
BlueMix launch: " a Platform as a Service offering that Big Blue introduced last month. Platform as a Service helps developers and customers frame and launch an application more easily than with the raw resources of an Infrastructure as a Service cloud offering."
Power 8: "High end processors"
Watson: A super computer that could potentially revolutionize the medical industry
Chip innovation
Apple Partnership
It's important to note that pretax income year over year increased in every segment except Systems and Technology. Many analysts view the growth of pre-tax income as a positive, but it should not always be seen this way. Companies can always cut costs, but this usually comes at the expense of research and development and human capital. With decreasing revenue and increased pre-tax net income there is some major cost cutting occurring. This could potentially be at the expense of the happiness of employees. I know from talking to a current employee that IBM does not even provide free coffee in the office! This is clearly not a sign of investment in human capital, and may be one of many ways to pinch pennies and increase earnings without a corresponding increase in revenue.
One other alarming statistic is the decrease in R&D spending. IBM should be constantly reinvesting earnings into research and development in order to improve and develop the most quality products and services available to its clients. Unfortunately IBM has decided that improving its short term EPS is more important than continuing to increase R&D expenses. This may have a negative impact in the long term, although they are still spending almost $3 billion per six months on R&D.

Regardless of the downturn in revenues, IBM is still a friend of the investor. It has a proven history of dividends and share buybacks that have helped investor returns. It also has a clear strategy to turn this negative revenue trend positive. Although it may take years to reverse the revenue trend, IBM is a company that can still deliver value in the meantime. It may be a good time to buy while the company is struggling to perform up to par in this challenging global environment.
With a TTM P/E ratio of 12.81 and a forward P/E of 9.45 IBM looks like a potential bargain. As long as the company can transform itself and execute on the stated strategy, long term returns should be excellent. I believe that the long term capital gain prospect of the stock is too tempting to pass up. The company is so large and has such a good history of innovation that it's hard to envision them failing. I see this stock as a multiyear investment and not a stock for the impatient. This is a long term value investment.
Disclaimer: I am not a registered investment advisor and do not provide specific investment advice. The information contained herein is for informational purposes only. Nothing in this article should be taken as a solicitation to purchase or sell securities. Before buying or selling any stock you should do your own research and reach your own conclusion. It is up to investors to make the correct decision after necessary research. Investing includes risks, including loss of principal.
Disclosure: The author has no positions in any stocks mentioned, but may initiate a long position in IBM over the next 72 hours. The author wrote this article themselves, and it expresses their own opinions. The author is not receiving compensation for it (other than from Seeking Alpha). The author has no business relationship with any company whose stock is mentioned in this article.