Intel (NASDAQ:INTC) released information pertaining to its upcoming Broadwell CPU architecture, in a presentation on August 11th.
To quickly summarize, the presentation offered a ton of useful information to shareholders as it helped to highlight the advantages of reaching better processor tech sooner, rather than later.
Intel 14nm technology may have exceeded expectations
According to the advancing Moore's law presentation on August 11th, Intel 14nm technology is now qualified, and is in volume production. The 14nm technology will be used across Intel's mobile, laptop, desktop and server class CPU line-up.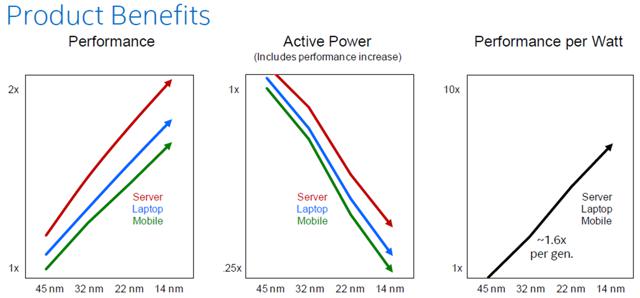 Click to enlarge
Source: Intel
The performance benefit from better processing tech is more distinct in servers. However, on the mobile side, the active power usage declines more considerably. Therefore, servers will be beefier then previous generation counter-parts by a much wider margin. However, on the mobile front, Intel demonstrates that the shift to 14nm technology benefits mobile's active power usage more when compared to laptop and server. Anyone who follows mobile closely knows that battery life is very important, so this is a key-performance win that puts Intel in a much better position to gain design wins.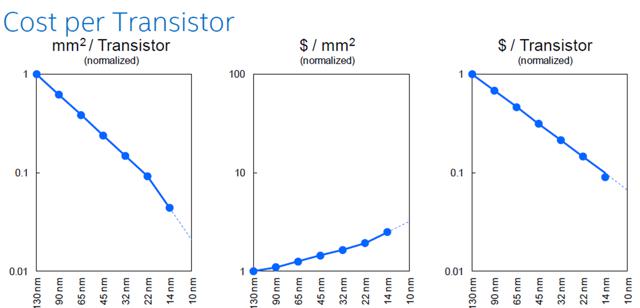 Click to enlarge
Source: Intel
However, even more interesting is Intel's ability to lower the cost per transistor, which means that even with higher density of transistors, the cost doesn't increase for those added transistors. This adheres to the historical trend of falling CPU cost paired with much greater efficiency.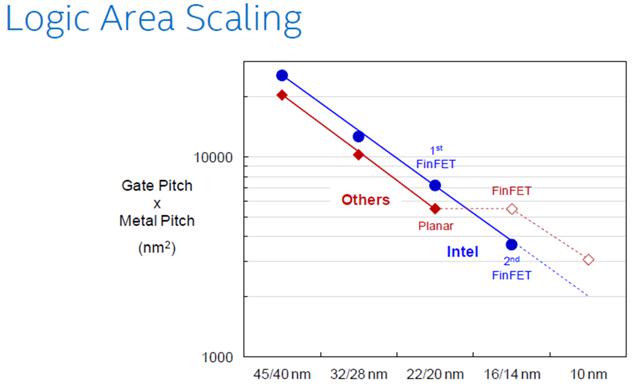 Click to enlarge
Source: Intel
However as if that wasn't enough, Intel mentions that the logic scaling of second generation FinFet will be way ahead of competitors who will market 16nm/14nm technology, as it will be driven by transistor fin improvement, in which the height of the Si Substrate is increased, and the pitch is decreased.
AnandTech offers a more cogent explanation:
Compared to the 22nm process, the 14nm process fins are more tightly packed, thinner, taller, and fewer in number (per transistor). Each one of these changes in turn improves the performance of the FinFETs in some way. The tighter density goes hand-in-hand with 14nm's feature size reductions, while the taller, thinner fins allow for increased drive current and increased performance. Meanwhile by reducing the number of fins per transistor, Intel is able to improve on density once again while also reducing the transistor capacitance that results from those fins.
Bottom line
Investors should view the Broadwell presentation as a positive catalyst, as it confirms the timeline investors were anticipating, and offers insight into how Intel will be able to out-compete other foundries (Taiwan Semiconductor (NYSE:TSM) and Samsung(OTC:SSNLF)), and competing intellectual property from Qualcomm (NASDAQ:QCOM), AMD (NYSE:AMD) and Nvidia (NASDAQ:NVDA).
Going forward, Intel's roadmap looks compelling. Intel was up by 2.93% on the Wednesday session. I continue to reiterate my buy rating, and $39.42 price target.
Disclosure: The author has no positions in any stocks mentioned, and no plans to initiate any positions within the next 72 hours. The author wrote this article themselves, and it expresses their own opinions. The author is not receiving compensation for it (other than from Seeking Alpha). The author has no business relationship with any company whose stock is mentioned in this article.