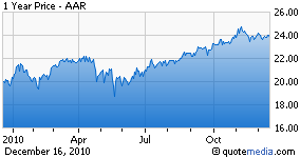 AAR Corp. (NYSE:AIR) posted upbeat results for the second quarter of fiscal 2011 based on the huge leap in revenue from the Government and Defense Services attributable to the acquisition of Aviation Worldwide Services (AWS) in April 2010.
Aviation Worldwide Services, a leading provider of expeditionary airlift services and aircraft modifications for the U.S.and other governments, was acquired from Xe Services LLC for $200 million.
During the quarter, net income was $16.8 million or 42 cents per share, up 26.3% from net income of $13.3 million or $0.34 per share in the corresponding period of fiscal 2010. Reported EPS beat the Zacks Consensus Estimate of $0.36.
Revenues were $447.1 million, a 36.0% increase from $328.7 million in the second quarter of fiscal 2010 based on a 46.0% increase in revenue generated from the Government and Defense Services segment compared with the year-ago level. Total revenue was way above the Zacks Consensus Estimate of $411 million.
Revenues in the Government and Defense Services segment soared to $134.4 million from just $39.3 million in the second quarter of fiscal 2010.
The increase was primarily driven by the AWS acquisition and the rise in revenue in the company's defense logistics business driven by the USAF's KC-10 fleet contract in February 2010.
Revenues from all other segments also saw a steady increase. The Aviation Supply Chain segment booked a 15.4% revenue growth to reach $117.9 million and the Maintenance, Repair, and Overhaul segment also improved 37.9% to $99.0 million. However, revenue from the Structures and Systems segment slipped 17.0% to $95.8 million due to weaker sales of cargo systems and composite structure products.
Although cost of sales, as a percentage of revenue, went up by 280 basis points, selling, general and administrative expense (SG&A) improved by 170 bps. Operating margin, at 7.5%, dropped by 50 bps.
On account of the AWS acquisition, cash and cash equivalents declined to $49.3 million from $52.2 million in the previous quarter and total debt also dropped marginally to $429.6 million from $429.9 million in the first quarter of fiscal 2011.
Outlook
Although, AAR Corp. did not provide any financial guidance, it expects the acquired business to become accretive to earnings and margins in its first year of ownership, as exemplified in the reported quarter, and generate $175 million of revenue on an annual basis.
Moreover, now that the markets are picking up gradually, we expect AAR Corp. to perform well due to its industry leading supply chain and MRO (Maintenance, repair, and overhaul) positions. The Air Transport Association (IATA) expects the airline industry to make a profit of $2.5 billion in 2010, which is a positive indication for the stock.
We reiterate our Outperform recommendation on AAR Corp. over the long term. The stock at present retains its Zacks #2 Rank (short term "Buy" rating).
Disclosure: No positions