We're getting close to that time of year. The summer is nearly over, and that means back to school for many and back to work for others. What this also means is that it is time for Apple (NASDAQ:AAPL) to start releasing its next generation of products. We could be less than a month from the first new product launch, meaning that the final countdown clock has certainly started. Today, I'll discuss what this all means for the tech giant.
The iPhone 6 is almost here:
In my most recent Apple article, I discussed why I thought a recent rumor about the iPhone 6 being delayed was highly questionable. MacRumors believed that the new phone would not come out until October, which goes against Apple's history recently of releasing the phone in September. Also, quarterly guidance from the company did not mesh with an October launch. If an October release was coming, I figured Apple would need to warn for fiscal Q4 (September-ending quarter), and I did not think that would happen.
Well, sanity seemed to return a bit last week, when the latest rumor stated Apple would be holding an iPhone event on September 9th. This makes a lot more sense, and would lead everyone to believe that the new phone would be released on Friday, September 19th. That fits with what Apple has done in recent years, allowing a little more than a week of sales before the quarter's end. Here's an overview of what the rumor mill has been churning out lately:
In addition to 4.7" and 5.5" displays (widely reported), the rumor mill has mentioned sapphire cover glass, optical image stabilization, an NFC radio, wireless charging, and Cat-6 LTE (theoretical max speeds of 300Mbps) as potential new features.
With Apple expected to launch larger screen phones, the company has been looking to fetch higher prices for these devices. As seen on page 27 of the most recent 10-Q filing, Apple has seen a 12% increase in iPhone unit sales for the first nine months of this fiscal year. However, total iPhone revenues are only up by 9%, meaning the average selling price has gone down. This is logical, considering sales of older phones and the cheaper 5C. However, with these new iPhones expected to cost more to manufacture, Apple is looking to charge more. A higher price for these new phones could help soften any margin weakness from the new form factor.
The iPhone 6 may be Apple's most anticipated product ever, and it is the device that most expect will help push Apple shares to a new all-time high. Technically speaking, those that bought at the peak have still made money thanks to dividends, but Apple has yet to crack that $705 high on a split-adjusted basis. Apple recently approached $100 after the 7 for 1 split, but has not cracked triple digits during the trading day yet. There are expectations that shares could hit a new high even before the iPhone 6 launches.
Don't forget about the iPad:
While the iPhone is certainly the most important product for Apple, let's not forget about the second biggest revenue driver, the iPad. The extremely popular tablet has lost a little of its luster this year thanks to the success of phablets and an increase in lower-cost tablets. In the first nine months of the fiscal year, Apple reported a 2% decline in iPad unit sales and a 3% decline in revenues over the prior year period.
Apple will probably update the iPad during October, and we've recently heard that production has started. My best guess is that the company will have an iPad event the week of October 13th-17th, and that new models will go on sale a few weeks later. For Apple to have a really strong holiday season, it will need to get its tablet sales back on track. We've heard the possibility of a larger screen iPad coming, so a third model of the iPad could help drive new sales.
Estimates coming down as expected:
When Apple reported Q3 earnings in July, guidance for fiscal Q4 was a little lighter than most expected. Analysts were looking for about $40.44 billion in fiscal Q4 revenues, but Apple gave a range of $37 billion to $40 billion. Apple did miss analyst estimates for fiscal Q3 revenues, so the bear camp was extremely happy, even though Apple was well within its guidance range and above its guidance midpoint for the quarter.
As expected, we have seen analyst estimates come down. The revenue average has come down exactly by $1 billion, while the EPS average has come down by a nickel. Analysts are currently at $39.44 billion for fiscal Q4, a rise of more than 5% from the prior year period, about $2 billion. Right now, the average is toward the higher end of Apple's range, so expectations will be high. On the EPS side, analysts are looking for $1.29 in the period, up from a split-adjusted $1.18 in the year ago quarter.
With revenue estimates coming down for fiscal Q4, we have seen the analyst average rise a little bit for the December-ending fiscal Q1. The current number stands at $62.39 billion, up from $62.17 billion when the company reported its latest quarter. Analysts are looking for more than 8% growth from last year's $57.59 billion, which was Apple's all-time record for sales in a quarter. The EPS average has not changed and stands at $2.32, up from $2.07 in last year's period.
An update on short interest:
A couple of weeks ago, I detailed how short interest for Apple recently hit a 2014 low. Short interest spiked in the first month and a half of this year for Apple, but then we saw a lot of covering take place. We recently got another update on where things stand, and the chart below shows a history of Apple's short interest.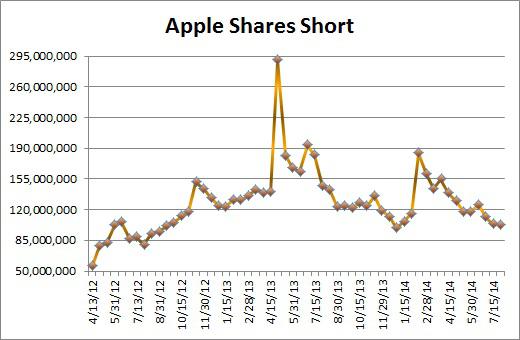 (Note: Last data point on chart for settlement date of 7/31/14)
At the end of July update, short interest declined by a little less than 200,000 shares. That's a very small change, considering how more than 103 million shares were still short at the end of that month. However, this marks a new low point for short interest in 2014. As we get closer to new product launches, the number of those betting against Apple has certainly come down.
Looking forward into fiscal 2015:
As we are almost halfway through August already, Apple's fiscal year only has about a month and a half to go. By the time the iPad is launched, the company will be in a new fiscal year, and we'll be talking about the period ending in September 2015. For investors wanting a comparison of other top tier tech names, I'll do just that in this section. In the table below, I'll show fiscal year comparisons for Apple against Microsoft (NASDAQ:MSFT), Google (NASDAQ:GOOG) (NASDAQ:GOOGL), Intel (NASDAQ:INTC) and Cisco Systems (NASDAQ:CSCO). While these names are not all exact competitors to Apple, they do have similar characteristics when it comes to growth, dividends, buybacks, etc.

*Non-GAAP estimates for EPS, and thus P/E is non-GAAP. Price used is from Class A GOOGL shares.
**Non-GAAP estimates for EPS, and thus P/E is non-GAAP. Price used is Wednesday's closing price, and EPS estimate heading into company's quarterly report.
These five names each provide a decent package to investors. Google provides the most amount of growth, but at the highest valuation, and with no dividend and buyback. Cisco provides the highest dividend yield. Intel provides a nice turnaround story along with an accelerating buyback. Microsoft provides a decent balance of growth and value.
In the end though, I still believe Apple provides the best overall package. Of the four dividend paying names, Apple is expected to have the most earnings growth, and that is in part to the biggest buyback in the market today. Apple also offers a decent dividend, a nice amount of projected revenue growth, and trades at a very reasonable valuation. Apple also is the highest rated of the four dividend paying names on the street.
Final thoughts:
The final countdown clock has started when it comes to Apple launching new products. We should be within a month of the next iPhone being announced, and about a month after that the next iPad should come. Analyst estimates have come down as expected, but so has short interest. All in all, Apple provides the best overall package in terms of large-cap tech, primarily thanks to its growth opportunities and strong buyback. Apple is getting close to $100 again, and we could see new highs before these critical product launches come.
Disclosure: The author has no positions in any stocks mentioned, and no plans to initiate any positions within the next 72 hours. The author wrote this article themselves, and it expresses their own opinions. The author is not receiving compensation for it (other than from Seeking Alpha). The author has no business relationship with any company whose stock is mentioned in this article.
Additional disclosure: Investors are always reminded that before making any investment, you should do your own proper due diligence on any name directly or indirectly mentioned in this article. Investors should also consider seeking advice from a broker or financial adviser before making any investment decisions. Any material in this article should be considered general information, and not relied on as a formal investment recommendation.