By David Russell
Clinical Data (NASDAQ:CLDA) has been drifting lower for almost two months, and now the bulls are stepping in ahead of some key drug developments.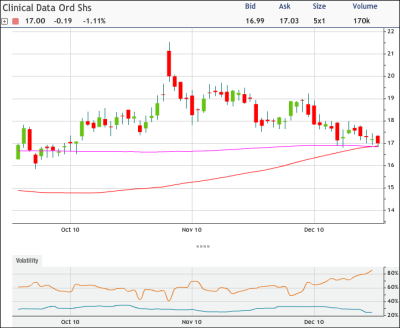 optionMONSTER's Heat Seeker tracking system detected the purchase of more than 2,300 January 25 calls against open interest of just 10 contracts. They priced for $0.19 early in the session and were quickly bid to $0.50--despite the stock barely moving at over the same period. That suggests heavy buying pressure in the calls.
CLDA is down 1.11 percent to $17 in early afternoon trading. The drug developer has lost 11 percent of its value since Oct. 26, when it opened at $21.50 and was immediately pounded lower.
The company is waiting for a Food and Drug Administration ruling on its Vilazodone depression medicine by Jan. 22. It is also expected to begin late-stage trials for its Stedivaze artery treatment in early 2011.
Short interest is significant at about 18 percent of the float, and the stock is apparently finding support around its 200-day moving average (purple line on chart). The 100-day moving average (red line) is also catching up after a big drop in the spring, followed by a rebound in the summer and autumn.
Overall option volume in CLDA is 6 times greater than average so far today, with calls accounting for 87 percent of the activity.
Disclosure: No position