Intel (NASDAQ:INTC) bought Avago's (NASDAQ:AVGO) Axxia communications processor subsidiary for $650 million. This deal complements Intel's 2011 acquisition of Fulcrum Microsystems. Like Fulcrum, Axxia specializes in producing low-power processors for networking equipment.
Fulcrum-made processors power Arista Networks' (NYSE:ANET) switches. Axxia's products expands Intel's offering for data center and cloud computing service providers. Instead of only providing x86 processors for server racks, Intel also is now supplying energy-efficient chips for switches and routers.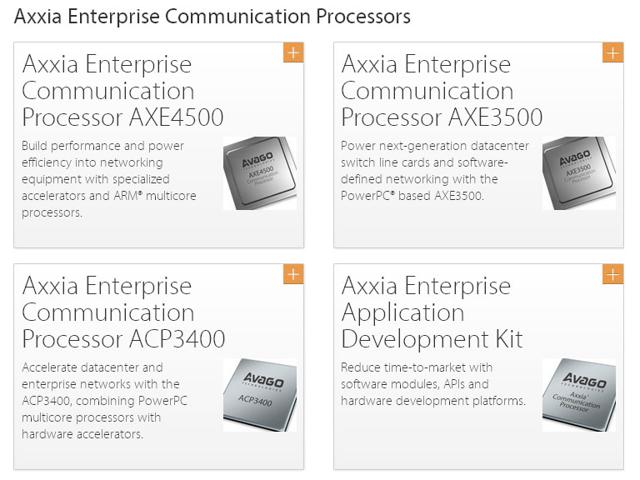 Source: lsi.com
Selling ARMy Products
Axxia produces ARM-based and PowerPC-based processors for the data center industry. Intel is notorious for its x86-focus for mobile and desktop computing. However, Intel's acquisition of Infineon Wireless in 2010 showed it could tolerate selling ARM-based products.
Intel also bought the small cell base station System-on-Chip (SoC) unit of Mindspeed Technologies last December. Mindspeed's processor uses the ARM architecture for 4G/LTE small cell base stations. Intel investors should appreciate this pragmatic approach toward improving the company's product portfolio.
Intel's future growth requires the company to expand its business beyond its proprietary x86 architecture. Yes, the recent surge of INTC's price is due to strong PC sales. However, mobile-driven data centers will grow as a viable alternative source of growth for Intel.
Derivative Benefits from the Surge in Mobile Data Traffic
Intel continues to struggle in smartphone and tablet chips. However, the company still benefits from the rise of smartphone and tablet sales. The surge in mobile internet traffic requires firms to continue using Intel-branded processors like the Xeon and low-power Atom Avoton.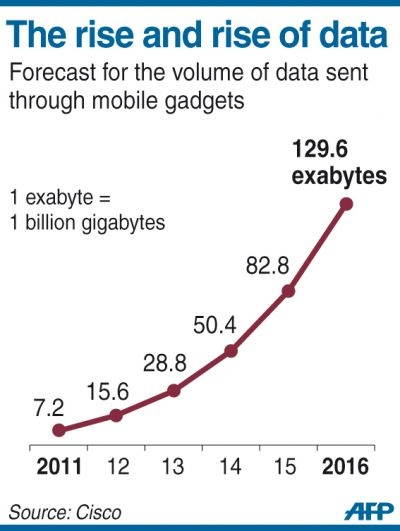 Source: hindustantimes.com
The ever-increasing need for high-speed mobile internet bandwidth also offers a rich opportunity for Axxia and Fulcrum communication processors. Wireless carriers, cloud storage companies and next-generation data center operators require better performance-per-watt chips for switches and routers.
Axxia's low-power communication processors generated $113 million in sales in 2013. However, Intel is predicting this market segment is worth $16 billion. The six times Price/Sales payment for Axxia is expensive but Intel's overall enterprise strategy may benefit from the synergy of this deal.
Intel can now offer product bundles to server vendors that includes Xeon/Atom server chips and PCIe cards powered by Axxia network accelerators.
Axxia's products also are fit for Software Defined Networking (SDN). Industry analysts are predicting that more firms will shift to SDN to save money. Even Cisco (NASDAQ:CSCO), the biggest network switch/router vendor, is adjusting itself to profit from the rise of SDN.
Conclusion
Intel's lucrative server chip business may feel some pain from the entry of lower-cost ARM server processors like the Advanced Micro Devices (NYSE:AMD) Seattle Opteron. However, Intel has Axxia and Fulcrum communication processors that can make up for possible dips in Xeon and Atom Server processors.
Intel's investment in Big Data firm Cloudera also is in line with Axxia's networking chips. The new mobile-driven surge in internet traffic demands more energy-efficient and compact data center servers. It will not be long before server farm operators start demanding smartphone-sized server boxes.
The era of PC-based server farms will give way to smartphone-like designs. Data centers will retool their server racks to use the fanless and energy-efficient form factor of smartphones. Cooling down thousands of Xeon processors require a lot of operating expenses - which the competitive data center industry might find unattractive in the future.
Axxia's technology and engineers can therefore help Intel produce very small and low-power data-center-in-a-box solutions. Retaining the loyalty of server farm operators is top priority for Intel. The investment in Axxia is not just about communications processors.
Intel is preparing itself when the time comes that Xeon server chips no longer deliver the same high-margin profitability they provide right now.
INTC is a buy for long-term investors. Intel Atom chips may never find success in consumer products like the smartphone or tablet, but Axxia and Fulcrum chips help Intel's hugely profitable enterprise business unit come up with new products to retain client loyalty.
Intel will indirectly make money from the surge of smartphone and tablet usage through sales of networking/4G LTE equipment. Investors should also remind themselves that Intel chips still rule 94% of the data center market.
Disclosure: The author is long INTC, AMD. The author wrote this article themselves, and it expresses their own opinions. The author is not receiving compensation for it (other than from Seeking Alpha). The author has no business relationship with any company whose stock is mentioned in this article.