Townsquare Media, Inc. (NYSE:TSQ) - Buy Recommendation - PT $11.40
Thesis: The 25 day quiet period on TSQ will come to a close on August 17. August 18 marks the first day TSQ's IPO underwriters, can publish research reports on TSQ; these will likely be positive and lead to a brief increase in TSQ shares. Despite a disappointing early start to trading, TSQ has strong underwriters, including Bank of America, who may use the opportunity to give TSQ a boost. While we do not suggest a long-term play, the upcoming quiet period event could provide a temporary purchasing opportunity.
The 25 day quiet period on underwriter research on Townsquare Media, Inc. that began with the firm's July 23 IPO will come to a close on August 17, allowing the IPO underwriters to publish reports on the operator of radio stations in small- and mid-sized markets, beginning August 18,
The release of the underwriter reports will likely lead to at least a brief increase in the price of TSQ shares.
Early Market Performance: Currently Below IPO Price
TSQ's disappointing IPO priced at $11.00 per share, well short of the expected range of $14-$16 per share, and the stock posted a 6.8% loss in its first day of trading. The stock has showed some signs of recovery since, but still remains below its IPO price, closing at $10.97 per share on August 5.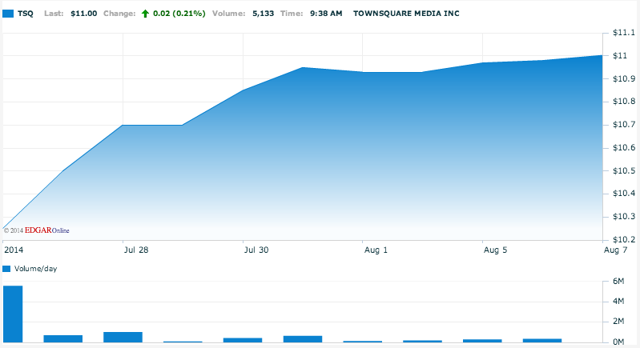 (Nasdaq.com)
TSQ's IPO underwriters, including BofA Merrill Lynch; RBC Capital Markets, LLC; Jefferies LLC; Guggenheim Securities, LLC; and Macquarie Capital (NYSE:USA) Inc. will attempt to give the stock a boost and help it to recover from its lackluster IPO through the publishing of positive analyses beginning with the expiration of the quiet period.
Underwriters, Quiet Period Expirations, and Buying Opportunities: Academic Studies
The Journal of Finance (VOL. LVIII, NO. 1; 2003) explains that share prices will typically begin to rise before the quiet period has expired, as investors buy shares early in anticipation of the forthcoming positive underwriter reports.
Lead author Dan Bradley, PhD, CFA, affiliated with the University of South Florida, and his colleagues note that analysts immediately initiate coverage for 76% of firms at the expiration of the quiet period, nearly always with ratings of "Buy" or "Strong Buy". Firms with coverage initiated experience abnormal positive returns of 4.1% for the two days prior to and the two days after initiation. Returns have been found to rise even further when multiple analysts initiate coverage-to 6.4%.
The work of Carter, Piwowar, and Strader (2001) supports Dr. Bradley's conclusions; they report that the mean analyst rating at the end of the quiet period is a "Buy," with higher ratings correlated to higher returns. Lach and Highfield (2009) state that analyst initiations have been less positively biased since the NASD and NYSE rules and the Global Settlement; however, Highfield, Lach and White (2008) still concluded that the five-day cumulative adjusted returns are statistically significant at approximately 2%.
Bradley et al also note a significant correlation between the number and visibility of IPO underwriters and rising share prices near the conclusion of the quiet period.
Our own analysis, performed on a sample of 2014 IPOs, reveals above-market returns of 2.3% within an 8 day (-5, +2) period (day 0 being expiration). These data are statistically significant at the 90% level. Excluding IPOs for REITs and banks, returns increase and remain within the 90% significance level. We also found that more underwriters could lead to a reduction in the volatility of returns in the quiet period. No significant linear relationship was observed between market capitalization and returns or volatility of returns in the same period. We also found no significant linear relationship between the percentage of the company floated at the time of IPO and returns or volatility of returns.
In all cases, investors' early purchases often lead to a perceived atmosphere of rising demand, causing an increase in share prices before the quiet period expires and creating a short-term buying opportunity.
Details of TSQ's Radio Business
TSQ owns and operates radio stations and digital properties based in small- and mid-sized markets in the U.S.; the firm also funds live events in the same markets.
TSQ's properties are spread across 66 markets, and include 312 radio stations and 325 websites. The firm's radio stations have achieved the top radio revenue market share in 43 markets, and the second largest radio revenue market share in 22 markets. The stations offer a wide variety of branding and content, and many have been established in their respective markets for decades. TSQ provides advertisers with access to an audience that might otherwise be difficult to target, and a larger audience than stations focused only on larger cities. Nielsen Fall 2013 data indicates that the firm's stations reach a weekly cumulative audience of about 11.6 million.
TSQ's music and entertainment websites received approximately 78 million unique visitors in March of 2014.
TSQ generated some 86% of its revenue in calendar 2013 through the sale of advertisements and sponsorship on its stations, websites, and mobile apps.
See our previous article, highlighting TSQ's IPO, here.
Competitors in Radio, Print & TV
TSQ's radio stations compete with other local and regional stations for advertisers and listeners. TSQ's websites compete with other digital properties for visitors and advertisers, though the firm's digital properties received more monthly unique U.S. visitors than any other music-oriented digital advertising network as of March 2014. Major digital advertising competitors include Q1Media and MTV, owned by Viacom (VIA.B).
TSQ must also compete for advertising dollars with other media, such as print and television.
Management: Previous Experience in Private Equity, in US Dept. of Defense
Steven Price co-founded TSQ and serves as the firm's chairman and CEO.
Mr. Price previously served as a senior managing director at private equity firm Centerbridge Partners, and in a similar position with Spectrum Equity Investors. Mr. Price also served in the Pentagon as deputy assistant secretary of Defense (Spectrum, Space, and Communications).
Mr. Price graduated magna cum laude from Brown University, and received a J.D. from the Columbia University School of Law.
Conclusion: Despite Disappointing Start, Strong Purchasing Opportunity Ahead
TSQ got off to an extremely disappointing start on the market, and while it has made something of a recovery since its poor first day of trading, we don't see this as a long-term portfolio addition.
Investors may be afraid of both the firm's small-market focus and of the long-term viability of the radio-or lack thereof-in general.
The stock may yet be able to recover, and TSQ certainly does have a sizable and attractive portfolio of stations; for those interested in buying into the firm, the upcoming quiet period expiration may provide a strong purchasing opportunity.
We invite readers wishing to join the discussion on IPO quiet period expirations to click the +Follow button above the title of this article and those wishing for the latest updates to click +Get real time alerts.
Disclosure: The author has no positions in any stocks mentioned, and no plans to initiate any positions within the next 72 hours. The author wrote this article themselves, and it expresses their own opinions. The author is not receiving compensation for it (other than from Seeking Alpha). The author has no business relationship with any company whose stock is mentioned in this article.