Aetna Inc. (NYSE:AET) operates as a diversified health care benefits company in the United States. The company operates in three segments: Health Care, Group Insurance, and Large Case Pensions. It was founded in 1853 and is headquartered in Hartford, Connecticut. Overall, the Health Care Plans industry has shown strong performance as the economy has gone through its seemingly slow recovery. So far, the industry leaders have generated strong returns for shareholders versus the S&P 500 over the last year:
| | |
| --- | --- |
| Company | Performance |
| UnitedHealth Group (NYSE:UNH) | 12.6% |
| Humana (NYSE:HUM) | 27.4% |
| Well Point (WLP) | 27.1% |
| Aetna | 20.3% |
Despite that, these premium businesses have been subject to a massive deceleration in ROIC over the last decade, this was foreseeable given massive resurgence of asset growth relative to profitability, particularly due to the nature of the sector.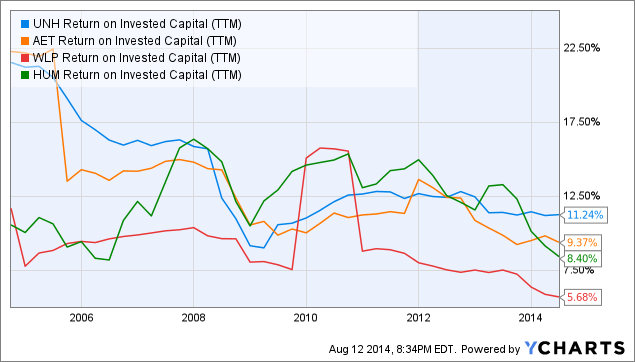 UNH Return on Invested Capital ((NYSE:TTM) data by YCharts
While many "lead steers" would tend to look elsewhere based on this trend, the metric has actually started to significantly stabilize over the last 5 years.
Valuation
Cash flows for AET have been relatively volatile through the years given regulatory instances on Medicare and Medicaid, however contractual growth has been relatively stable. Enrollments continue to show progress domestically and particular strength internationally.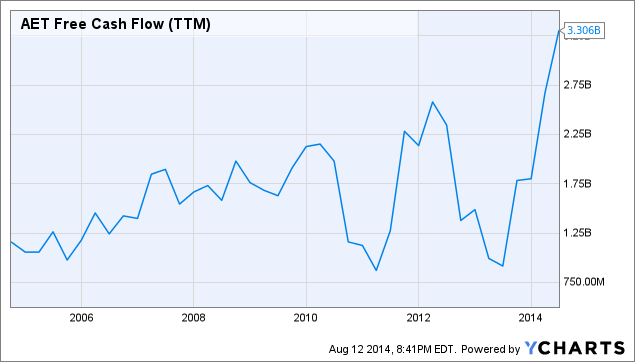 AET Free Cash Flow ((TTM)) data by YCharts
For the DFCF method, I decided to take a smoothed average in cash to assume a reasonable trend in CAGR growth for the company. Taking a somewhat conservative approach (factored discounting) I applied a 10x multiple on the 3.30b TTM figure. This came out to ~$93 fair value. P/FCF is notably low at 8.93x versus peers typically above 10.
On a relative basis, the expectations for these corporate structures runs an average price to earnings of 12.76x, about 11% higher than AET's discounted 11.54x. Even though this blended average looks favorable, investors should seek out a lower base given AET is trading at a recent high channel multiple.
Earnings Boost
In the last report, AET cited an earnings growth of ~7% YoY for the second quarter. Revenues came in ~12% higher over last year's figures as well. Both the top and bottom line beat analyst estimates by 3.6% and 5.2% respectively. Management also guided higher its earnings guidance for 2014 to $6.45 to $6.60 from $6.35 to $6.55, an adjusted 7 cents or 1.263%.
Note: This should provide a sentiment support factor in the company's share price.
Sell Side
I will highlight a few key points in the IQ Capital equity report for AET: "we see healthy enrollment in 2014, assuming a sharp rise in Medicare Advantage enrollment and solid Medicaid enrollment...We forecast a lower overall medical cost ratio...We see modest EPS growth due to a higher tax rate." Given economic and regulatory risks remain tame, the analysts have a highly favorable position on the company, notating a strong buy recommendation, with a price target of $98 PPS.
Conversely, intensified competition and growing medical costs could generate EPS erosion down the road.
Technicals
Current price movement is suggesting continued bearish momentum until proven otherwise. Vortex indicator assumes that generating a long position within the coming week is a play in the cards.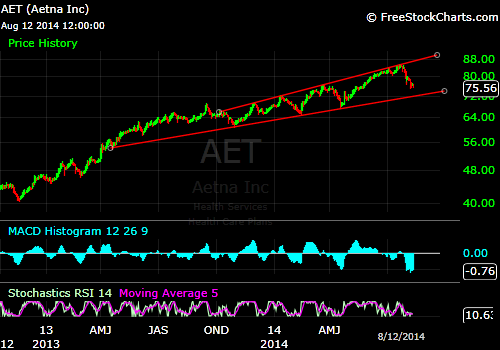 Pretty simple chart regarding support and resistance. Stochastics RSI is extremely oversold at 10.63, which is a prime price point to enter, at least for the short term. MACD is still bearish but reverting toward the mean.
Even though we may not reach $72.50, it appears to be the perfect price for entering a position given there is a blatant 1-year trend line giving continuous support and the 200 DMA lines up perfectly there as well. There is also small horizontal support at $75.40 reflecting movements in March, April, and May.
Bottom Line
Seasonal selling and potential risks mentioned above could break the long-term bullish trend. Although I think AET offers investors some decent upside given a favorable industry, solid business, and a technical setup. It appears that $72 is a great price for entry, and anything lower is obviously beneficial for prospective shareholders.
Disclosure: The author has no positions in any stocks mentioned, and no plans to initiate any positions within the next 72 hours. The author wrote this article themselves, and it expresses their own opinions. The author is not receiving compensation for it (other than from Seeking Alpha). The author has no business relationship with any company whose stock is mentioned in this article.